Is 'Apple Glass' The Next Tech Innovation Being Developed Within The Walls Of Apple Park?
FEATURE: 01.31.21 – Like the outer walls of Apple's Cupertino, California headquarters that are lined as high as the eye can see with panels of the transparent material, the company's latest invention might just all be focused on… glass.
Apple isn't exactly known to be… transparent (pun intended)when it comes to details about its future product releases, especially with the shroud of secrecy that surrounds those very products, however, it's no secret that the company has been quietly working behind the scenes down in Apple Park on a new device (the latest addition to the company's line of wearables): its own pair of smart glasses with the underlying technology behind the innovation either virtual reality (VR) and/or augmented reality (AR). The latest evidence pointing to such a gadget in the works was a report in mid January from iDrop News in regard to a recently granted patent (originally filed back in 2018) — which specifically makes reference to an "authenticated device that is worn by a user as a head-mounted device" — that then can communicate with another device (e.g., iPhone) and pass along this authentication, similar in fashion (no pun intended) to how users of an Apple Watch can unlock, automatically, a Mac (provided the individual is in close proximity to the computer).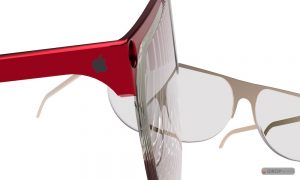 As if that piece of evidence wasn't enough to fill up your… glass (pun intended)? Bloomberg reported also in January — a little more than a week or so after the report from iDrop News — that Apple is preparing to unveil a VR headset that will be a precursor to its AR smart glasses (widely expected to be called "Apple Glass").
**AD: Looking to get yourself an Apple Watch Series 6 or an Apple Watch SE? Before you purchase that new wearable for your wrist, be sure to consult MacPrices for our exclusive and award winning Apple Watch price tracker where you can "watch" out for the lowest prices, best deals, and latest discounts from Apple and Apple Authorized Resellers. Pricing updated daily, seven days a week!
AR vs. Virtual Reality
As a mostly virtual reality device, this VR headset —the first new wearable since the introduction of the Apple Watch back in 2014 — will display an all-encompassing 3-D digital environment for gaming, watching videos, and communicating as well: prototypes of the headset include the use of external cameras for hand tracking where a user can type virtually in the air to input text (an AR-based feature of the device). Bloomberg reported that the company still is grappling with what content and functionality it intends to ship with the device as virtual reality is still a somewhat nascent technology, with content beyond games still relatively limited. Also, Apple isn't looking to create an iPhone-like hit for its first headset, instead, the company is building a high-end, niche product (and a pricey one at that) that will prepare outside developers and consumers for its eventual, more mainstream AR smart glasses.
Apple's VR headset (codenamed "N301") is in a late prototype stage, but, per sources who spoke with Bloomberg (and asked not to be identified as they were discussing insider information), the product is not yet finalized, so, the company's plans could change, or, be scrapped entirely before launch. Apple has a targeted release date of 2022 for the new wearable device.
On the augmented reality front, according to other people with knowledge of the matter who also spoke with Bloomberg, Apple is currently working on a more ambitious AR device that will take longer to develop. A product that the company sees as far more mainstream but also more difficult to launch. Apple CEO, Tim Cook, has said both virtual and augmented reality have potential but that AR is the larger opportunity.
AR smart glasses, per Bloomberg, must be packed with small, powerful and efficient electronics to overlay notifications, map directions, and other information while supporting internet connectivity and strong battery life. Getting to that point requires years of work on lenses, hardware and software, component miniaturization, production techniques, and content creation.
A more critical issue is getting most people to wear a computer on their face (remember how / why Google Glass was a failure?), and, even a small device can be difficult for some people to handle.
Apple's AR smart glasses (codenamed "N421") are in an early stage known internally as "architecture," meaning the company is still working on underlying technologies. According to the people familiar with the plans, this product is several years away. However, per Bloomberg, Apple previously has indicated a target date as early as 2023 for its release.
The key takeaway from the Bloomberg report was this: Apple — by initially developing a less mainstream VR headset — can invest in the underlying technologies, consumer education, content development, and developer relations to give its eventual AR smart glasses (whether or not it is called "Apple Glass" in the end), whenever the augmented reality device is ready, the best opportunity to be successful.
Awkward Reality
A couple of days following the news from Bloomberg regarding Apple's bigger ambitions into the AR space was an analysis — published in an edition of the "Week In Review" newsletter for email subscribers (like yours truly!) — by reporter and writer, Lucas Matney, of TechCrunch who wrote that if the last few years of new "reality" tech (VR and AR) has told us anything, it's that tech companies won't be able to skip past the awkward phase of augmented reality.
The TechCrunch writer noted that it's fitting that Apple is one of the primary backers of an augmented reality future. It's an ambitious company which has thousands of employees toiling quietly in the background, building out their AR tech moats. However, as Matney pointed out, while Apple has offered up a developer platform (e.g., Apple's AR Kit), the most ambitious first party AR-based project that the company has launched publicly is a Digital tape measure for iOS (a.k.a., Measure app). Everything else has taken place behind closed doors (and, these aren't exactly the ones in Apple Park made out of… glass).
As for Apple's ambitions in the AR space, Matney outlined a handful of problems that the company is faced with in getting an augmented reality product released to market:
#1- its hardware isn't ready
#2- its platform isn't ready
#3- its developers aren't ready
Worst of all? Users aren't ready for it either and, per Matney, don't want it yet (the awkward reality).
With that said, however, according to the TechCrunch writer, Apple's long-awaited AR smart glasses are probably where most die hards are currently placing their bets. And per Matney,, it's why the company has more people working on this than any other future-minded project down in Apple Park (and Apple's secret plans are as clear as its headquarters' outer walls made of… glass).
The key takeaway from Matney's analysis was this: while soothsayers believe that augmented reality is the inevitable platform heir, an element of skating to where the puck is going (perhaps a thinly veiled attempt by the TechCrunch writer to pay a tribute to the late Apple co-founder, Steve Jobs, who once famously said as CEO, "There's an old Wayne Gretzky quote that Ilove. 'I skate to where the puck is going to be, not to where it has been.' And we've always tried to do that at Apple.")? The clearest reality is that in 2021, the ones who stand to benefit the most from a massive transition — everyday users — still don't seem quite as interested in AR as the next generation of platform owners (e.g., Apple).
A New Reality
On the notion of skating to where the puck is going to, where technology is the proverbial hockey stick and the game is actual reality (real life), Wired magazine editor-at-large, Steven Levy, offered some insight in an edition of his weekly column, "Plain Text" — accessible only with a paid subscription to the publication (which yours truly is a subscriber to as well) — published, coincidentally, a week after the Bloomberg report regarding Apple's foray into VR and AR (however, oddly enough, the main topic of discussion in that edition was in regard to the technological obstacles one has to "skate" around just to register on the web to get the COVID-19 vaccine). In the ask me one thing feature found at the end of his columns, Levy responds to emails sent in from his readers and that week's inquiry was the following: what, in your opinion, is the biggest tech game changer right now for 2021?
Describing themselves to Levy as a "tech hobbyist" (although they did provide their name), the reader who submitted the question mentioned that they weren't seeing much out there. The individual added that it used to be that every five years, technology would be vastly changed and by ten years, it would reinvent itself with the old being completely obsolete. Their point of contention was that they weren't exactly seeing that past trend playing itself out that way in the present day.
In response to the reader's question, the Wired editor-at-large was straight and to the point, writing that those days are gone and what changes our lives in this stage of technology won't be flashy new gadgets but, rather, the apps that live on those devices. According to Levy, however, there might be one possible exception: the long-awaited AR smart glasses promised which will layer omniscient dashboards onto our fields of vision (of note was that he did not mention Apple by name nor give the example of the company's VR headset), adding that if they do arrive this year, they won't provide the augmented reality technology we've been waiting for as depicted in "Minority Report" (a reference to the 2002 science fiction film starring actor, Tom Cruise).
In a major report (how's that for a transition? As clear as… glass) published after the new year — in advance of the breaking news on the "Apple Glass" front — Macworld magazine featured a piece in its publication on Apple readying a new reality, specifically, in the area of AR.
According to Macworld, Apple has talked up the potential of the augmented reality space for several years. However, the magazine pointed out that despite the multitude of calls for the company to enter this or that market, Apple isn't the type that takes on projects casually. The company tends to be very conservative in what projects actually make it through the extensive gauntlet to become shipping products (e.g., a VR headset or AR smart glasses).
As the late Steve Jobs once said — a quote the publication referenced in its piece to illustrate its point — "Innovation is saying no to 1,000 things."
The key (and final) takeaway from the Macworld report was this: if Apple truly is ready to take the plunge into this new product area in AR? It's because they believe that they've finally figured out how to bring the combined might of their hardware, software, and services to bear on a type of device (e.g., "Apple Glass") that to-date, no other company yet has been able to crack (or, able to break through the proverbial ceiling made of… glass).
---
Related Reading: from this column's article archives (February 2020) – "Orcam MyEye 2 Is Inspiration Apple Needs To Make AR Smart Glasses Accessible For Visually Impaired"