The Rise & Fall Of Computer SuperStores And How The Apple Store Changed The Retail Experience
FEATURE: 02.27.21 – A popular chain of big box electronics stores on the West Coast which catered to technophiles, nerds, and computer geeks (and Apple fanboys alike) has shut down for good.
After 36 years in the business as a purveyor of all things related to technology, Fry's Electronics — which officially (and, rather quietly) announced its abrupt closure via its website on February 24 — has sold its last Mac in its stores (assuming they were even in stock). The closures of all 30 of the retailer's remaining store locations in nine states scattered across the U.S. (primarily in California) means that there now is one less Apple Authorized Reseller in the retail landscape where consumers can simply walk into a brick and mortar establishment to buy (or, test drive before buying) a desktop or laptop computer made by Apple.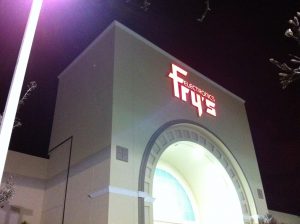 While Apple's brick and mortar establishments have become a major player in the retail landscape — not to mention, a cultural phenomenon as well — and Apple customers today have their own go-to destination where they can easily go to, "Get a Mac" (to quote the marketing campaign used by the Cupertino, California-based company from 2006 to 2010) at 272 locations across the U.S.? Before there ever was an Apple Store location on the West Coast, other than going to CompUSA (which went defunct in 2007) since the big box electronics stores Circuit City and Best Buy didn't sell Macs (not until December 2006), people would make a trip to their nearby… Fry's Electronics.
**AD: Fry's Electronics always told its customers, "Your Best Buy's are always at Fry's… guaranteed!" but now that they've gone out of business, where is one to go? Fear not and check out MacPrices to consult its exclusive and award winning Apple products price trackers where you'll always find the Lowest prices, the best deals, and the latest discounts on everything from Apple and Apple Authorized Resellers. Pricing updated daily, seven days a week!
Get Your Geek On
In a story revolving around the news of Fry's Electronics permanently closing its stores — which first broke via KRON, an independent television station located in the San Francisco Bay Area (where the Silicon Valley company headquarters of the now defunct retailer are based) — the website, Cult of Mac, described the stores as, "a go-to for geeks" as personal computers took off in popularity (e.g., the original Macintosh in 1984).
According to Cult of Mac, back in the 1990s, Fry's Electronics was the Amazon of its day with its bulk purchases of items sold at discounts that made it difficult for others to compete. The retailer became a "one-stop shop" for consumers that could offer far lower prices than its rivals. Its model was simple: Cram a giant warehouse with everything a nerd could dream of and decorate it with an outlandish theme.
Cult of Mac cited an article originally published in Bloomberg Business from May 1991 which reported that the latest trend at the time was the computer superstore such as Fry's Electronics with its, as the publication described it, "cavernous, no-frills outlets with floor-to-ceiling stacks of discounted gear."
As reported by Wired magazine — in a farewell to the retailer published on its website the day the store closures were announced — Fry's Electronics was like a theme park: not only because each store was decorated to resemble some faraway place. But, also because it offered, as the publication described them, "all genres of nerds" quality versions of their toys. In addition, people with time to kill could catch a glimpse into parallel worlds of technology yet to be discovered.
Earlier this year, in a special feature on the history of the Fry's Electronics stores located in the San Francisco Bay Area, the San Francisco Chronicle reported that its own publication once described the Palo Alto, California location as, "ground zero for geek culture." Cited by the newspaper in its story was an article originally published in U.S. News and World Report which reported that buses of tourists would come to gawk at store shelves that seemed to have anticipated every electronic, caloric, and hormonal need of, as the magazine put it, "nerds who wanted to lay in fresh provisions with one-stop shopping.""
"Going to a Fry's store is entertainment in itself [but] for a geek, it could be recuperative," wrote former Apple executive, Jean-Louis Gassée, in a blog post cited by the Chronicle in its story (the exec would share details of a visit to fry's Electronics shortly after recovering from a medical procedure to do exactly what he described in the posting).
'The Fry's Experience'
Entering a Fry's Electronics for the very first time — with its mountains of merchandise, from gizmos to gadgets and, yes, even groceries too — you could spend all day in-store just to take in all the sights and sounds (not to mention, familiarizing yourself with the store's layout). Shopping at the computer superstore was definitely entertaining, to say the least (this writer would know from having frequently shopped at the Silicon Valley retailer's stores as a long-time resident of the San Francisco Bay Area). If you've never had the chance to visit, or, shop at one? It was definitely… quite the experience!
In an elegy by PCMag magazine to the best chain of big box electronics stores on the West Coast, the experience of shopping at a Fry's Electronics was reported to be unlike anything else. According to the publication, if you didn't love technology when you walked into a store, it was just a little bit hard to hate it once you were on your way out of what was described as the, "one-stop shop for the Silicon Valley professional" (the retailer's original slogan).
PCMag reported that since nearly every store (except for the one in Wilsonville, Oregon) featured a theme that was baked into the lore of each location which, in turn, extended to both the interior and exterior of the store's design elements, Fry's Electronics found a way to, as the magazine put it, "stand out in a sea of drab, utilitarian electronics stores" by leaning into the shopping experience: an idea that was, at the time, unheard of in retail during the computer superstore model's rise to prominence.
On the history of the stores in the San Francisco Bay Area, the Chronicle reported that if you're not familiar with the retailer, every store has a theme and elaborate decorations to go along with it: the Sunnyvale, California location (where the very first Fry's Electronics was established, although, where it is currently located is not the original but the third store that has relocated within the city limits) was the "History of Silicon Valley" while the Palo Alto, California location (the oldest store in operation which close down in December 2019) was the "Wild West;" over at the Fremont, California location (as seen photographed above) which was the "1893 World's Fair," found at the center of the store was a Tesla coil that fired off every hour; and, at the San Jose, California location (this writer's favorite) which, "pays tribute to the first astronomers, the Mayans, with settings from Chichen Itza," the store was built to resemble a massive Mayan temple.
Interestingly enough, two of the six San Francisco Bay Area Fry's Electronics stores were not mentioned by the Chronicle in its story. One of these, the Concord, California location (the newest store to open), was reported by KRON to have been a work still in progress and had not yet been given a theme. The other, the Campbell, California location (which closed down in November 2020) was described by PCMag as being, "draped in Ancient Egypt stylings" where massive faux-flame torches would light up the tip of the pyramids on the roof of the store at night while booming speakers out front would play atmospheric sounds of crypts creaking as you walked through the front doors, where, once inside, customers would be met by huge mockup pharaohs or effigies to King Tut watching over the latest sales on graphics cards.
According to a report originally published in the Los Angeles Times and cited by the Chronicle in its story, the inspiration for the stores' themes also involved a lot of international travel for research (e.g., the San Jose, California location). Additionally, implementing the designs of an average 150,000 square foot store could sometimes cost upwards of $1.5 million.
"Amusingly, all these things are working and yet I've never seen anyone else stop to watch them. Maybe I'm just a bit of a tourist when I visit Fry's stores, but seriously? It's as though Fry's opened their own little science and industry museum," said one Yelp user quoted by the Chronicle in its story (the person was referring to the Fremont, California location).
Beyond Genius
Speaking of tourists? While self-guided shopping was fairly simple as the retailer's stores featured a "store-within-a-store" section dedicated to Macs — based on the locations in the San Francisco Bay Area (as observed by this writer) — the experience of going to a computer superstore like Fry's Electronics to, "Get a Mac" or, any other Apple product for that matter, was more lackluster than anything else as opposed to being something to lust after (for lack of a better expression). At times, it was like you were a tourist in a foreign land of Windows PC-speaking people and asking for help from any of the store's employees could sometimes prove to be futile as they lacked the very thing that customers could only get from a visit to one of Apple's brick and mortar establishments: the know-how and expertise of the "geniuses" found at the Genius Bar in an Apple Store.
PCMag reported that depending on which generation of shoppers you ask? During its heyday, nearly every Fry's Electronics employee in their respective departments knew their category front to back, and, as a result, it was often that you'd walk out of a store knowing more about technology and electronics than you did going in. As the magazine put it, "it was like anyone that you found on the floor was part of the Geek Squad" even before they were a thing (a reference to the resident tech experts found in all Best Buy stores). Unfortunately, specialty salespeople with even more specialized skill sets cost money and in this country, as the publication noted, paying extra for quality could run a company afoul of market expectations.
Cult of Mac emphasized this fact in its report, illustrating how Fry's Electronics paid little attention to requiring any sort of sophistication from its employees or attracting experts to work in its stores.
Citing a 2012 book which centered on the topic of branded customer service and buying an Apple product from a computer superstore, Cult of Mac included a passage that drove this point home. While some of the Cupertino, California-based company's channel distributors carry a full range of Apple's products per the excerpt (e.g., Fry's Electronics), the retailers, "do not have adequate product knowledge to sell the Mac" as the book's co-authors wrote.
As Cult of Mac reported, the Cupertino, California-based company has shown other retailers what successful retailing looks like today with a model that embraces the human factor. Apple's brick and mortar establishments, with its small stores in nice locations and knowledgeable employees, made a visit to an Apple Store a unique experience which helped reshape customers' expectations of what it meant to shop in person for technology at an electronics store. According to the website, the demise of Fry's Electronics was that it just couldn't compete in the sleek new retail landscape that Apple created.
"What does a store that enriches lives look like? It's going to be clean, uncluttered, and appealing. Everything is well thought out," said Carmine Gallo, an author who studies Apple's retail model and quoted by the Chronicle in its story.
---
Related Reading: from the PowerBook Central archives (January 2008) – "CompUSA Closures Halted By New Buyer"