Is Apple Looking To Its Past For Inspiration With The Designs Of Its New Macs?
FEATURE: 04.20.21 – Apple appears to be getting a little, "high" on nostalgia with new ideas for redesigning the Mac… back to the late 1990s and early 2000s to be exact.
The first Apple Event of 2021 — teased as a, "Spring Loaded" special event — is predicted to see (among other things) the unveiling of an entirely brand new iMac with Apple silicon inside. While the exact details of its expected design overhaul are not yet known (could it hearken back to the spring-loaded "floating" display of the iMac G4 from 2002?), one thing's for sure.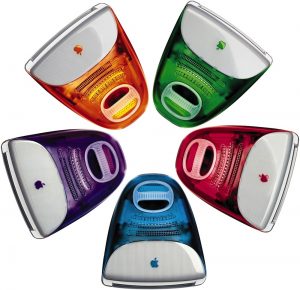 Whatever new hardware and/or devices are announced by Apple at the "Spring Loaded" special event, there's strong evidence that the Cupertino, California-based company may be going backwards in time and looking to its past (as opposed to springing forward, as it were) with the future product designs of its upcoming Macs.
**AD: No matter what new products may be announced by Apple at its "Spring Loaded" special event? Before you pull out your Apple Card (or whatever form of payment you have on hand) and spring for one, or all, of the company's newest hardware and devices, point your browser to MacPrices.net and consult our exclusive and award winning price trackers for the lowest prices, best deals, and latest discounts offered at Apple's online and retail stores (as well as Apple Authorized Resellers, too). Pricing updated daily, seven days a week!
iMacs With Color? 'Yum.'
Back in February of this year, iMore — a website whose "authoritative team" (as it describes itself) helps people to get the most out of life from their Apple products — reported that Apple is expected to replace the iMac with an updated model later this year.
Citing a report from Front Page Tech (a YouTube channel on the web known for its accurate predictions of forthcoming Apple products),iMore reported that the brand new iMac will feature a total redesign similar to the design of Apple's Pro Display XDR. On top of that? There apparently are some new color options on the way, based on leaks of prototypes from various sources, which mirror the same ones found on that of the iPad Air: black, blue, green, rose gold, and white (can you say, "Yum."?).
According to iMore, however, these rumored colors (reminiscent of the "fruit-flavored" versions of the iMac G3 from 1999) were seen on prototypes and, as noted in the report from Front Page Tech, there is no guarantee that Apple will release any of those five options for its brand new iMac in the end (only time will tell!).
A Blast From The Past
Earlier this year in January, iDrop News — an Apple-centric news site on the web — reported that Apple appears to be exploring the use of titanium casings for its hardware and devices which would feasibly allow the company to produce not only products that are thinner and lighter (in terms of weight) but darker as well, like that of the deep and dark finishes found in the Apple Watch Series 5, suggesting a return to the matte black version of the original polycarbonate MacBook from 2006 (or, perhaps even the semi-glossy black finish of the original PowerBook G3, The "Wall Street" model, from 1998).
iDrop News based its report on one published that same month weeks before its own from Patently Apple (a blog that regularly covers news regarding Apple's intellectual property) which reported that a patent filed by the Cupertino, California-based company bearing the title "Titanium parts having a blasted surface texture" for its future designs of its products, such as a MacBook, was recently granted by the U.S. Patent and Trademark Office. Aside from the titanium used in The Apple Watch Series 5 from 2019, and, prior to that, in the original PowerBook G4 from 2001 (the first time the material was ever used)? Most of the company's other hardware and devices, as noted by the Apple-centric news site, have stuck exclusively (almost) to a light, silver finish made of aluminum and this change to a darker one with an even tougher material would usher in a whole new era of product design for Apple.
Additionally, since the more premium metal alloy is considerably stronger and harder than its counterpart, iDrop News noted that by using a titanium casing for the company's Macs (and other product categories as well)? Apple would potentially be able to use less materials (a benefit for the company, cost-wise, and also for the environment) while still providing the same durability and protection offered by an aluminum one.
'One More Thing…'
It wouldn't be a story revolving around an Apple Event without some type of, "One more thing…" announcement a la a Steve Jobs keynote to end with (something made famous by the late Apple co-founder and former CEO).
According to a report also in January of this year from Bloomberg, Apple was criticized a few years ago for not updating its Macs enough and, now, there are a number of updates in the product pipeline coming in 2021 and beyond. Most notably will be a brand new version of the Mac Pro that will be half the size of the existing model (which Front Page Tech has dubbed the "Mac Pro mini"), akin to the short-lived Power Mac G4 Cube from 2000 (also known as, "the digital love child of Steve Jobs"). Further proof that the Cupertino, California-based company is looking to its past for inspiration with the designs of its upcoming products is with the return of two technologies that had been previously discontinued on its Mac notebook computers: a MagSafe charger to power its next MacBook Air and an SD card slot for reading memory cards directly on the MacBook Pro.
In addition to the updates for those particular Mac models, Bloomberg reported that an update for Apple's all-in-one desktop computer was in the works: the first redesign in nearly a decade. While it mentioned (in a separate report linked in its story)that the updated iMac would take its design cues from the Pro Display XDR, doing away with the metal "chin" underneath the screen (reminiscent of the spring-loaded "floating" display found on the iMac G4), of note is that it did not make any mention of the availability of different color options for its casing (nor the material it would be made of, as in aluminum or… titanium).
---
Related Reading: from this column's article archives (June 2020) – "Switch To ARM-Based Processors Right Time For Apple To Rebrand Its iMac As The 'Mac'"