'Get a Mac' Actor Gets Real About Getting A… PC (As Opposed To A Mac)
FEATURE: 04.26.21 – Intel has fired a "long" shot across Apple's bow with its television spots featuring a certain celebrity spokesperson.
Justin Long — the actor who personified the Mac in Apple's "Get a Mac" ad campaign which ran on television from 2006 to 2009 — is now peddling PCs in Intel's new ads on TV which take aim at Macs with Apple silicon inside. According to the Apple-centric news rumors website, MacRumors, the Cupertino, California-based company's Mac notebook computers featuring an M1 processor are, "cast as inferior" in comparison to PC laptops powered by Intel chips.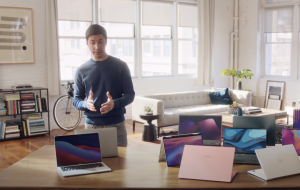 Could Long's contract with Intel have been the explanation as to why the actor didn't return to reprise his role as the Mac alongside comedian, John Hodgman, who made a cameo as the PC at the end of Apple's "One More Thing" event in November of last year when the first Macs with Apple silicon were announced?
**AD: Ready to, "Get a Mac"? Whether it's a previous generation machine with an Intel chip or a newer model featuring Apple's M1 processor, check out the exclusive and award winning price trackers on MacPrices.net for the lowest prices, best deals, and latest discounts from Apple (and Apple Authorized Resellers). Pricing updated daily, seven days a week!
'Hello, I'm A…'
According to John Gruber, a blogger who writes the tech-oriented blog, Daring Fireball, the "Justin Gets Real" television spots, like Apple's own "Get a Mac" ad campaign, briefly begin in front of a white backdrop (it even includes similar music playing in the background) with Long starting out doing his familiar line, "Hello, I'm a…" but then the actor stops himself short to say, "Justin, just a real person doing a real comparison between Mac and PC."
However, while Intel's new ads on TV have just enough of, in Gruber's own words, "a touch of momentary parody" in the opening scene in order to hammer home that the (former) "I'm a Mac" guy is now pitching PCs featuring Intel chips? Conceptually, the Daring Fireball blogger pointed out that the television spots aren't a clever concept, nor are they anything beyond the chipmaker saying, in essence, "Let's hire Justin Long as our new pitchman. That'll show them!" (as in Apple, for switching to its own ARM-based processors).
To explain how Intel's new ads on TV were conceptualized, Gruber cited the following quote from an interview with John Coyne, Vice President of brand, creative, and media at Intel which was originally published last month in Adweek magazine:
"It's a fun challenge: how do you highlight the limitations that Mac users just live with and help highlight that we have a more compelling choice available with PCs? Who better to help us tell that story than Justin Long, who spent more than four years and 66 commercials representing the personification of 'I'm a Mac'?" said Coyne.
PC vs. Mac
In February — prior to the television spots featuring actor, Justin Long — the Apple-centric news website, 9to5Mac, reported that Apple was mocked in Intel's "Go PC" ad campaign on the web highlighting what Mac users can't do on their Macs.
According to 9to5Mac, in one of the ads, Intel claims that Macs are not ideal for engineers or gamers as Windows has a broader catalog of software and games than macOS. In another ad, the chipmaker says, "only a PC offers tablet mode, touchscreen, and stylus capabilities in a single device."
9to5Mac reported that Intel's "Go PC" ad campaign on the web also includes a video on YouTube sponsored by the chipmaker ("Your New Laptop for 2021") featuring Jon Rettinger, founder of the website, TechnoBuffalo, who points out the advantages of a PC laptop versus a Mac notebook computer (e.g., the availability of standard USB ports and support for multiple displays).
With regard to Intel's new ads on TV, last month, in an opinion piece published on the website of Macworld magazine, one of the contributing writers of the publication (Who writes under the pseudonym, the "Macalope") summed it up best when they likened the argument being made by the chipmaker to, "shooting everything but the target" (with guns, not an arrow shot across Apple's bow). Another observation that the writer pointed out was that not one of these television spots discusses the actual differences between the Intel chips in PCs and the M1 processor in Macs, noting that the real difference is: the Mac is faster and requires less power.
Why Apple Switched
Back in June of last year — following the announcement at WWDC 20 of the Mac transition to Apple silicon — the business technology news website, ZDNet, reported the reason behind why, after using "Intel Inside" its Macs since 2006, the Cupertino, California-based company decided to switch to its own ARM-based processors (a story that provides some context into the impetus for Intel's "Go PC" ad campaign on the web and its "Justin Gets Real" television spots).
According to ZDNet, Apple turned away from its long-time chip supplier for the Mac due to an, "unusually high number of bugs" found in Intel's Skylake CPU. That particular component, as noted by the business technology news website, was what powered Macs released between 2015 and 2017.
The report from ZDNet was based on a claim made by François Piednoël, one of the top architects of CPUs at Intel who, after being an engineer with the company for 20 years, left in 2017.
"Apple became the number one filer of problems with the architecture. And that went really, really bad. Basically, the bad quality assurance of Skylake is responsible for [prompting them] to go away from the platform," said Piednoël.