'A Man, A Plan, And…' A Last Minute Demand For A Glass Screen On The iPhone
FEATURE: 06.29.21 – Building the Panama Canal would have been an easier task compared to what Apple's engineers were asked to do by Steve Jobs.
The original iPhone — which hit store shelves on this very day back in 2007 — was not just a feat of innovation but an engineering marvel for Apple, Inc. as well. The perfect example of this was the touchscreen display that shipped on the device and eventually ended up in the hands of consumers which, unbeknownst to many, was to have been originally made out of… plastic.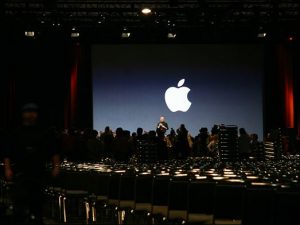 It's hard to imagine a smartphone with anything other than a touchscreen display made out of glass but if not for an eleventh hour decision by Apple CEO, Steve Jobs, owners of the original iPhone would have had a subpar experience with a plastic screen on their device.
**AD: If you're in the market for a new Apple smartphone or looking to upgrade an old one, make sure to check out the iPhone price tracker right here on MacPrices for the lowest prices, best deals, and the latest discounts from Apple and Apple Authorized Resellers (pricing updated daily, seven days a week).
The Man: Steve Jobs
According to a 2019 report from The Verge, the original iPhone that Jobs unveiled on January 9, 2007 at the Macworld Conference & Expo in San Francisco, California featured a plastic screen, a little known fact that not many people remember because the device that hit store shelves six months later had a touchscreen display made out of glass.
The Verge reported that the switch from a plastic screen appeared as a mere footnote in an Apple press release just 11 days before the original iPhone went on sale to the public on June 29, 2007 (specifically, a sub-headline that read "Now features durable glass top surface"). What transpired in the six months between the unveiling of the product onstage at Macworld and its release in stores has mostly remained a mystery.
That is, until a 2017 video of Apple COO, Jeff Williams, surfaced on YouTube showing him speaking at a Corning, Inc. factory in Harrodsburg, Kentucky where Apple announced a $200 million investment (which The Verge reported was presumably to fund the manufacturing of a flexible glass screen for a foldable iPhone model rumored to be currently in development).
As recalled by the Apple COO in that video per the report from The Verge, Jobs called Williams the day after the original iPhone was unveiled to say, "We need glass." Apple's chief operating officer said that he responded in protest to Jobs's complaint. However, the Apple CEO shot back, saying, "No, you don't understand."
"When it ships in June, it needs to be glass," Jobs told Williams. "I don't know how we're going to do it, but when it ships in June, it's going to be glass."
The Plan: A Scratchless Screen
In another article based on the same video featuring Williams, Tom's Guide reported that it was mission impossible for Apple as Jobs wanted a fundamental part of the original iPhone to be changed from a plastic screen to a type of glass that didn't yet exist on the market.
According to the 2019 report from Tom's Guide, Apple's chief executive officer made a phone call to Williams the day after the original iPhone was unveiled. "Everything is great except for one problem," explained Jobs.
"I've been carrying this thing around and it scratched in my pocket. I don't know if it was my keys or what, but it scratched," said Jobs. "We need glass."
The Apple COO told Jobs that it wasn't possible because all of the glass they tried to use shattered upon being dropped. "I think that within three to four years, technology may evolve and we can do that on the phone," explained Williams. 
In the article published by The Verge, it was reported that two days later, Apple's chief operating officer received a phone call from Corning CEO, Wendell Weeks. Based on Williams's own account of the conversation, Weeks told him, "Hey, your boss called and said my glass sucks." Corning's chief executive officer then suggested they try using a technology that was sitting on the R&D (research and development) shelf, a scratch resistant material that would later become known as Gorilla Glass.
'…A Canal Panama' (What?)
In a very different account of the story, the Apple CEO — who for a few weeks had been using a prototype of the original iPhone — assembled Apple's executives for a senior level meeting in order to show them all of the scratches that had surfaced on the touchscreen display of the device: "I want a glass screen," Jobs was quoted as saying, stressing, "and I want it perfect in six weeks."
According to a 2012 report from Business Insider where that quote from Jobs was published, Apple's engineers were given that short period of time to come up with a suitable replacement for the plastic screen on the original iPhone. With Apple ramping up production and just over a month and a half left before the product was scheduled to go on sale, the only way for the company to meet Jobs's strict deadline would be to find a glass-cutting factory, a huge amount of glass to experiment on, and an engineering team that could figure out how to cut the material into millions of screens for use on the touchscreen display of the device.
Citing an article originally published in the New York Times with regard to why iPhones aren't made in the U.S., Business Insider reported that it was an Apple executive who knew that the only place where the company might be able to find all of those things was in China.
As Apple's executives noted in their conversation with the New York Times, there was no way American manufacturing companies could have met the timetable set by Jobs. Business Insider reported that Apple hired a company in Shenzhen, China to build a new factory for cutting the glass supplied by Corning. It only took a month of experimentation with the material before a team of Chinese engineers figured out how to turn it into screens that were then used for production of the original iPhone at a local Foxconn assembly plant (the manufacturer of iPhones ever since).
In the 2019 report from The Verge, it was reported that Williams's role in bringing Gorilla Glass to the original iPhone was influential in shaping the touchscreen displays of every modern smartphone on the market today: an engineering marvel that the Apple COO described as a "Hail Mary" move per the article published by Tom's Guide.
---
Related Reading: from the PowerBook Central archives (January 2007) – "'Live from San Francisco, it's Breakfast with Steve Jobs'"