Retro Reading: Apple Working On A 12-inch Ultraportable? (Feels Like 2007 At PowerBook Central)
FEATURE: 08.31.21 – Rumors of the MacBook being resurrected gave this writer the feeling of… déjà vu.
Earlier in the month — in a feature story in this column about the return of an ultraportable laptop to Apple's portfolio of Macs — I cited a report from iDrop News which suggested that the MacBook (12-inch) might be making a comeback. As the thinnest and lightest Mac notebook computer to-date, its discontinuation in 2019 left a void (yet another) in the Cupertino, California-based company's product lineup.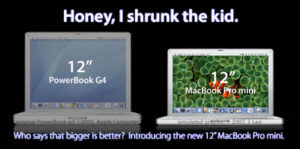 In today's edition of Retro Reading, a series here in my column where we dig deep into "The Press Box" archives for content written several years ago from PowerBook Central, we take a look back all the way to 2007 when rumors were running rampant across the web that Apple would be releasing a successor to its very first ultraportable laptop: the aluminum PowerBook G4 (12-inch).
**AD: In the market for a thin and light laptop? Check out our MacBook Air price tracker right here on MacPrices for the lowest prices, best deals, and latest discounts on new and certified refurbished models from Apple (and Apple Authorized Resellers). Pricing updated daily, seven days a week!
'Smallest Notebook Ever'
Measuring just over an inch thin and weighing just 4.6 pounds, the 12-inch model of the aluminum PowerBook G4, which was unveiled by former Apple CEO, Steve Jobs, at the Macworld Conference & Expo in San Francisco, California on January 7, 2003, was touted as the "smallest notebook ever" by the company in a press release issued shortly after the event.
"The new 12-inch PowerBook G4 is a jewel," said Jobs in the press release. "It's the smallest and most affordable PowerBook Apple has ever created and the most compact full-featured 12-inch notebook in the world."
This so called "jewel" of a Mac was a hit with consumers largely due to its compact form factor and professional grade features and specs. Because it was so thin and light, it was the ultimate portable laptop and easy to take with you anywhere (I would know from having owned one myself, the 2005 version). Unfortunately, in 2006, as part of the transition from the PowerPC processor to Intel chips, Apple's "smallest notebook ever" — along with the 12 and 14-inch models of the iBook G4 (also introduced in 2003, nine months following the introduction of the svelte version of the aluminum PowerBook G4) — would be discontinued and replaced with the original MacBook.
In fact, the transition to a new chipset effectively killed off the entire aluminum PowerBook G4 family (as well as the whole PowerBook brand) which featured two other sizes to choose from, a 15-inch and 17-inch model. This pair of professional grade Mac notebook computers (including, technically, the 12-inch model too) would be replaced by a new laptop geared toward the pros, the original MacBook Pro featuring "Intel inside" (to quote the chipmaker's slogan).
With the only choice for consumers wanting to buy a new Mac notebook computer being, at the time, an entry level MacBook or a high end MacBook Pro featuring either a 13.3″ or 15.4″ display, respectively, the other end of the spectrum (as a 17-inch model of the latter would eventually join the mix) continued to remain null and void, leaving a specific subset of Apple's customers in the dark: users of ultraportable laptops.
In a feature story written just days before the iPhone product launch in 2007, Chris Stevens, writing for CNET, reported that the 12-inch model of the aluminum PowerBook G4 was one of the most portable Macintosh laptops ever made. The writer went on to say that many critics strongly felt that the lack of an ultraportable laptop in the (then) current Mac notebook computer lineup had left, in his own words, "a gaping hole" in the range, noting that a lot of older PowerBook-branded units (the one in reference) were still being used by journalists and photographers at press conferences (a photograph taken in 2009 featuring yours truly which illustrates this fact can be seen in this article from the San Francisco Chronicle). According to Stevens, the likelihood of Apple launching a MacBook featuring a 12″ display was, in his own words, "completely plausible" but whether it would be unveiled at the Macworld Conference & Expo in San Francisco that year was a mystery.
Of course, while we all know what groundbreaking product was announced by Apple in 2007, the iPhone, and what would be introduced in 2008 with the unveiling of the original MacBook Air (a brand new class of ultraportable laptop which originally featured a 13.3″ display)? In the months immediately following the discontinuation of its "smallest notebook ever" in 2006, an Intel-based Mac notebook computer sporting a 12-inch form factor, possibly geared towards professional users, was rumored to be in the works at the company's Cupertino, California headquarters.
Which brings us full circle (as it were) to the topic of today's edition of Retro Reading and why my feature story from earlier this month in the "Mac Potpourri" column with regard to rumors of the MacBook (12-inch) being resurrected gave me the feeling of… déjà vu.
'Wishes Do Come True'
So, let's take a short trip back in time to look at what I wrote in the article originally published in "The Press Box" column on PowerBook Central, shall we? What follows is just a sample of the feature story written by yours truly on February 27, 2007:
"You're not a true Apple portable aficionado if you haven't heard all the rumblings and ramblings over the rumors of a return of the 12-inch line of Mac notebook computers in recent months. It's been discussed on and off in these pages, and in fact, was discussed as recently as last week by a fellow columnist on this site."
"In hindsight, all this discussion is starting to look pretty good if you put the pieces of the puzzle together with more details emerging from various ends of the spectrum that relate to what will inevitably be the components — predicted and rumored components — of this new ultraportable, super compact Apple notebook."
"No one even knows if it will indeed be a 12-inch model or whether it will belong to the MacBook or MacBook Pro line. What if it gets a new name altogether, such as the MacBook Light, or the MacBook Thin, or as we hope, a MacBook Pro mini."
"But we do know this — seemingly telltale signs are all around us, signifying a good chance that, 'wishes do come true' yet again."
…
To read the full version of my original article, visit this link: "Putting the Puzzle Pieces of a 12″ Pro Portable in Place"
Thanks for joining me on this edition of Retro Reading where we took a look back at a headline from my days as a columnist writing for PowerBook Central. Join me again next time when we dig deep into my archives and see what headlines were displayed on the front page of that long since defunct website.
---
A Note from the Author: established in 1995, PowerBook Central, the sister site of MacPrices, originally went defunct in 2015 but was later merged with this website in 2018 (shortly after this author came aboard to write the "Mac Potpourri" column). For additional content originally published from 2006 to 2009, see "The Press Box" archives.