No-contract Apple wireless carriers drop prices on iPhone 11, now only $399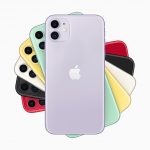 In advance of the introduction of the Apple iPhone 13, no contract Apple wireless carriers Straight Talk, Total Wireless, and Simple Mobile are both offering Apple's 64 iPhone 11 for only $399.99 with service (or $16.67/24 months). That's $200 off their normal MSRPs:
– Simple Mobile: $399.99
– Straight Talk: $399.99
– Total Wireless: $399.99
You must also purchase at least one month of prepaid service starting at $35. See each carrier for details and their service areas.
Keep an eye on our iPhone Price Tracker for the latest prices, sales, and plans from Apple and its authorized iPhone service carriers, updated daily.