Red Pocket Mobile offers iPhone 11 models starting at only $399, offers 3 months of free Unlimited service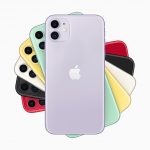 With the introduction of the iPhone 13, Red Pocket Mobile has dropped prices on Apple iPhone 11 models, in some cases by $100 more than other carriers, and is now offering the iPhone 11 starting at only $399. Switch and get free 3 months of Unlimited nationwide service with the purchase of any iPhone 11, 12, or SE. Red Pocket Mobile is a nationwide service using all the major wireless carrier networks and offers 50GB plans for $50 per month, no contract required, and cheaper plans starting at $20/month for 3GB of 5G data.
– 64GB iPhone 11: $399, $100 off MSRP
– 128GB iPhone 11: $549
Keep an eye on our iPhone Price Tracker for the latest prices & deals on iPhones and plans from Apple and its carriers, updated daily. We currently track deals from 18 wireless carriers.