Deal Alert! Get a 10.9″ Apple iPad Air for $100 off MSRP!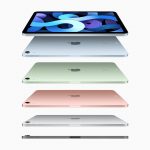 Amazon has Apple 10.9″ WiFi iPad Airs on sale for $110 off MSRP, each including free shipping. Sale price can vary by color, and stock can vary as well — check their site for the latest information. Amazon's prices are the lowest available for iPad Airs from any of Apple's resellers. Be sure to purchase from Amazon rather than a third-party seller:
– 10.9″ 64GB WiFi iPad Air: $489 $110 off MSRP
– 10.9″ 256GB WiFi iPad Air: $639 $110 off MSRP
For the latest prices and sales, keep an eye on our iPad Air Price Tracker, updated daily.