Are The Days Upon Us When Apple (Inc., Not The Fruit) Keeps The Doctor Away?
FEATURE: 10.16.21 – Don't be surprised if at your next doctor's appointment, your physician tells you to take two AirPods and call them in the morning.
Back in June — in a story from Macworld magazine — the publication reported on a new concept in healthcare from Apple that would create an AppleCare-like service for diagnosing and repairing (as it were) our ailments. According to the report, which was originally published in the Wall Street Journal, the Cupertino, California-based company is currently testing the pilot program with its own employees and involves a network of, per the WSJ, "Apple-employed doctors at its own clinics."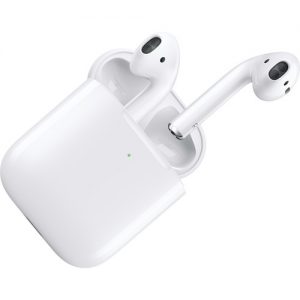 Macworld reported that users' Health has been a major undertaking for Apple under the leadership of its chief executive officer, Tim Cook, with the Apple CEO saying in 2019, "there will be a day we look back and say Apple's greatest contribution to mankind has been in healthcare."
**AD: Get the lowest prices, best deals, and latest discounts on Apple's smartwatch by consulting our award winning price trackers, specifically the exclusive Apple Watch price tracker, on MacPrices. Pricing from Apple and Apple Authorized Resellers updated daily, seven days a week!
Apple In Healthcare
According to a report from TechCrunch also published in June — a story that revolved around the new health-centric features coming to iOS 15 (which has since been released) — it's impossible to assess the impact of the work Apple is doing in the area of healthcare at the moment, however, when viewed as a whole, the company has probably built the most powerful and accessible suite of personal health tools available for its users.
Apple Vice President of technology, Kevin Lynch, which TechCrunch noted was the one who demonstrated the Apple Watch during its introduction in 2014 and has been integral to the evolution of the company's health initiatives, told the media outlet in an interview (at the time) that a key turning point for Apple's approach to healthcare came when it saw that users were doing more with the features available on its smartwatch than was originally intended. From there, Lynch said that Apple started investing more heavily in thinking about more areas where it could glean similar insights. Rather than waiting for users' behavior to identify new areas to explore, the company started hiring more clinicians and medical researchers to chart the path forward (whether this led to or is directly related to the aforementioned pilot program reported by Macworld is unclear).
TechCrunch reported that one of the areas where Apple is in a unique position to innovate is in preventative health: it's a place where Apple's tight integration of software and hardware give it an edge which multiplies as its ecosystem continues to grow.
For instance, in Lynch's interview with TechCrunch, the Apple Vice President of technology (who is currently leading Apple's autonomous EV project) told the media outlet that the company currently has a range of healthcare providers with large footprints in the U.S. that are already lined up to participate in sharing, a new health-centric feature in iOS 15 within the Health app, which allows a user to securely and privately share health-related data with others (Apple itself never sees this information, which is encrypted and decrypted locally on the device, and users can choose exactly what is being shared with whom and can revoke access to anyone at any time). Medical professionals (e.g., doctors) using this feature will be able to see what users share with them in their Electronic Healthcare Records system (EHR) and can easily annotate and store specific readings for a patient should it be required to back up a diagnosis or course of treatment.
TechCrunch reported that another area of increased focus for Apple when it comes to healthcare is turning the smartwatch or smartphone that you carry into an ambient "protector" of sorts (e.g., Walking steadiness, a new health-centric feature in iOS 15, which provides a simple metric for how stable an Apple Watch user's average gait is).
In terms of future health-related applications, however, an area in particular which TechCrunch suggested that Apple looks for even more potential lies in "sensor fusion" where devices don't just act independently of each other but in tandem with each other (e.g., what is possible when one device is paired with another). As far as Apple's strategy to search for new technology to integrate into its smartwatch and smartphone, the company continues to figure out innovative ways to use the sensors that are already there (e.g., a new health-centric feature in iOS 15 for sleep tracking) while working on what new hardware comes next to do even more in the healthcare field, such as the possibility of using AirPods in health, considering, as the media outlet pointed out, how the wireless earbuds also contain sensors which gather different data that could feasibly be monitored when complemented by either an Apple Watch and/or an iPhone.
Apple 'EHR'-Pods?
According to a new report published in The Wall Street Journal — which was cited in a story from earlier this week by Macworld magazine — Apple is exploring a variety of health-related applications for future versions of AirPods that will turn them from wireless earbuds into health-monitoring wearables that also are capable of listening to music. The WSJ reported, per the Mac-centric news publication, that the Cupertino, California-based company is currently studying ways to bring the following health-centric features to the device:
hearing aid- possibly an expansion of the current Conversation Boost (a new accessibility feature on the AirPods Pro which Apple released in early October that pinpoints and amplifies sound coming from people talking in front of you) and Live Listen features
thermometer- a new health-centric feature to take the user's core body temperature from inside their ear
health monitor- Apple is also looking to monitor posture and ergonomics
Macworld reported that Apple could market AirPods as hearing aids (the most obvious health-related application for the wireless earbuds) based on theWSJ's report which pointed to new regulations from the FDA that, per the WSJ, "permit the sale of a new class of cheaper hearing aids direct to consumers to treat mild to moderate hearing loss."
In what it described as a more ambitious plan, Macworld reported that Apple is looking to add a thermometer to the AirPods (similar to the rumored skin temperature sensor coming to the Apple Watch) based on documents indicating such that were reviewed by the WSJ. According to the magazine, traditional tympanic thermometers use infrared sensors to measure temperature, however, the Mac-centric news publication noted that it's not clear how Apple would incorporate a similar type of sensor into its wireless earbuds.
As for AirPods being a health-monitoring wearable, specifically, keeping track of a user's ergonomics, Macworld reported that this feature version of the device would, per the WSJ, "lean on the motion sensors in the [wireless] earbuds and alert wearers of slouching and to improve their posture."
Macworld noted that AirPods models with new designs, including a Pro model, have been rumored for many months and could even be announced during Apple's October event (which takes place next week) but any health-centric features won't be available until 2023 at the earliest based on the WSJ's report. In the meantime, however, as the magazine reported back in June, while Apple hasn't abandoned its healthcare ambitions, it has, per the WSJ "shifted the focus of its health unit" to selling devices like the Apple Watch (and, should the reports be true, that soon will include its wireless earbuds in the near future).
---
A Note from the Author: the "Unleashed" Apple event, which will be broadcast from Apple Park, will take place on Monday, October 18 at 10:00 AM PDT (1:00 PM EDT). Visit apple.com or Apple's channel on YouTube to watch it wherever you stream.