There's No Method To The Madness For The Convoluted Mess Apple Has Made With MacOS
EDITORIAL: 10.29.21 – Apple totally missed out on an opportunity to get all of its ducks in a row (so to speak) when it finally dropped the "X" from Mac OS X half a decade ago.
MacOS Monterey — which finally became available for download on October 25 — is Apple's latest operating system made exclusively for the Mac. What's also exclusive about a specific characteristic of this OS that none of the company's other operating systems share has to do with its name.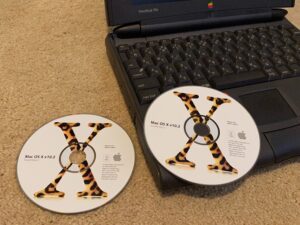 MacOS, which Apple finally advanced to version 11 in 2020, still has one major flaw for being the "world's most advanced operating system": an attached naming scheme to its product branding.
**AD: No matter what brand of Apple products you're looking for, whether you're in the market for a new pair of AirPods, an Apple Watch, an iPad, an iPhone, or a Mac, before you buy? Make sure to check out our award winning and exclusive price trackers right here on MacPrices for the lowest prices, best deals, and latest discounts on all of Apple's wares from apple.com (and Apple Authorized resellers). Pricing updated daily, seven days a week!
In A… 'Cat'-atonic 'State'
For those who are relatively new to the naming scheme of MacOS, MacOS Monterey is not the first version of its operating system for the Mac that Apple named using a theme based on California locales. It's actually the ninth to have received that treatment, which was preceded by various types of large cats in the wild (seven in total, to be exact) before the company chose to go with scenic sights of interest in its home state as its replacement:
MacOS: Monterey (12), Big Sur (11), Catalina (10.15), Mojave (10.14), High Sierra (10.13), and Sierra (10.12)
OS X: El Capitan (10.11), Yosemite (10.10), Mavericks (10.9), Mountain Lion (10.8), and Lion (10.7)
Mac OS X: Snow Leopard (10.6), Leopard (10.5), Tiger (10.4), Panther (10.3), Jaguar (10.2), Puma* (10.1), and Cheetah* (10.0)
Since the debut of Mac OS X in 2001 (which originally debuted as a public beta the year before prior to the release of version 10.0) and the subsequent release of OS X in 2011 and MacOS in 2016, Apple has been all over the map with no rhyme or reason to its thought process, from its product branding and naming scheme to even the numbering system used for each software version that has been released, and it all has been a convoluted mess with no apparent method to the madness.
As a brand, MacOS is actually an evolution of the rebranding of Mac OS X. In an odd move, Apple decided to drop the word "Mac" from its name, becoming simply OS X. Possibly realizing its faux pas, after five versions of the software being labeled as such, the company would reverse course by bringing back the word "Mac" — combining it with the word "OS" and dropping the "X" (which stands for the Roman numeral for 10) — in order to bring it more in line with the "OS" product branding of its other operating systems (e.g., iOS, iPadOS, tvOS, and watchOS).
Initially, Apple's use of large cats in the wild were actually the codenames for internal use during the development of the software and the company simply used a numbering system (the reason for the asterisks by the names of versions 10.0 and 10.1 in the list above) but starting with Mac OS X v10.2 Jaguar, each codename was publicly made known and became the naming scheme for Mac OS X. That would last for six more iterations through OS X Mountain Lion (10.8) before Apple finally decided to forgo the felines and opted instead to go with California locales for its theme (which has been in place ever since).
Apple, in hindsight, should have stuck to large cats in the wild instead of switching to scenic sights of interest in its home state — as it did with the release of OS X Mavericks (10.9) — and after that, immediately moved on to version 11 (really, there never should have been versions 10.10 to 10.15 to begin with). At that point, it would have made much more sense logically (and logistically) to then rebrand the operating system as MacOS, since it would no longer be numbered with a "10.x" (and, if the company wanted to, gone through versions 11.1 to 11.9 with a California locales naming scheme before going on to version 12 with a new theme, and so on and so forth).
With that said, however, since the deed has already been done,I struggle to find the logic behind why Apple continues to name its operating system for the Mac after California locales instead of being named simply "MacOS 11" or "MacOS 12" (what MacOS Big Sur and MacOS Monterey are also known as, respectively, albeit not in an official capacity).
iCame, iSaw, iConquered
Take, for instance, Apple's mobile operating system for the iPhone (and also for the iPod touch). iOS has no naming scheme attached to it whatsoever — neither does iPadOS (its offshoot) or tvOS and watchOS — and its product branding, along with its numbering system, has been pretty straightforward from the very start (save for the first three years from 2007 to 2009 when it was originally known as iPhone OS before being rebranded in 2010 beginning with iOS 4, which was initially known as iPhone OS 4.0).
Speaking of iOS, in particular, that lowercase "i" used in its product branding?
Apple's use of a lowercase "i" as a brand is a rare example of the company being consistent with its naming scheme all throughout (something that can't be said for its handling of the same with its operating system for the Mac). Anyone who is casually familiar with Apple (not necessarily a user of its products) is well aware of the company's product branding over the years (from the late 1990s and through the 2000s).
Practically everything that Apple released was branded the exact same way beginning in 1998 with the introduction of a new all-in-one desktop computer called the iMac. In the years that followed, the company would continue the trend with its other products. From hardware like its consumer-orientedMac notebook computer, the iBook, its digital music player, the iPod, and its smartphone, the iPhone, to software like iTunes as well as Apple's iLife suite (which, save for GarageBand, featured titles such as iDVD, iMovie, iPhoto, and iWeb) and the company's answer to Microsoft Office, iWork (which consisted of Keynote, Numbers, and Pages).
At some point in time, however, Apple finally decided to drop the whole "i" brand for its naming scheme, as was seen with the Apple TV (it was initially known by its codename, "iTV") and the Apple Watch (remember how almost every media outlet was calling it the "iWatch" before it even was released?).
In some instances, Apple even did it retroactively and after the fact in the years that followed (as it did with iPhoto which became simply, Photos). iBooks (the product branding for Apple's e-books) was rebranded as Apple Books. iTunes, on the other hand, was put out to pasture (so to speak) and became three separate applications in MacOS aptly named Apple Music, Apple Podcasts, and Apple TV (done in part in order to streamline the naming scheme of the company's software and to mirror its mobile apps counterparts in iOS).
Just like Apple did when it finally called it quits with that lowercase "i" for the product branding and naming scheme of its wares, moving forward, the company must realize that it's time to throw in the towel (so to speak) and ditch the use of California locales for MacOS (or any types of themes, for that matter).
To… 'Air' Is Apple?
Alexander Pope, an English poet (and, ironically, a satirist) from the 18th century, is noted for saying, "to err is human; to forgive, divine." Since Apple at its core (pun intended) is made up of people who make the decisions on what its products will be called, can they (should they) be forgiven for these past transgressions in the company's product branding?
A number of Apple's other decisions in the past (it's not limited to just MacOS) are glaring examples of these errors in judgment on the part of the company's marketing geniuses.
For example, with the iPhone, Apple flip-flopped on its use of an uppercase "S" and a lowercase "s" to differentiate an incremental upgrade (e.g., iPhone 3G S and 4S then iPhone 5s and 6s before discontinuing its use after the iPhone 7, 8, and X (don't get me started on why there never was an "iPhone 9") and then reversing course to bring it back for the iPhone X S and X S Max, which hasn't been used since then). Speaking of lowercase and uppercase letters, there's the naming scheme for the iPhone 5c and iPhone X R, the only two models ever to use that specific lettering in its product branding.
Or, the seemingly incorrect use of the "Air" moniker in its product branding for accessories like (save for AirPort, Apple's line of products for wireless connectivity such as a Wi-Fi base station) AirTags versus "Apple Tags" (what some media outlets thought it would be called, although, since it is a wireless accessory) or even worse, AirPods, instead of being branded as the "EarPods Air" (which, in my view, would have been more appropriate… after all, it's a MacBook Air and an iPad Air, not an "AirBook" or an "AirPad" right?).
Another egregious example of this comedy of errors was the product branding strategy (in actuality, rebranding) for its Macs when Apple made the switch to the Intel chip back in 2006. The company's desktop and notebook computers as we knew it would go through a major change, not only internally, but by name as well (after the four product lines were rebranded to reflect the new era of personal computing on a Mac). As a result of the rebranding, gone were the iBook, PowerBook, and Power Mac brands but one sole holdover survived the shuffle: the iMac (since that time, the highly illogical decision has boggled my mind and I've always felt that something has been missing from Apple's computer lineup… the Mac mini notwithstanding, while we got a corresponding MacBook, MacBook Pro, and Mac Pro out of the deal as like-for-like replacements, even an iMac Pro later on, where was the just plain "Mac" model in that equation?).
Returning to the main topic at hand, however, this time with the predecessors of MacOS — in this case, Apple's product branding for Mac OS X (specifically, the missteps in its visual marketing) — Mac OS X v10.2 Jaguar (as seen in the photo above) had an "X" covered in the fur pattern of the actual cat that the software is named after, but Panther (10.3) went with a stylized "X" based on the operating system's new "brushed aluminum" look (as did version 10.1 before it with its "Aqua" interface) while Tiger (10.4) and Leopard (10.5) went with something else entirely (e.g., the former placed a focus on one of its newest features, Spotlight, a built-in search engine within the OS) and, in a complete 180°, was Snow Leopard (10.6) reverting back to the theme of large cats in the wild and even ditching the "X" visually in favor of a photograph that actually had an image of the feline in question on the front of its product box (which featured a real-life snow leopard) instead of using a stylized "X" centered on its naming scheme (as Apple had been consistently doing for the previous five iterations).
But, I digress. Unfortunately, while not as significant as the upside down Apple logo of yesteryear, these gaffes in the naming scheme of the company's products, specifically, MacOS, are beyond forgivable. Moving forward, Apple's marketing department, or whoever directly oversees the company's product branding, needs to pounce and put their cats back inside the bag (the reverse of letting them out of it) because at the moment, things are in need of a course correction down in Cupertino, California (and "there's [no] app for that" which can help, not even Maps… remember that infamous debacle?).
---
A Note from the Author: the opinion(s) expressed in the editorial above are strictly those of the author of this column and do not necessarily reflect that of the editor-in-chief and publisher of MacPrices (nor is the story's publication on this website an endorsement of the opinions expressed on this page).