Apple's 'App Tracking Transparency' Impacts Advertising Revenue But Are Users Still Being Tracked By Apps?
NEWS: 11.05.21 – When it comes to keeping its customers' data private, Apple has the upper hand but based on a recently released report, it all may be just sleight of hand on the company's part.
Apple, Inc. — which earlier this year updated its iOS software to include a new feature called App Tracking Transparency — has apparently put a dent into the revenue received from in-app advertising. According to a report published in the Financial Times, a loss of $10 billion was incurred by the likes of social media companies such as Facebook, Twitter, and YouTube as a result of the Cupertino, California-based company's efforts to better protect the privacy (and data) of its users.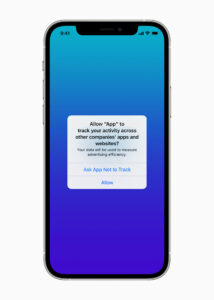 However, based on a claim made by a former employee of Apple, it would appear that the "ask app not to track" button is providing users of the iPhone with a false sense of privacy.
**AD: To keep track of the lowest prices, best deals, and latest discounts on all of Apple's products, consult the award winning and exclusive price trackers on MacPrices. Pricing updated daily, seven days a week!
App Tracking Transparency 'A Dud'?
In a story from earlier this week citing the report published in the Financial Times, Business Insider reported that the software update for iOS (version 14.5) that Apple rolled out in April of this year forces apps to show users a pop-up window asking for consent to track their activity for advertising purposes. If a user selects "no," that user's unique identifier — a tool that allows advertisers to build up profiles of people and target them with ads — is subsequently blocked.
Apple described the new privacy controls in iOS in a press release which said the following:
"App Tracking Transparency requires apps to get the user's permission before tracking their data across apps or websites owned by other companies for advertising, or sharing their data with data brokers. Apps can prompt users for permission, and in Settings, users will be able to see which apps have requested permission to track so they can make changes to their choice at any time."
According to a report from September published in the Washington Post, multiple instances have been identified in which "rogue apps" from Apple's App Store failed to maintain users' privacy.
Citing that report, Computerworld noted that when a user says they don't want an app to track them, the app should respect that request. However, the Washington Post referenced numerous cases in which the apps continue to harvest the same information — no matter what the user requests — and this data may be potentially sold to third party data tracking firms or used to provide targeted advertising.
Computerworld reported that the Washington Post spoke to Johnny Lin, a former iCloud engineer at Apple who told the publication the following:
"When it comes to stopping third party trackers, App Tracking Transparency is a dud. Worse, giving users the option to tap an 'Ask App Not To Track' button may even give users a false sense of privacy."
Not Locked Down After All?
In a separate story from September, Business Insider reported that a study by Lockdown Privacy (which Computerworld mentioned in its story as Lin is its co-founder) determined that even if users request apps not to collect their activity across other companies' apps and websites, most apps still collected personal data. The software company found that App Tracking Transparency made no difference in the total number of active third party trackers.
Lockdown Privacy also further confirmed that detailed personal or device data was being sent to trackers in almost all cases.
Business Insider reported that much of what a user does on their iPhone — and the data they generate — doesn't stay on the device. Per the media outlet, iPhones routinely send some data to wireless carriers, websites, app developers, and to Apple's services as well as its own servers.
In response, an Apple spokesperson told Business Insider the following:
"When the user selects 'Ask App Not to Track,' the app is informed that the user would not like to be tracked by any means, and all developers — including Apple — are strictly required to comply with the user's choice. If we discover that a developer is not honoring the user's choice, we will work with the developer to address the issue, or they will be removed from the App Store."
Business Insider noted that the study by Lockdown Privacy was in contradiction to Apple's position on the subject of user privacy, referring to an ad found on a billboard in Las Vegas, Nevada in 2019 in which Apple stated: "What happens on your iPhone, stays on your iPhone."