Details of Verizon's 2021 Black Friday Apple iPhone 13 deals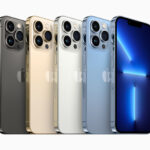 Verizon has announced their Black Friday 2021 Apple iPhone 13 deals for new and existing customers. Verizon will take up to $1000 off the price of a new iPhone 13 Pro Max or 13 Pro and up to $800 off the price of an iPhone 13 or 13 mini with qualified trade-in. Existing customers can save up to $440 when they upgrade with a qualified trade-in. Price of the iPhone 13 will be spread over 24 or 30 months of payments, depending on the chosen Unlimited service plan. Final price of the discount will be based on the value of your trade-in. Verizon's discount reduces the price of the 128GB iPhone 13 Pro to $0, or free, with maximum trade-in value applied.
New customers who are switching to Verizon and opening a new line of service qualify for a free $1000 prepaid card (iPhone 13 Pro/Max) or $800 prepaid card (iPhone 13/mini): The fine print: "Add a smartphone (retail value over $699.99) with monthly device payments to your cart, then activate on a new smartphone line of service with Verizon Unlimited plans. You'll get up to $1000 Virtual Prepaid Mastercard per switched line."
Verizon's deals are live on their site today through November 29, 2021. Keep an eye on our iPhone Price Tracker for the latest prices & deals on iPhones and plans from Apple and its carriers, updated daily.