Apple has 27-inch 5K iMacs in stock and available today starting at only $1529, Certified Refurbished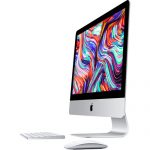 Apple has a full line of Certified Refurbished 2020 27″ 5K iMacs available starting at $1529 and up to $350 off original MSRP. Apple's one-year warranty is standard, shipping is free, and each iMac features a new outer shell. The following standard configurations are available:
– 27″ 5K 8-Core 3.8GHz iMac: $1949 $350 off original MSRP
– 27″ 5K 6-Core 3.3GHz iMac: $1699 $300 off original MSRP
– 27″ 5K 6-Core 3.1GHz iMac: $1529 $270 off original MSRP
Their prices are the cheapest available for current-generation 27″ iMacs anywhere.
For more information, see our iMac Price Tracker, updated continuously.