It's Out With The Old (Tech) And In With The New (Specifically, A 'New' Mac)
COMMENTARY: 12.31.21 – Earlier this year, a certain writer made a resolution (no, not one for 2022) to finally upgrade to a newer computer to replace a much older one which has been in use, off and on, for nearly a decade..
This past Summer — the first week of August (to be exact) — out of the blue, I decided to spring for a "new" Mac. One can only bite the bullet (so to speak) for so long before they must upgrade their old computer due to external forces beyond their control, for whatever reason, be it issues with speed and performance or an older machine not meeting the minimum system requirements necessary for installing the latest version, or, later versions, of MacOS (in my case, it was the latter scenario).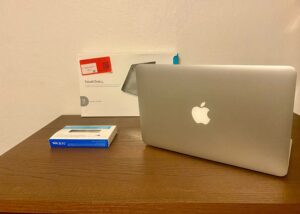 When it comes to shopping for a brand new Mac, however, you don't always have to look for sales or special deals to save money: nor is it even necessary to get the latest and greatest models with Apple's silicon chips inside.
**AD: Save money on your next Mac by consulting our award winning and exclusive price trackers right here on MacPrices. Find the lowest prices, best deals, and latest discounts on new (or refurbished) Macs from Apple (and Apple Authorized Resellers). Pricing updated daily, seven days a week!
Chip Off The Old Block
My previous Mac — a MacBook Air (an 11-inch model from mid 2011) that I purchased in used condition off of Craigslist back in 2012 — was getting a little long in the tooth (so to speak) and for quite sometime now, its operating system has been relegated to MacOS High Sierra so, for this very reason, I decided that the time was right to finally upgrade (I've held off on upgrading "forever" because after I lost my eyesight in 2013, my daily device for computing became my iPad mini which, with VoiceOver, Apple's built-in screen reader for the visually impaired, has been far more easier for me to navigate in iOS as opposed to the same in MacOS and, as a result, I haven't really found a need to use a computer).
I knew that I wanted a more modern Mac though not necessarily one that was brand new, for instance, a computer that still had "Intel Inside" (to borrow the chipmaker's slogan) versus a newer machine with Apple's M1 processor in it. Plus, my budget meant that I would have to look for something refurbished or, better yet, in used condition but as close to "near mint" as possible.
Additionally, this new Mac of mine had to be an ultraportable laptop (I've always been a fan of small tech gadgets… my very first iPod was an iPod mini, my iPad is currently an iPad mini 4, and my iPhone is a second generation iPhone SE with a diminutive 4.7-inch display).
As far as ultraportable laptops go, the only Mac notebook computers that fit the bill are the MacBook Air (11 and 13-inch) and the MacBook (12-inch). I immediately ruled out the one with a display measuring 13.3″ in length, which put me squarely in between "a rock and a hard place" (so to speak) with my other two options being models featuring screen sizes of 11 and 12 inches, respectively.
Of the two competing Mac notebook computers that I had debated on purchasing for myself, I seriously considered getting an "all-new MacBook" (as it was marketed by Apple) since it would be a breath of fresh air (so to speak) seeing as how I've been using, for nearly a decade now, a MacBook Air with a display measuring 11.6″ in length (albeit, sporadically during that period of time).
An Oldie But Goodie
With those stipulations in mind — lightweight and light on the wallet — I, naturally, went on eBay to search for a "new" Mac (Craigslist was not an option this time around as I, obviously, wanted to avoid conducting physical transactions using cash or having any type of face-to-face interactions with the seller, masked or unmasked, due to COVID-19).
Earlier this year, I read in Macworld that the MacBook had (previously unbeknownst to me) a similar footprint to the MacBook Air (11-inch). Amazingly, it was even thinner and lighter, too, despite sporting a larger display (due to its smaller screen bezels). However, after reading, elsewhere, a side-by-side comparison of both Macs in question, the sole USB-C port on the former of the two, versus the "plethora" of ports on the latter, was the big deal breaker for me (mainly because my existing USB peripherals were, still, of the USB-A variety).
As a result, I decided to stick with the smaller MacBook Air and get the "latest and greatest" version that Apple ever manufactured and, since this particular Mac was discontinued in 2016, I had no choice but to purchase a unit in used (but,"excellent") condition: an 11-inch model from early 2015 (one of the high-end versions).
While I technically ended up with the exact "same" computer that I had before? My "new" Mac, in an apples to apples (pun intended) comparison was a significant upgrade over its predecessor, featuring a 2.2GHz Intel Core i7 "Broadwell" CPU, 8GB of RAM, and a 128GB SSD (versus a 1.6GHz Intel Core i5 "Sandy Bridge" CPU, 4GB of RAM, and a 64GB SSD).
Plus, although it is already six years old, since it is a newer machine, it supports the newest version of MacOS: MacOS Monterey (unfortunately, that may be the last available software update that will be compatible with this computer as Apple traditionally ceases support for any discontinued Macs five years after it officially stops selling a specific model).
'Should Old Acquaintance Be Forgot…'
This "new" Mac of mine is not the first one that I've acquired secondhand. Of the 15 Macs that I've purchased for myself over the years, only two were brand new while another was refurbished (Apple "certified refurbished" via an Apple Authorized Reseller, to be exact) and the rest pre-owned. In fact, this most recent purchase is the least amount of money I've ever paid, period, for any computer — including a couple of PCs (netbooks from HP) — that I've personally owned but, specifically, a unit in used condition (this doesn't include three other ones, also Apple computers, that I didn't actually buy as they came into my possession, free of charge, when I was teaching technology in an elementary school setting).
So, how much did this MacBook Air cost? Only $385 (plus sales tax, though shipping was free) which is a "steal" considering that just three years ago, the going Price on eBay for this exact same computer (in used condition, of course) with a few months of AppleCare remaining on it was $999 (at the time, I was already looking into getting a newer machine for myself but prices for this specific model, pre-owned, were still out of the range of what I could afford on my budget).
Although, that price tag doesn't take into account the additional $199 I spent in order to replace the stock drive inside the MacBook Air, which I upgraded with a 1TB OWC Aura Pro X2 SSD that I bought directly from Other World Computing (a.k.a., macsales.com). Also, to protect my "new" Mac, I paid almost $20 (only $8 if you don't include shipping) for a SmartShell case in nickel gray from Speck, except via a third party seller on eBay (as the manufacturer no longer sells that specific model on its website… a real deal, considering it previously retailed for $44.95!). Additionally, for peace of mind, I purchased a 1-year warranty for $44.99 from SquareTrade (since the computer is, obviously, too old to qualify for AppleCare) off of eBay as well.
But "the million dollar question" that is probably on everyone's minds is, how has my "new" Mac been working out for me so far? While this MacBook Air isn't actually brand new and still contains an old chipset from Intel, I'm quite happy with my newest purchase (not to mention, the amount of money I saved by getting it in used condition).
Most notably, however, because I now have a more modern Mac with a fairly recent version of MacOS, MacOS Big Sur, I'm no longer stuck with an outdated operating system (I haven't yet updated it to MacOS Monterey but, at least, I know it will be compatible when I get around to doing so). Plus, with the software that I currently have installed on it, I've discovered additional accessibility-oriented features for the visually impaired that has made computing on Macs, with VoiceOver, much easier than it has been previously (a huge benefit for individuals, like myself, who are blind). The way I "see" it, the decision to finally upgrade — something that was long overdue — has transported me out of the past and into the present (or, future?) and I'm hoping that this newer machine serves me well through the end of the decade (minimally, after the warranty on the unit expires… hopefully, beyond 2022!).
---
Related Reading: from the PowerBook Central archives (November 2007) – "Get Black Friday Deals on 'New' Macs 24/7"