Apple AirPods Pro are back in stock for the New Year for $52 off MSRP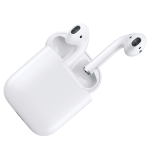 Amazon has Apple AirPods Pro back in stock today and on sale for $52 off MSRP. Shipping is free with delivery estimates as soon as the end of this week:
– AirPods Pro (2021): $197 $52 off MSRP
Amazon's price is the lowest available anywhere for AirPods Pro. See our AirPods Price Tracker for the latest prices and deals from Apple and its resellers.