24″ M1 iMacs on sale for $1249, $50 off Apple's MSRP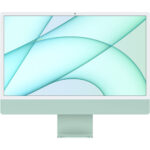 Amazon has base 24″ M1 iMacs (8-Core CPU/7-Core GPU/8GB RAM/256GB SSD) on sale today for $1249 shipped. Their price is $50 off Apple's MSRP, and it's the lowest price available for a new 24″ M1 iMac. Check their site for the stock status of your chosen color, as Amazon's stock continues to flucuate.
For the latest prices and sales, see our iMac Price Tracker, updated daily.