Amazon is blowing out 2020 21″ iMacs for only $599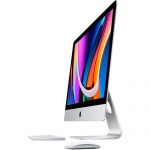 Amazon has clearance 2020 21″ iMacs (2.3GHz Dual-Core i5, 8GB RAM, 256GB SSD) on sale right now for $599.99 including free shipping. Original MSRP for this model was $1099. Amazon expects delivery in February, so the iMac is not in stock today. However, they are accepting orders at this discounted price. Check their site for the latest stock status.
For the latest prices and deals, see our iMac Price Tracker, updated daily.