Apple Product Sales Halted, Company's Services Limited In Russia Amid Vladimir Putin's Invasion Of Ukraine
NEWS – Apple will be announcing new products today, however, those items will not be making their way overseas to its customers in a certain country anytime soon.
Last Tuesday — in response to the "special military operation" being conducted by Russia's troops (at the behest of its president, Vladimir Putin) — Apple finally decided to take action against the Russian Federation after it indefinitely blocked purchases through its online store in the former Soviet Union (U.S.S.R.). According to a report from the BBC, the Cupertino, California-based company has become the latest (at the time) major brand to halt all sales of its products in Russia in what the media outlet described as, "a widening corporate backlash to the country's invasion of Ukraine."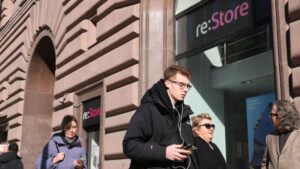 The company's decision came following an open letter published the week before last (via Twitter) by Ukrainian Vice Prime Minister, Mykhailo Fedorov, who, per the BBC, asked Apple to cut off Russia from its products, services, and App Store.
**AD: After viewing today's Apple Special Event, consult the exclusive and award winning Apple price trackers on MacPrices for the lowest prices, best deals, and latest discounts on any new products announced during the online-only event, as well as sales on discontinued / previous generation merchandise, sold by Apple (and Apple Authorized Resellers). Pricing updated daily, seven days a week!
A 'Meaningful' Move
In addition to halting all sales of its products in the country, Apple indicated (at the time) that it was in the process of pulling two apps from its App Store — Russia Today (RT) and Sputnik News (both of which are state-run news agencies) — in order to prevent them from being accessed by iPhone users in countries outside of Russia (a move that has been implemented since then). According to a report from Business Insider, services like Apple Pay have been limited for customers using the service within the Russian Federation and "as a safety and precautionary measure for Ukrainian citizens" (the actual words from the statement made by the company) certain features in Apple Maps, such as live incidents and traffic status, have been disabled when accessing locations in Ukraine (e.g., by Russia's troops).
Business Insider also reported, per Apple's announcement, that the company had ceased all exports to Russian sales channels as well (e.g., third party resellers of Apple products in the country).
Additionally, Apple also recently reversed its policy on Crimea, with Apple Maps again displaying the Crimean Peninsula as officially being a part of Ukraine. According to a report from Engadget, the company previously tried to strike a middle ground by indicating that the region did not belong to either of the two countries after Putin forcefully annexed the land back in 2014, however, in 2019, it finally gave in to pressure from Russia's government by classifying the geographical location in dispute as that country's territory when viewed locally in Russia (the media outlet did note that it was not clear if the app still includes concessions for iPhone users who view the maps within the Russian Federation).
"Apple does have a lot of power and consumers are very addicted to their products …so cutting off these products is meaningful," said Neeru Paharia, an associate professor who researches consumer behavior, moral psychology, and brand signaling at the McDonough School of Business in Georgetown University (in an interview with Wired).
"For many years, people thought companies were just apolitical, like they should just stay out of it," added Paharia. "Now there's a lot more pressure for companies to take more moral positions."
Deep Impact
Re:Store — Russia's largest third party reseller of iPads, iPhones, and Macs (as well as other Apple accessories) — announced, following Apple's own announcement last Tuesday, that it was temporarily closing its stores to assess market conditions because of the ongoing impact of sanctions in the country. According to a report from iMore, an Apple-centric news site on the web, the retailer's more than 40 store locations across Russia (including one each in Ukraine and the Czech Republic) offers its customers a wide range of the Cupertino, California-based company's products and also includes product repairs and servicing as an Apple Authorized Service Provider (AASP).
Other than the Re:Store locations in Russia, Apple's online store is the only direct sales channel where the company's customers within the Russian Federation can officially purchase Apple products and accessories (at the moment, when a customer attempts to place an order on apple.com/ru, the delivery option is currently unavailable).
Outside of its virtual presence in the country, Apple has yet to open a physical retail store within the Russian Federation. In 2013, on the day Apple's online store in Russia opened for business, 9to5Mac, another Apple-centric news site on the web, reported that the company's Russian ties (at the time) had started to strengthen, with rumors indicating that the company was interested in opening stores in the country's homeland.
It is not immediately clear how Apple's decision to halt all sales of its products in Russia will affect the company's bottom line (e.g., profit margins) in the short, or even, long, term.
In its report, the BBC noted that because there are many phone companies in Russia and plenty of alternatives to iPhones, the impact resulting from a pause in the availability of Apple products will not be felt immediately by the company's customers within the Russian Federation. Citing data originally compiled by Counterpoint, a global market research firm which specializes in mobile and technology products, the media outlet reported that, last year, Russia's third best-selling smartphone model was the iPhone, accounting for roughly 13% of all smartphones sold in the country in 2021. However, that percentage represents only a small fraction, less than 2%, of Apple's revenue globally.
Taking 'A Clear Stand'
Apple's decision to take a clear stand against Putin's invasion of Ukraine is of great significance given the high visibility of its products and the tremendous influence it wields as a leader in the technology industry. According to a report from Wired, the company's actions are especially significant given the criticism it has recently faced for previously making concessions to foreign governments (e.g., China).
Wired — referring to an interview with Tyson Barker, head of the Technology and Foreign Policy Program at the German Council on Foreign Relations — reported that since the company has played nice with Russia's government in the recent past, Apple's move to cut off access to its products in the country was notable. One example the magazine cited, per Barker, was from last year when Apple removed a voting app by Russian opposition leader, Alexei Navalny, a vocal critic of Putin who is currently in jail, from its App Store (a move that Google followed as well). Additionally, also in 2021, per the publication, it agreed to implement an extra step during the setup process for iPhones sold in Russia which prompted its users in the country to download state-run apps and install them on their phones.
The BBC, noting that Apple, generally, is fairly good at keeping its head down when it comes to global affairs, reported that the company had started to receive criticism for its relative silence on Ukraine.
"I am deeply concerned with the situation in Ukraine," said Apple CEO, Tim Cook (in a tweet posted to Twitter on the day Russia's troops entered Ukraine). "I am thinking of the people who are right now in harm's way and joining all those calling for peace."
In its report back in 2013, 9to5Mac noted that Apple establishing direct sales in Russia through an online store was a strategic move on the company's part and, with the Russian Federation being regarded by economists (at the time) as a key emerging market in the technology industry, its efforts to establish a presence in the country was a critical step towards cementing Apple's quest to assert itself as a globally dominant company.