Apple Should've Called Its All-New Mac Desktop Computer 'Mac mini Pro' (Instead Of… Mac Studio)
COMMENTARY – Apple, at times, leaves the "average Joe" (in particular, this one) scratching their heads when it comes to the branding of its products.
Mac Studio — an all-new Mac desktop computer offered by Apple — was unveiled by the Cupertino, California-based company earlier this month at its "Peak Performance" virtual event. When paired with the also new Studio Display, both products (per a press release) are, "designed to give users everything they need to build the studio of their dreams."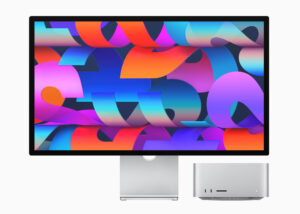 While this product is totally brand new, however, it's hard to ignore the fact that the Mac Studio looks almost exactly like, save for its height, a Mac desktop computer that already exists: the Mac mini.
**AD: Are you in the market for Apple's newest Mac? If so, make sure to check out the award-winning and exclusive price trackers right here on MacPrices for the lowest prices, latest discounts, and best deals on the Mac Studio and Studio Display sold by Apple (and Apple Authorized Resellers). Pricing updated daily, seven days a week!
'A Mac mini On Steroids'
This all-new Mac desktop computer from Apple is even described as, "a Mac mini on steroids" by Macworld.
"Apple basically took the Mac mini design and expanded it. As a new entry in Apple's Mac lineup, it would've been cool to see Apple do something unique. But gone are the days of Apple taking serious design risks: like with a cube, a chrome cantilever arm, or a cylinder."
With that in mind, a more apropos branding of the product would have been for Apple to call it a "Mac mini Pro" since, design-wise, the size and form factor of the Mac Studio (— a square footprint which measures 7.7 inches and 3.7 inches tall — clearly make it similar in almost every way to a Mac mini, notwithstanding, its dimensions measured vertically.
Earlier this month, just days prior to the announcement of the actual product in question, the rumor mill pointed to a totally brand new Mac coming soon, reportedly to be announced at either the Apple special event on March 8 or Apple's Worldwide Developers Conference (WWDC) in June. I was holding on to the hope that this rumored "mini Mac Pro" in the works, should the reports prove to be true, wasn't going to be branded as "Mac Studio" by Apple in the end (perhaps, just an internal codename used within the company?) and that the name, hopefully, was purely speculation on the part of the media based on leaked information from various sources.
Apple's subsequent announcement of the Mac Studio (and, its decision to brand the product as just that) came as a complete surprise to me because, really, in essence, it's just a taller Mac mini (nearly 3x more than the m1 version).
A Mac mini For 'Pro' Users
If you didn't already know in advance what Apple was describing, the company's. own description of the Mac Studio makes it sound like the product that's being described is none other than the Mac mini (except, of course, one created for and designed to be used by "Pro" users).
"A breakthrough in personal computing, Mac Studio is powered by M1 Max and the new M1 Ultra, the world's most powerful chip for a personal computer. It is the first computer to deliver an unprecedented level of performance, an extensive array of connectivity, and completely new capabilities in an unbelievably compact design that sits within arm's reach on the desk."
A Mac desktop computer with, "an unbelievably compact design" sure sounds like a Mac mini to me.
Despite the fact that Apple is marketing this all-new Mac desktop computer as, "the ultimate studio setup" for creative professionals? Since it's, basically, a super-charged Mac mini with a much faster and more powerful Apple silicon chipset inside, instead of Mac Studio, a more logical choice for the company would have been to have attached the "Pro" moniker to the branding of the product and subsequently branded this model in particular as a "Mac mini Pro" (wouldn't you agree?).
That said, however, if it was really imperative for the word "studio" to be used in the name of a new Mac in order to differentiate it from other models in the company's existing lineup, product branding-wise, "Studio Mac" — which syncs quite nicely with the also new Studio Display (after all, it's not called "Display Studio") — would have been a better choice for Apple to have made rather than the one it decided to go with in the end: Mac Studio (sigh!).
---
Related Reading: from this column's article archives (June 2020) – "Switch To ARM-Based Processors Right Time For Apple To Rebrand Its iMac As The 'Mac'"