How To Tell If A Product With The Speck Logo Is Actually The Real Thing
FEATURE – When searching for the perfect case to protect your Apple smartphone, once in awhile, you're going to (unfortunately) be fooled by Knock-offs that look and feel authentic.
Speck Products — a San Mateo, California-based company which manufactures cases, covers, and bags for various gadgets from smartphones to tablets and even laptops, too (including those made by Apple) — is such a well-known brand among consumers that its accessories are prone to being Knocked off, as it were, by counterfeiters. These counterfeits can be found out in the wild, so to speak, being sold online as "genuine" products.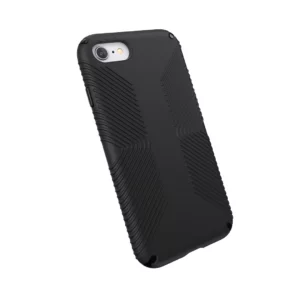 When purchasing an accessory for your Apple products labeled as being manufactured by Speck, how do you know that what you're getting is actually the real thing?
**AD: While you won't be able to find sales for accessories sold by Speck Products on this website, you can definitely find some of the items the company manufactures cases, covers, and bags for right here. For the lowest prices, latest discounts, and best deals on all Apple products sold by Apple and Apple Authorized Resellers, consult the award-winning and exclusive price trackers on MacPrices. Pricing updated daily, seven days a week!
Is It A 'Spark' Or A 'Dud'?
As someone who periodically likes to switch up the case on his iPhone, currently a second generation iPhone SE, I recently decided to purchase the Presidio2 Grip from Speck.
The other two cases from Speck that I already have for my iPhone are the Presidio Grip (the predecessor to the Presidio2 Grip) and the CandyShell Grip (an older model long discontinued). Aside from its appearance, each respective case is practically similar in design, both featuring military-grade drop protection and "no slip" grips made out of rubber.
In comparison to the Presidio Grip and the CandyShell Grip, the Presidio2 Grip boasts some improvements, with a pair of features not found on the other two cases.
Other than the "no slip" grips, the Presidio2 Grip features Speck's proprietary Armor Cloud technology (a "cushion of air" protecting your phone when dropped) and a layer of an antimicrobial coating called Microban (not created by Speck) which is built in to the case. Additionally, unlike the dual-tone color scheme of the Presidio Grip and the CandyShell Grip, the latest model is accented in three colors.
With the Presidio2 Grip upping the ante, so to speak, I was excited to be getting an upgrade of sorts for my Iphone, however, there were a few glaring differences — in particular, Speck's "spark" logo printed on the back of the case (as opposed to being embossed) — which led me to believe the Speck product that I purchased on Amazon (from a third-party reseller) was a: "dud" (the term the company uses for counterfeits).
'Fool Me Once, Shame On…' Me?
Believing that what I bought was a counterfeit, I decided to contact Speck's customer support team to find out if the Presidio2 Grip I had in my possession was genuine or a fake.
According to the representative from Speck's customer support team, because of the differences in the materials that the company uses as well as the manufacturing process involved, the Presidio2 Grip will feel different from the Presidio Grip. In order to verify the authenticity of the Speck product that I purchased on Amazon, I was directed to a page on the company's website where buyers can check whether or not the case they bought is a counterfeit.
In my case, pun intended, I was surprised to learn that the accessory was indeed authentic!
Despite confirming the Speck product that I purchased on Amazon was actually the real thing? Because the item I received was devoid of a "soft touch" finish — one of the other features of the accessory in question — I still was highly doubtful that the Presidio2 Grip I had in my possession was authentic and decided to return it for a refund (I also did not like how, instead of rubber, the "no slip" grips were made out of the same polycarbonate material as the case itself… yet another reason that I suspected what I bought was really a "dud").
To add insult to injury, so to speak, I also felt like a fool because prior to that experience, I had already encountered those quirks with a Presidio2 Grip that I bought via a private sale on eBay and, considering all of the red flags before me then, you would think that I'd have initially learned from my mistake (in hindsight, I could have avoided this problem in the first place by buying the Speck product directly from the company's website… there's a thought).
'Who Wouldn't Want To Swipe Our Style?'
According to Speck, the best way to avoid getting counterfeits is to buy its products directly from the company's website, speckproducts.com, or from an authorized reseller like Apple, Best Buy, or Target (or a wireless carrier such as AT&T, T-Mobile, or Verizon).
"Speck cases have ingenuity, flair and spunk, all rolled up in some serious protection," says Speck (in a page on its website warning customers to beware of counterfeits). "So, who wouldn't want to swipe our style?"
"We've done some sleuthing and discovered that copycat Speck cases are indeed being manufactured and sold online. We're flattered that others recognize our great design, but what we put into our cases is not easily captured and copied. We build cleverness, enthusiasm and pride into every product we make – and we want to make sure you feel the spark."
Back in 2013, Speck began incorporating a new holographic labeling system featuring multiple layers of covert (as well as overt) security technology. These labels, which are found on the back of the product packaging, contain a unique serial number and three digit code that can be verified at realspeck.com prior to purchasing — or, following the purchase of — a case, cover, or bag bearing Speck's "spark" logo on the accessory.
If you think you've purchased a knock-off bearing Speck's "spark" logo on the accessory and/or its product packaging, you can let Speck know (so it can put a stop to the sale of these counterfeits) by directly e-mailing the company at: counterfeits@speckproducts.com.
---
Related Reading: from the "Mac Potpourri" story archives – "Get A 'Grip' On Your iPhone With A CandyShell or Presidio Case From Speck" (January 2021).