Clearance 27″ 5K iMacs are on sale for $800 off original MSRP, prices start at only $995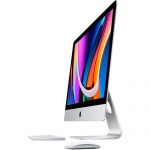 Other World Computing has dropped prices again on Apple refurbished, factory-sealed, just-discontinued 27″ 5K iMacs with models now on sale for up to $804 off Apple's MSRP, starting at only $995. Their prices are the lowest available for the most recent generation 27″ 5K iMacs (officially discontinued by Apple in March). Apple's standard one-year warranty applies, and OWC offers a 14-day free return policy. Discounts are also available on extra RAM and storage options:
– 27″ 5K iMac 3.1GHz 6-Core Intel CPU: $995, $804 off MSRP
– 27″ 5K iMac 3.3GHz 6-Core Intel CPU: $1299, $700 off MSRP
– 27″ 5K iMac 3.8GHz 8-Core Intel CPU: $1499, $800 off MSRP
Details at OWC here. For the latest prices and sales, keep an eye on our iMac Price Tracker, updated daily.