Mac mini with M1 CPU and 512GB of storage on sale for $749, $150 off Apple's MSRP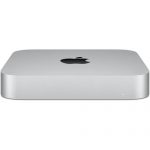 Amazon has the M1 Mac mini with a 512GB SSD in stock today on sale for $749.99 including free shipping. Their price is $150 off Apple's MSRP, and it's the lowest price available for this configuration. Be sure to purchase from Amazon rather than a third-party seller. These are the same Mac minis sold by Apple in their retail and online stores:
– Mac mini M1 CPU/512GB SSD: $749.99, $150 off MSRP
For the latest prices and sales, keep an eye on our Mac mini Price Tracker, updated daily.