AR Glasses That Work With Apple's Hardware? They're Already Here (Except… It Isn't From Apple)
NEWS – Lenovo has created quite the spectacle(s) with its latest product.
"Apple Glass" — the purported name of Apple's forthcoming AR glasses — is not expected to be released until 2025 (at the earliest). However, Lenovo has beat Apple to the punch with the announcement of a new wearable device: the Lenovo Glasses T1.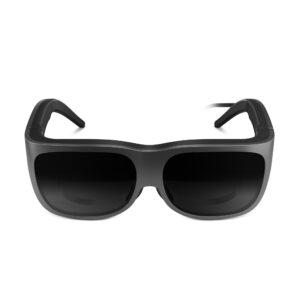 Lenovo's AR glasses are not only designed for use with Android smartphones and tablets but are fully compatible with iOS devices such as the iPhone and iPad (laptops running the Windows and MacOS operating systems are included on the list as well).
**AD: Find the lowest prices, latest discounts, and best deals on a new iPhone by consulting the award-winning and exclusive price trackers on MacPrices. Pricing from Apple (and, Apple Authorized Resellers) updated daily, seven days a week!
'A Big Screen In Your Pocket'
Acting as a virtual display, the Lenovo Glasses T1 connects (and, remains tethered) to a smartphone, tablet, and/or laptop via USB-C to provide what the Morrisville, North Carolina-based company describes as, "a big screen in your pocket" for displaying a document, webpage, or multimedia content (e.g., streaming movies and playing games).
Lenovo indicated in a press release that the iPhone 12 and 13 have been tested for compatibility (of note is that the iPhone 14 had not yet been announced by Apple, nor was it available for testing since it had not yet been released either). Additionally, in order to be compatible with iOS devices that have a Lightning connector, Lenovo's new wearable device requires the Lenovo HDMI-to-Glasses Adapter accessory as well as the Apple Lightning Digital AV Adapter (both sold separately).
In its review of the product, Ars Technica reported that the Lenovo Glasses T1 bring some notable features to a space that has piqued industry-wide interest but is still likely far from becoming ubiquitous.
"With no processor or battery, it's easier for the glasses to stay trim. There are also no sensors or cameras like the Lenovo ThinkReality A3, announced last year, has."
Other features of the Lenovo Glasses T1, per Ars Technica, include a pair of speakers — one near each temple — and the ability to add prescription lenses.
The Lenovo Glasses T1, per the press release, will go on sale in China later this year and be available in other select markets in 2023 (it is not clear at this time whether or not the U.S. is included). The price for the new wearable device will be announced at a later date.
Lenovo's Eric Yu, senior vice president of commercial product center and SMB segment, intelligent devices group, said the following in the press release:
"Every day, people all over the world are increasingly shifting to mobile devices for entertainment and productivity. Screen real estate can be a big bottleneck in the user experience. With a solution like the Lenovo Glasses T1, users have a portable and private big screen experience and can get more value from their [smart]phones and laptops."
Interestingly enough? In a blog post published last month on Daring Fireball, the site's publisher posited that one possible analysis of the tagline ("Far Out.") found in the invite for the Apple Event on September 7 was that Apple could be possibly previewing a new product — such as its upcoming AR/VR headset — that wouldn't be released until next year (akin to how the Apple Watch was unveiled in September 2014 but was not released until April 2015).
However, during the event earlier this month, there was no mention of Apple's AR/VR headset in any way, shape, or form.
Meanwhile, as indicated by 9to5Mac, Apple has reportedly been working on two new products featuring virtual and augmented reality. In addition to its AR/VR headset — which is expected to cost up to $2,999 due to its high-end hardware — the Cupertino, California-based company also has plans to introduce its own AR glasses in the near future.
---
Related Reading: from the "Mac Potpourri" story archives – "Is 'Apple Glass' The Next Tech Innovation Being Developed Within The Walls Of Apple Park?" (January 2021).