Apple announces Christmas 2022 shipping deadlines for various products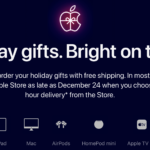 Apple has announced shipping cutoff dates to receive various products in time for Christmas 2022. The following dates apply for Apple's free shipping. Note the stock can vary, especially given recent global supply constraints. Faster options, such as overnight delivery, Apple Pickup, and 2-hour courier delivery may also be available:
– iPhone 14 Pro Max and 14 Pro: Nov 15
– All other iPhones: Dec 21
– Apple Watch Ultra, Series 8, SE: Dec 21
– iPad Pro, iPad Air, iPad: Dec 21
– iPad mini: Nov 30
– All Macs: Dec 21
– AirPods Max, AirPods Pro 2nd gen, AirPods 3rd gen w/Lightning Charging Case, AirPods 2: Dec 21
– AirPods 3rd gen w/MagSafe Charging Case: Nov 30
– HomePod mini, Apple TV 4K, Apple Gift Cards: Dec 21
– AirTag: Dec 14
Full details at Apple here.