Updated Apple MacBook Price Trackers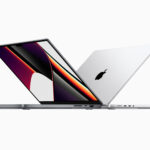 We've updated our Apple MacBook Price Trackers with the latest information on prices, bundles, & availability on MacBook Airs and MacBook Pros from Apple's authorized internet/catalog retailers:
– 16″ MacBook Pros
– 14″ MacBook Pros
– 13″ MacBook Pros
– 13″ MacBook Airs
Information is updated multiple times each day and includes new as well as Apple Certified Refurbished models. Current sales, as of this post, include new 16″ MacBook Pros for up to $500 off Apple's MSRP, new 14″ MacBook Pros for up to $400 off MSRP, new 13″ MacBook Pros for $150 off MSRP, and MacBook Airs for up to $200 off MSRP. Apple Certified Refurbished MacBooks are available at even steeper discounts.