Apple may be planning to use OLED technology on future iPad Pros and MacBook Airs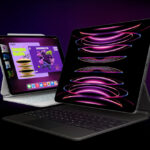 Apple is reportedly developing 11-inch and 13-inch OLED iPad Pro models that will come out in the first quarter of 2024. Apple analyst Ming-Chi Kuo initially suggested that the first OLED iPad would launch in 2022 but this plan has since been abandoned. Most previous rumors have centered on Apple making a 12.9-inch iPad Pro with an OLED display, but new evidence suggests that this may just be the beginning. OLED technology delivers an incredibly high contrast ratio and high resolution. Apple has reportedly delayed the first OLED iPad after terminating a display partnership with Samsung for manufacturing some screens. Apple would like to radically upgrade the displays in its iPad Pro and MacBook Air with OLED screens, but it may not happen until 2024 or beyond.
It's possible that Apple will use this technology on the rumored 15-inch MacBook Air, but that has not been confirmed. Nor has the existence of a 15-inch MacBook Air, for that matter.