Will Apple update the 24″ iMac with M2 processors?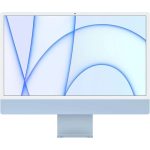 Mark Gurman, in this weeks's Power On newsletter, states that he believes Apple is waiting for their next-generation M3 processors to be available before updating the 24″ iMac. That would be later in 2023 or early in 2024. No reasons were given for this decision beyond his observation that nothing appears to be currently in the pipeline.
It's possible that Apple is waiting for 3nm chips (the current M2 uses 5nm processing) for a big jump on processing power. It's also possible that Apple needs M3 chips to power a rumored 27″ or 30″ iMac Pro. If so, then the extra processing power may be needed in order to meet performance expectations of an iMac combined with a display similar to the current Studio Displays or Pro Display XDRs. Apple may be interested in positioning such a product as a Pro alternative to a standalone Mac Studio or Mac Pro, with equivalent processing power and a build-in display.