Apple's mixed-reality headset may debut at WWDC this year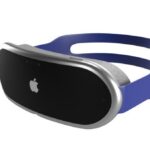 Mark Gurman, in this weeks's Power On newsletter, suggests that Apple may be planning to introduce their new mixed-reality VR headset this year at WWDC. Gurman states that Apple had not originally intended to debut its first mixed-reality headset at its 2023 Worldwide Developers Conference in June, however, this could turn out to be a good plan for the tech giant. Initially, the company was looking to unveil the device to the public during the spring season of late March or April, and then discuss its features with developers at WWDC. Due to engineering obstacles related to hardware and software, this plan was modified in recent weeks.
The headset, which is speculated to be released under the Reality brand, is expected to cost around $3,000 and include various innovative technologies such as pass-through cameras, in-air typing, hand and eye control, ultra-high-resolution displays and an external battery. Despite its alluring features, it is likely to mostly interest technology enthusiasts, rather than the average consumer. It could take a few years for the headset to become something that many Apple customers want. For this reason, WWDC would be the ideal place to debut the product to the crowd that would be naturally most intrigued by it.
The conference is usually one of Apple's most important events of the year and provides a week-long program of labs and sessions connected to the announcements. Additionally, the company must strive to be successful in a market that has been let down by previous attempts from other competitors. In order to promote the device to the mainstream, Apple will be reliant on third-party developers to create more useful applications and games. The WWDC venue is the perfect place for introducing Apple Reality's software development kit and Mac-based simulator. Likewise, the conference may need the headset as much as the headset needs WWDC.