Early details of Apple's next-generation M3 chips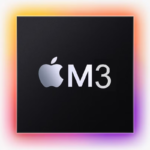 Mark Gurman, in this weeks's Power On newsletter, states that Apple is getting closer to releasing their new 2023 Macs, including the new 15″ MacBook Air, with M2 chips, and they are already hard at work on the follow-up processor: the M3. They are conducting tests with third-party apps to guarantee compatibility with their software, and although we already have some information about the upcoming 15-inch MacBook Air and Apple Silicon Mac Pro, the M3 could help increase their customer base, especially given the fact that Apple's Mac business had a 31% sales dip last quarter. However, at the moment, it is thought that these mid-2023 Macs will feature existing M2 power.
The M3 chip in testing has 12 CPU cores, 18 graphics cores, and 36 gigabytes of memory. This could mean that the M3 Pro would have two more power-efficient CPU cores and two more graphics cores than the M2 Pro, and 4GB more memory. If the M3 Max follows the same pattern as the M2 Max, it could come with up to 14 CPU cores and more than 40 graphics cores. The M3 Ultra chip could possibly have 28 CPU cores and more than 80 graphics cores. This is all possible due to the 3-nanometer manufacturing process, which allows for higher-density chips. The first Macs with M3 chips could come out at the end of the year or early next year and will likely include iMacs, high-end and low-end MacBook Pros, and MacBook Airs.