Apple releases the Apple Watch Ultra 2 featuring a brighter display and double-tap gestures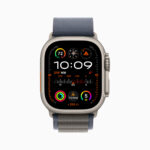 Apple has unveiled the latest addition to its smartwatch lineup, the Apple Watch Ultra 2, with a blend of enhanced features and a noteworthy commitment to environmental sustainability. The Apple Watch Ultra 2 builds upon the Ultra series, introducing the potent Apple Silicon S9 SiP, an intuitive double-tap gesture, the brightest display ever created by Apple, extended altitude capabilities, on-device Siri, Precision Finding for iPhone, and advanced functionalities catering to water enthusiasts.
The Apple Watch Ultra 2 boasts an expanded altitude range and the convenience of on-device Siri. Meanwhile, the watchOS 10 introduces fresh cycling experiences and outdoor exploration tools to provide users with a more comprehensive experience.
Jeff Williams, Apple's Chief Operating Officer, shared, "This year we've made our most rugged and capable Apple Watch even better. Apple Watch Ultra 2 is our most advanced Apple Watch, with great performance and feature updates. It's perfect for anyone who wants our biggest, brightest display, longest battery life, and best GPS of any Apple Watch, all in a stunning design."
One of the main features of the Apple Watch Ultra 2 is its powerful S9 SiP, a custom Apple silicon chip designed specifically for this watch. This chip delivers an array of systemwide improvements and introduces new capabilities like the double-tap gesture and on-device Siri access with the added bonus of private and secure health data handling. The S9 SiP also incorporates a new 4-core Neural Engine, processing machine learning tasks up to twice as fast as the original Apple Watch Ultra.
The double-tap gesture is a new innovation made possible by the faster Neural Engine. Users can now control their Apple Watch Ultra 2 using just one hand, without the need to touch the display. This gesture involves tapping the index finger and thumb of the watch hand together twice, facilitating various common actions such as stopping timers, managing music playback, or answering phone calls. Additionally, this gesture can be used to activate the Smart Stack and navigate through widgets in the stack. The double-tap gesture's accuracy is achieved through a new machine learning algorithm that interprets subtle wrist movements and changes in blood flow when the index finger and thumb perform a double tap.
The Apple Watch Ultra 2's display has also undergone substantial improvements, with a maximum brightness of 3000 nits, making it 50% brighter than the previous generation and the brightest ever produced by Apple. This added brightness ensures optimal readability in harsh sunlight, while the display can also dim to just one nit for minimal disruption in dark environments. The Flashlight feature benefits from the new display architecture by temporarily doubling the brightness when needed.
The Modular Ultra watch face has been designed exclusively for the Apple Watch Ultra, utilizing the larger display area to provide real-time data such as seconds, altitude, or depth. It offers a wealth of complications, making it highly customizable for sports, outdoor activities, and water-based adventures.
The Apple Watch Ultra 2 has been rigorously tested for extreme conditions, boasting the broadest range of altitude compatibility of any Apple product, from 500 meters below sea level to 9,000 meters above sea level.
Water enthusiasts will appreciate the Apple Watch Ultra 2's capabilities for activities like kitesurfing, wakeboarding, recreational scuba diving, and now freediving, thanks to the updated Oceanic+ app from Huish Outdoors. The Depth app now logs each diving session for easy review, and detailed statistics are available for freediving, including depth, elapsed time, and heart rate information.
Another new feature for the Apple Watch is the ability to process Siri requests on-device, eliminating the need for internet connectivity for certain tasks. This enhances Siri's responsiveness and reliability, making it up to 25% more accurate. Siri can also access data from the Health app for health and fitness queries and can even log health data like weight, body temperature, period tracking, or medication records.
Precision Finding is an anticipated addition to the Apple Watch Ultra 2, enabled by the second-generation Ultra Wideband chip in the S9 SiP. This feature aids in locating a misplaced iPhone by providing distance and direction information, along with visual, haptic, and audio guidance, ensuring that even a lost phone can be found with ease.
The Apple Watch Ultra 2 is now available for order, with availability starting on Friday, September 22nd. With its impressive array of features and environmental commitment, it's poised to make waves in the smartwatch market.