Putting the Puzzle Pieces of a 12" Pro Portable in Place
'Wishes Do Come True' Round Two
| | |
| --- | --- |
| by Joe Leo, Columnist | February 27, 2007 |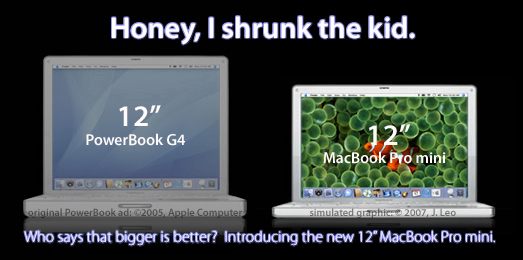 WISHFUL THINKING:
There are a lot of PowerBook G4 users out there who are reluctant to make the move to a Mac (Book) because they find the 15" model too big, and the 13" one not quite a fitting replacement for their little 12" powerhouse machines.
[GRAPHIC: ©2007, J. Leo-- original PowerBook ad, ©2005 Apple Inc.]

continued... from: previous page


Almost a year to the day that CNET News.com made their 2006 report, Kanellos again writes--this time on ZDNet News--that SanDisk released a 1.8" 32GB flash drive which the company hopes to eventually incorporate into all laptops, replacing the tried and true traditional hard drives.
Problem again is that price factor... Kanellos says that it will cost $600 to use that 32 GB flash drive in a notebook. But, prices will eventually fall, as did with prices for traditional hard drives. Except, 32 GB isn't much storage space for today's needs.
Fast forward to Sunday, where PBZone.com reports that a company named Adtron has manufactured a 2.5" 160 GB capacity NAND flash drive, currently the largest one on the market. Furthermore, PBZone.com touts it as, "an opportunity for Apple?" in their article. (An opportunity for what exactly? Innovation? Yes. And what? Oh yeah...).
If you do that math on that one though, that will cost five times as much as SanDisk's 32 GB flash drive, coming in at a ridiculous $3000 for that piece of technology. (Of course, assuming the math formula is based on Kanellos's quoted price of $600).
A month after the new Apple patents were filed, and just last week in fact, Think Secret reports on a job posting by Apple looking for a person to fill the position of "Manager of Mobile Mac Architecture" to which Think Secret's sources say that the person hired will be overseeing a new rollout of Mac portables.
As if the rumors weren't enough already. Adding another rumor to the rumor mill. Seems to go hand-in-hand with all the recent rumblings though, right? Mobile Macs? New ultra-portable laptops even more super compact than anything before?
Of course, a mobile Mac could also be referring to the yet-to-be-released iPhone.
What isn't a rumor, however, is the aforementioned (as discussed in the pages of The Press Box on PBCentral.com) new technology coming from chip maker Intel, which is scheduled to be released in May, corroborated by various sources just yesterday. [SEE RELATED ARTICLE]
Over at MacsimumNews they report that, "Intel's Santa Rosa platform will utilize the Core 2 Duo mobile processor, code-named Merom, for small-form-factor (SFF) implementations."
We assume that to mean small-form-factor technology like a forthcoming return of the 12" Apple ultra-portable.
Whatever the outcome, and if the pieces to this ultra-portable puzzle are really falling into place the way we think it is (and hope it is), Apple's going to please a lot of its alienated user base, and it's going to continue to be a great year for Apple. "Welcome to 2007..."
"...the first 30 years were just the beginning."
go back to: page one


---
Find the lowest price on a new or refurbished Mac at
MacPrices
.