Intel's New Lineup to Increase Speed, Decrease Energy Use
Announcement Follows on Heels of IBM's Own from Just Last Week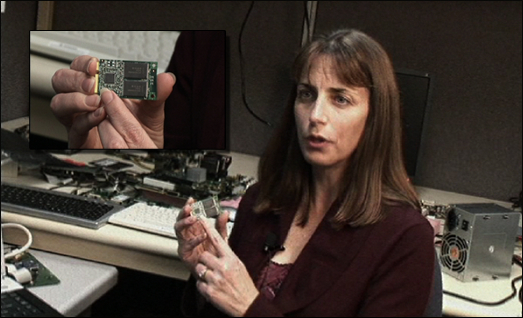 A 'LEAP AHEAD':
In a video interview, Karen Regis of the Intel Mobility Group explains the new features that will be forthcoming from the new Intel Centrino Duo technology that was announced this past Wednesday.
[PHOTO: ©2007, Intel® Corp.-- authorized use via NewsMarket (
graphic by J. Leo
)]

NEWS: (5.11.07)-- A week after IBM announced major technological breakthroughs allowing for faster and smaller chips with reduced energy use, Intel on Wednesday released new chip technologies that appear to do the "same," but specifically in the area of mobile computing.
From the Intel press release:
Intel has unveiled a new lineup of processor technologies that company officials say are designed to increase speed while simultaneously decreasing energy consumption... For both businesses and consumers, the faster Intel Core 2 Duo processor chips include various features like enhanced video and graphics, and faster wireless signals. Other applications part of this new lineup include the Intel Turbo Memory feature, which reduces the amount of time it takes to turn a laptop on or off by as much as 20 percent. The Intel Next-Gen Wireless-N provides 802.11AGN WLAN capability to increase download performance and wireless access range by up to five times. (Source: Intel - USA)
Karen Regis of Intel's Mobility Group, says, "The benefit of putting together a processor and a chipset in a wireless component is that you can tune them so that they work together optimally."
"You can do things once you have the components working together hand-in-hand in the system that allow you to deliver better performance on-demand and have the intelligence built in to shut down whole components--or parts of components--when not needed, to save power," she adds.
As far as the Intel Turbo Memory goes, Regis describes it as a NAND flash / "smart chip" that can keep track of what you are doing on your computer. It observes which applications you're using the most, and preloads them into this "turbo memory" that sits very close to the processor.
The big step up seems to be in their infamous "vampire video" (as some Mac columnists like to call it) integrated graphics chip that hasn't been widely received in the hearts of most MacBook users. The "enhanced video and graphics" might prove to be a key improvement.
Regis explains that, "...in our integrated graphics chipset, we have a brand new 3D graphics engine built in, and we have a new technology called 'Intel ClearVideo' technology. This actually, a set of technologies that can take any content--standard definition content--and clean it up to give clear, sharper, more vivid video playback."
(So who needs BluRay or HD DVD when you've got this new technology that boosts SD?).
Based on information provided from the two press/news releases (the IBM source was not an official "press release" from IBM themselves) however, IBM appears to still stake the claim to having the technological breakthrough--keyword, innovation--in the "Airgap" process that was reported here in these pages last week.

NOTE: The official press release contained within was obtained from The News Market, a news service we are a member of, which served as the basis for our story. (The interview with Karen Regis was obtained from a video clip provided by Intel® Corp. via The News Market, and is also under authorized use).
---
Find the lowest price on a new or refurbished Mac at MacPrices.