Macworld Expo 2009: LIVE Keynote Coverage from S.F.
With Show Being Apple Inc.'s Last Appearance, Will 2009 be Surprise to Top them All?

NEWS: (1.6.09)-- "The first 30 years were just the beginning..." and "There's something in the air" were Apple's taglines for 2007 and 2008 respectively. What Apple's slogan is for this, their final curtain call at Macworld Expo, remains to be seen. There are definitely a lot of questions on everyone's minds as to what will be announced, released, and said.
Whatever does transpire today, we've got it all covered. Please stand by as we wait for Apple's Senior Vice President of Worldwide Marketing, Phil Schiller, to give the final keynote address this morning, scheduled for 9:00a PST.
AD: After the Keynote, don't forget to visit the main front page as well as Mac Prices, for the latest and lowest prices (and availability) on any new Apple hardware announced at today's Keynote address from Macworld 2009.


Pre-Keynote Coverage
Just to whet your appetite in the hours (or minutes/seconds, depending on when you're reading this) before the actual Keynote begins, let's give you a quick summary of what the Mac rumor sites--remember, Power | 'Book Central is not a news rumor site--are predicting will come forth after the dust settles this morning. (Note: acquired from various sources)
Mac mini to sport the aluminum and black glass look now present in all Macs (plus dual display support?)
iMac to get speed bumps and new graphics chipsets
iPhone nano
iWork suite turning into web-based applications (use them on PCs too)
iMovie to follow suite, er, suit?
MacBook Pro 17-inch with unibody style and architecture like its updated brethren from October
MacBook Air new 17-inch model to replace the MacBook Pro 17-inch model
MacBook nano... as in the long-awaited true replacement to the 12-inch PowerBook G4 (or an Apple netbook)
Mighty Mouse updated to incorporate accelerometer
Steve Jobs not giving Keynote but might make a surprise guest appearance (not necessarily in person)


Keynote Coverage
Stand by as we prepare to bring you LIVE coverage from Macworld in San Francisco. Click on the following LINK to take you to the active page.** (If you don't see anything, the Keynote hasn't started yet, or something's happened to the columnist covering the event! Don't worry though... this year, the folks at IDG are giving us a "reserved" seat!).
Note: during LIVE coverage, you will notice the page you clicked on automatically refresh itself every 90 seconds (1.5 minutes) bringing you updates as you read, with the latest news and announcements on top.
**At the end of the keynote, the previously active link will change URLs to a formatted and cleaned up page, either later this afternoon and/or early evening.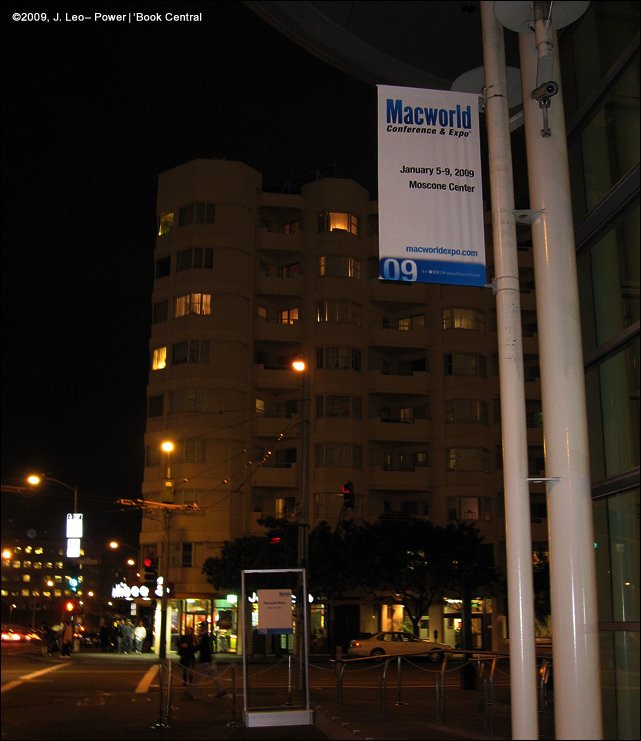 'YOU ARE (NOT) HERE': That's the sign for the special "Macworld Media" line for members of the press and, of course, media that's right up front at the entrance to Moscone Center West. (This columnist's third venture into Macworld finally gets him a backstage pass of sorts, but sadly, no Steve Jobs, and Apple's last at the Expo. Still beats waiting in a long line with the regular folks and the risk of not getting in!). Will there be a need for special lines, much less, any lines come Macworld 2010?