Griffin Wired Keyboard for iOS Devices – 'Book Mystique Review
One of the reasons I rarely connect my iPad to an external keyboard is my dislike of Bluetooth. I do use a wireless keyboard with my office Mac, thanks to the the excellence of Logitech's K-750 series Wireless Solar Keyboards. However they operate on RF frequencies, using a dedicated receiver dongle in a USB port, connect instantly, and don't require fooling around with pairing. Disconnect? Just pull the plug.
It's very much like with a wired keyboard, only with no physical connection between the 'board and the port. However, hard-wired keyboards haven't been an option with iOS devices until recently, with the appearance of several products available in both Lightning and 30-pin versions. These include Belkin's Secure Wired Keyboard for iPad (supports iPads only); MacAlly's IKEYLT Wired Keyboard; and the subject of this review — the Griffin Wired Keyboard for iOS Devices from Griffin Technology, a Nashville, TN based developer of often somewhat out of the mainstream Apple product accessories. The company was founded on Paul Griffin's kitchen table in 1992. Griffin products are still conceived, designed and developed in-house, and continue to push the envelope of the industry the company helped create.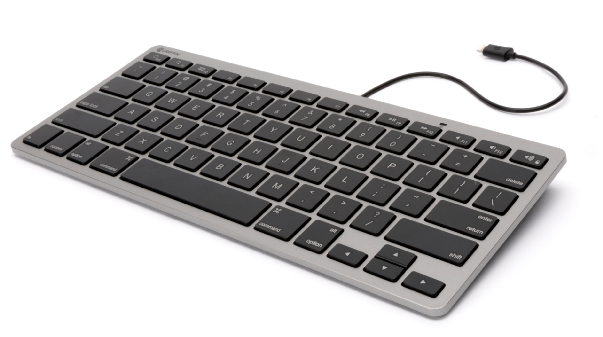 Griffin's Wired Keyboard offers full iOS key functions and tactile feedback with the added advantage of a cord that makes connections and disconnections quick, easy, and positive, with no pairing required.
The Griffin Wired Keyboard is available in 30-pin or Lightning connector versions, and connect to the iDevice (iPad, iPhone or iPod touch) via the docking port. Alas, still no mouse. Perhaps someone in Griffin's product development is listening….
Created specifically with school environments in mind (but still cool for,those of us who just prefer wired input), the Griffin Wired Keyboard helps instructors avoid challenges that inevitably crop,up when pairing several iPads with several Bluetooth keyboards. Since there is never a need to change batteries, recharge the keyboard or go through a Bluetooth pairing process, teachers can focus on teaching lessons rather than spending time troubleshooting connection issues. The generous one-meter cord provides enough length to configure workspaces comfortably.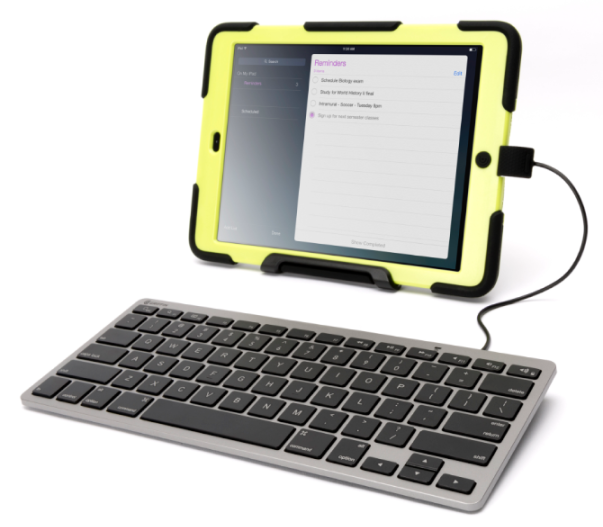 "Our Wired Keyboard is an easy plug and play solution that we designed for use in classrooms as a convenient option for students and teachers," says Erin Wiles, Education B2B Business Development honcho at Griffin Technology. "Additionally, with the advent of digital standardized testing, school districts are implementing rules for devices that require the use of an external keyboard not connected by Bluetooth. Our Wired Keyboard ensures that iPad tablets will meet SBAC and PARCC testing requirements."
The keyboard is extremely light -– featherweight really — and should be minimal hardship to take along when going mobile. The housing is a good quality plastic molding in a dark gray metallic finish with black key caps, and a fine – textured black on the bottom.
The electronics, such as they are on a wired 'board, live in a box section channel of the bottom enclosure molding that also serves to raise the rear of the keyboard (obligatory or nearly so by convention, albeit ergonomically wrong), but this is far from unique to the Griffin 'board).
The main alphanumeric keypad keys are mostly where you would expect them to be. I would have preferred a row of standard F–Keys on top with an fn function modifier key in the lower left corner. As it stands, we get a row of dedicated iOS function keys for things like volume, multimedia controls, and so forth, and an unmarked bottom left key.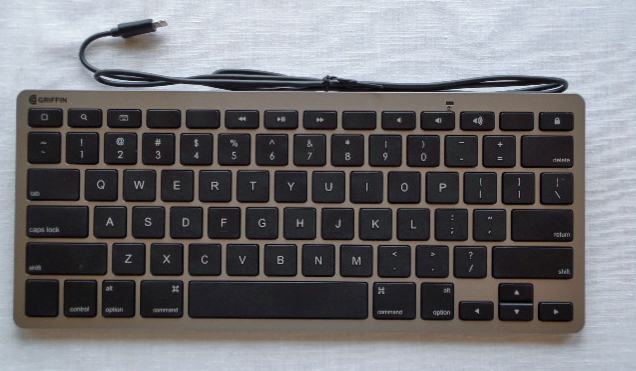 Of course, I have to keep reminding myself that this is a keyboard purpose–built for the iOS, and not for OS X or Windows, which in a roundabout way brings us to the philosophy of using an external keyboard with an iPad at all. Personally, I've gotten used to typing on the virtual on-screen keyboard, and in general I prefer it because it preserves what I perceive to be the iPad's marquee advantage: self-containedness and no-hassle, computing anywhere portability.
However, I have no quarrel with others who prefer a freestanding keyboard for productivity and comfort, and I really don't like typing on virtual keyboards smaller than the ones in the iPad mini.
The Griffin Wired Keyboard's key action is short, but somewhat stiffer and with more membrane keyboard "over-center" tactile feel than I prefer. Others may like the stiffish action, but I find it less than optimally comfortable
So I have mixed feelings personally about the Griffin Wired Keyboard for iOS. On the one hand, I applaud Griffin (and its competitors) for offering wired keyboards for those of us who prefer wired input over the hassle of pairing Bluetooth, wireless latency, and so forth, or who are challenged by the issue of too many Bluetooth devices operating in close proximity.
On the other hand, as noted, I find the Griffin's relatively stiff keyboard action unappealing, at least for long form entry. I do hasten to emphasize that I've been battling chronic polyneuritis for nearly 20 years, and consequently I am of necessity extremely picky about keyboard feel and feedback. Maybe one in 15 or so keyboards that I try really suits me. Most people will probably find the Griffin Wired Keyboard's action just fine.
I'll give the Griffin Wired Keyboard a four out of five rating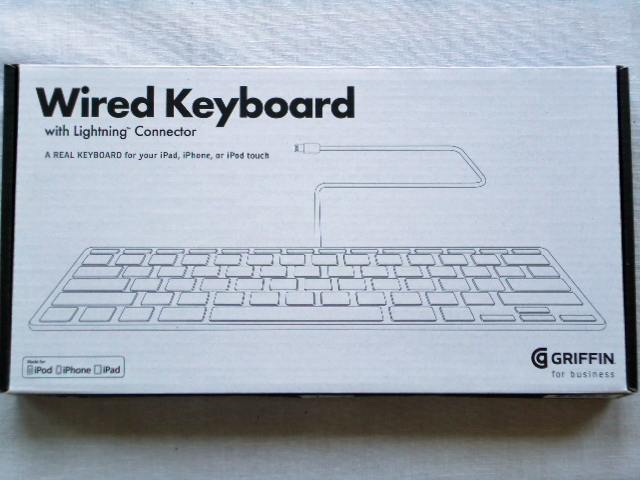 Griffin's Wired Keyboard sells for $59.99, comes with a three-year warranty and is available at:
http://store.griffintechnology.com/wired-keyboard-for-ios-devices
For more information about Griffin Technology's education products visit:
http://griffintechnology.com/education