iPad Pro Impressive Engineering Achievement, But Disappoints As Laptop Substitute – The 'Book Mystique
Now that last Wednesday's iPad Pro announcement has had time to sink in a bit, I can say that it turned out to be pretty much what I had expected and less than I'd hoped for, so a bit of a disappointment but no big surprise.
Photo Courtesy Apple
I hadn't expected the professional iPad to be quite as blatant a tribute to Microsoft's Surface Pro tablet computer, but it managed to hit many of the marks, albeit with some important distinctions. There are substantive reasons why Microsoft's Surface revenues were up by an astonishing 117 percent last quarter to $888 million, while Apple's iPad sales, while much greater in number, continued to slump growth wise, and I'm skeptical that the iPad Pro, despite its flattery of some elements of the Surface's form factor, will match the Microsoft tablet's appeal for enterprise and other productivity-oriented users with its support for the full desktop version of Windows 10 with real multitasking and multi-windowing, an accessible file directory, mouse support, and USB connectivity — none of which the iPad Pro as an iOS device can match.
Photo Courtesy Microsoft
Personally, I guess I would only have been really satisfied with an Apple tablet that could run a touch optimized (so easy to say) version of OS X, but then that would've made it a Mac and not an iPad, wouldn't it? I was not seriously expecting that.
Moreover, since iOS 9 betas have been in the wild for several months now, and with the iPad Pro virtually certain to be an iOS device, I wasn't anticipating one of the highest priorities on my wish list — file level directory access, the lack of which cripples iOS devices a as functional substitute for a laptop in my line of work, and I presume others as well.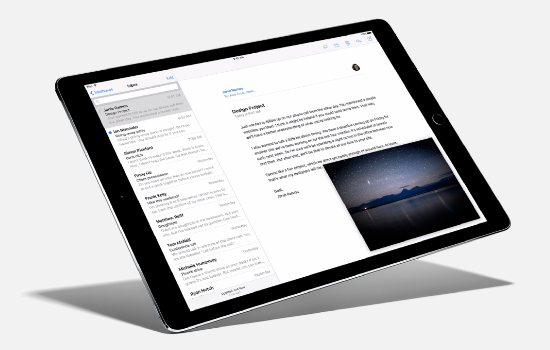 Photo Courtesy Apple
I was surprised that Apple didn't equip the professional iPad with a USB-C port, what with the hoopla about relying solely on USB-C for all hard wired connectivity functions in the new 12-inch MacBook, and with late rumors suggesting that USB connectivity would be included in the iPad Pro. Instead we get the Smart Connector, yet another proprietary Apple non-standard interface. Its support of two-way power transmission is functionally interesting, but I would happily forego that for the standardized versatility of a USB 3 or USB-C port.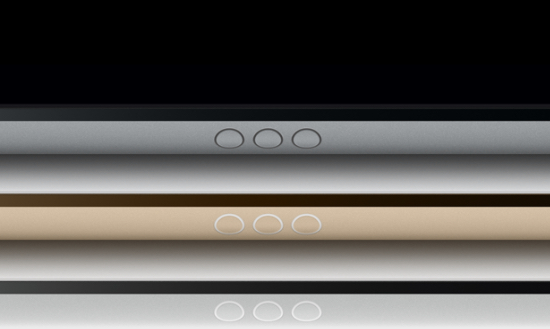 Photo Courtesy Apple
Another feature I had been hoping would materialize is iOS support for external pointing devices, which should be eminently doable with the iOS with Bluetooth connectivity already there. Apple's ongoing refusal to incorporate a mouse driver can only be attributed to pure stubbornness.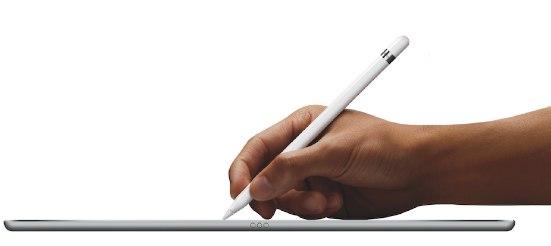 Photo Courtesy Apple
Sorry, but a stylus — even a heavily tricked out one like the new Apple Pencil — just doesn't do it for me. Compared to a mouse or rollerbar (my personal favorite pointing and clicking device) stylus body English is just cumbersome. The Apple Pencil will be a significant advance for tasks like precision image editing, but for the work I do mostly, it doesn't appeal — especially not selling for $99.00.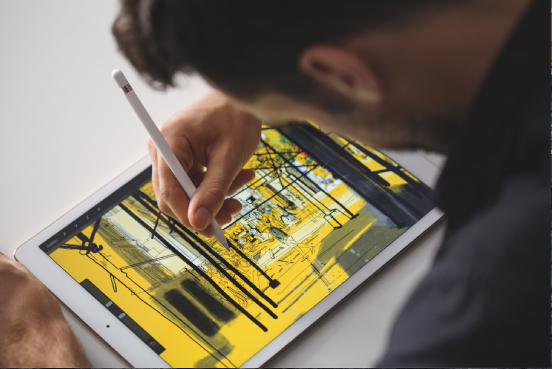 Photo Courtesy Apple
Neither does the optional Smart Keyboard much entice, costing $169 as it does. I anticipate that the third party device market will be supplying iPad Pro keyboards and keyboard cases at more reasonable price points, but the mouse issue will remain unresolved for at least one more iOS major version upgrade cycle.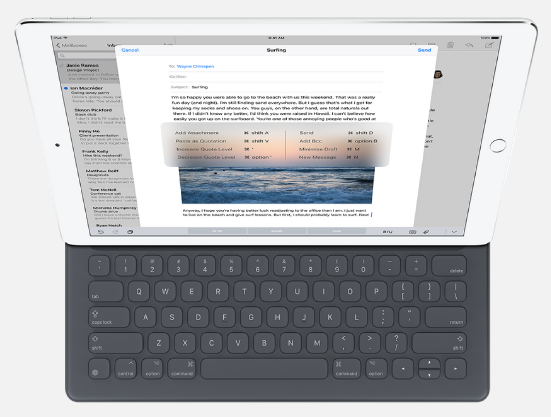 Photo Courtesy Apple
I don't want to be excessively negative, because there's also a lot to like about the iPad Pro if you're a tablet fan, which I am. For one thing, it's an impressive piece of engineering, with a form factor only 6.9 millimeters thick, just .8 millimeters thicker and very similar in proportions to the iPad Air 2, only scaled up and weighing in at 1.57 pounds (713 grams), which is amazingly just three-tenths of a percent heavier than the original 9.7-inch iPad's 1.54 pounds, even though the Pro has 78 percent larger screen area. The Pro is also the first tablet with four-speaker sound — bass on all four and high range on the uppermost two — whether the Pro is in portrait or landscape mode.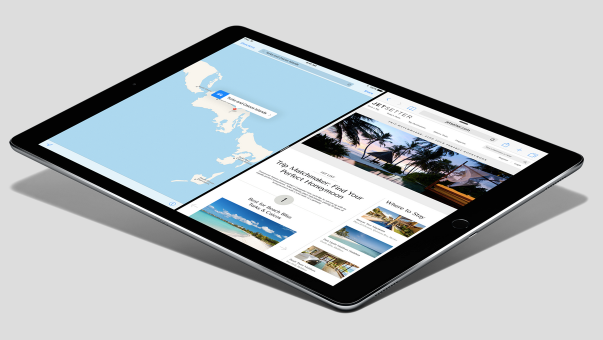 Photo Courtesy Apple
Power wise, Apple claims the iPad Pro's A9X system-on-chip provides 1.8x faster CPU performance and 2x faster GPU performance, and reportedly it has 4 GB of RAM — double the A8X iPad Air 2's 2 GB — so there should be a substantial performance improvement over the already fleet and speedy Air 2.
The base WiFi iPad Pro model matches the base Microsoft Surface Pro's $799 entry level but adding a Smart Keyboard bumps it to $969, and a memory upgrade to 128GB takes you to $1,129, which is MacBook Air territory. A 32GB iPad Pro with a keyboard and an iPad Pencil and no keyboard is will set you back $1,067, while a 128GB 11.6-inch (albeit non Retina) MacBook Air starts at $899
Apple says the iPad Pro 's 5.6 million pixel (2.5 million more pixels than iPad Air 2), 12.93 inch Oxide TFT panel is the most advanced, highest-resolution, display the company has ever offered, with a revamped Multi Touch subsystem supporting extreme resolution, along with remarkably lifelike colours and deeper blacks.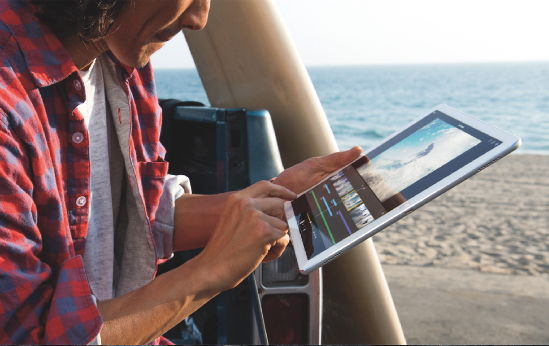 Photo Courtesy Apple
Another new screen tweak is a Variable Refresh Rate, with the, iPad Pro being able to sense when screen content is static and cuts the refresh rate in half, to 30 times per second instead of 60, boosting its energy efficiency.
In summary, the iPad Pro is an attractive and impressive product, but at the price I would find it hard not to opt for a MacBook Air or even go a few hundred bucks more for a 12-inch Retina MacBook (although I would wait for the inevitable second revision with an Intel Skylake CPU). However, if Apple ever relents and gives the iOS a user-accessible file directory a USB port, and a mouse driver, call me.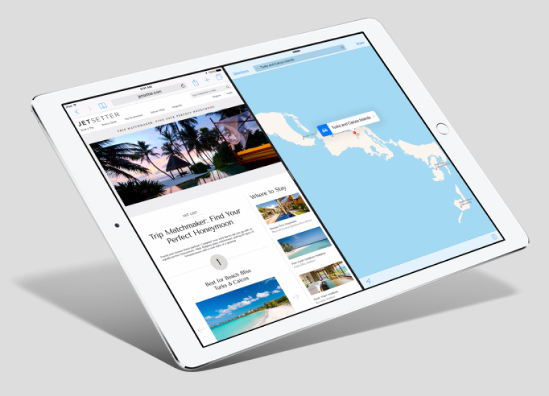 Photo Courtesy Apple
As it stands, for my purposes, the $300 cheaper base priced iPad Air 2 on which I'm typing this column impresses as being the better value for money, especially since it supports the trio of new multiwindowing features in iOS 9. I can envision some sorts of use where the iPad Pro's larger, higher resolution touchscreen would justify laying out the extra cash for a larger iOS machine, but not the sort of tasking I give my tablet.