Cardsmith Greeting Card Maker App For OS X – 'Book Mystique Review
Back in the day, I used to mail literally dozens of Christmas Cards each year, mostly with a handwritten note or letter in each one. However, what with the cost of postage ($.85 to $1.00 in Canada where I live), large-scale mailings of greetings have become uneconomic, and have you checked out the price of greeting cards themselves lately? Alas, the annual Christmas hard copy greeting card exchange is becoming another casualty of the Internet.
However, we still need greeting cards on a smaller scale, and one workaround for the high cost is personal computer greeting card software, which in addition to slashing card costs, also enables one to create custom, personalized cards with messages in your own words and illustrated either with your own photos or with a program's selection of images and clip art.
There is a wide range of greeting card software available across a spectrum of prices, and a good, inexpensive one is the subject of this review — Cardsmith for the Mac by Ohanaware Co., Ltd. Cardsmith is at the lower end of the category price spectrum, but includes more advanced features than you might expect at that level.
The latest version of Cardsmith has been optimized for Apple's current OS X 10.11 El Capitan operating system, has a clean, intuitive user interface design, and takes advantage of many of the latest technologies in order to provide an easy to use solution with flexible control for creating your own custom greeting cards.
Featuring the latest iteration of Ohanaware's print engine spun off from the developer's flagship Funtastic Photos app, Cardsmith is designed to better handle printers that don't support borderless printing, and to provide more consistent results across a broad range of printers and printer drivers. It's also developed exclusively for OS X rather than being a port of a Windows application like some card creation software, and it shows.
Cardsmith features include:
* 300+ Card templates; Holidays, Valentines, Birthdays, Weddings & more.
* 22 Categories included; All in one scrollable list.
* Easy to use interface; With built-in card organization and management.
* 9th Generation printing engine; Faster, higher quality & smarter margin handling.
* Built-in e-card support; Share cards via E-mail, Facebook, Twitter & Messages.
* Many types of cards; Square cards, Post Cards, Single Fold, Double Fold & Money Holders.
* Apple Photos support; Use the "Photos Browser" to choose from a "Photos" library.
* Designed for El Capitan; The very latest Apple OS, and is compatible with Yosemite & Mavericks.
* Create custom cards; Add photos, shapes, text, captions & thought bubbles.
* Includes all our clipart; for use within custom cards.
* 12% larger card editor; Giving a larger preview whilst designing cards.
* 18 Photo Effects; To enhance photos within a card or to complete a style.
* Illustrated & Photo Cards; Ready to print or share.
* Smarter organization; Autosave, Undo Restoration & Document History.
Cardsmith offers two options for creating cards. You can scroll through the list on the opening screen to a pick a template you like, or the category menu in the top right hand corner to choose a specific category of Cardsmith templates. Alternatively, you can create a entirely new card from scratch by clicking on one of the "Blank Card" templates.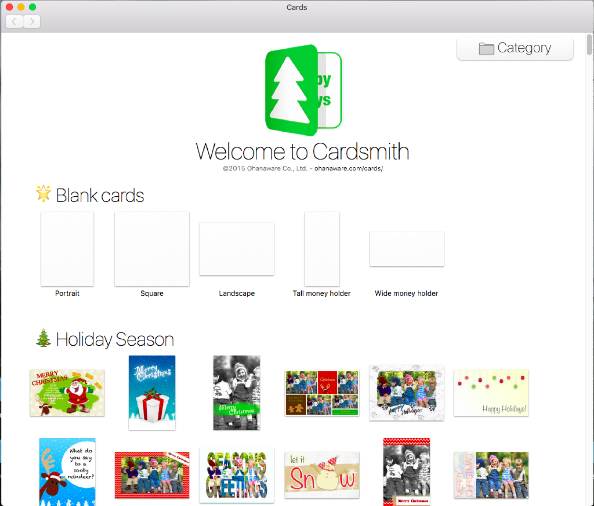 First, even though printing the card will be the final step in the card creation process, it's recommended that you start by selecting "Printer" and the correct paper size. Click on the "Change…" button on the right hand side of the interface window and select your printer and the paper size you'll be printing the card to. Also from this pane, you can select the desired card format and orientation, ie: "Post Card", "Single fold card" or "Double fold card". "Margin" options are only available when the printer doesn't support "Borderless" printing and/or the page layout isn't a borderless paper size.
If you're creating from scratch, and using your own photo or image, click on the area that says "Drop Photo Here", and the editor will change and show you options for the "Photo". Click on the "Choose" button and select "From Photos" or "From iPhoto" or "From File". The last option shows a regular Open file dialog, while the other two alternatives will display a photo selector from which you can simply drag the desired photo to the "Drop Photo Here" zone.
There are also several options for adding text of your choosing to a card — either in a balloon or superimposed on the card image. Text font, point size, and color can be specified, and there is a selection of occasion themed clip art to embellish your creation, if that appeals.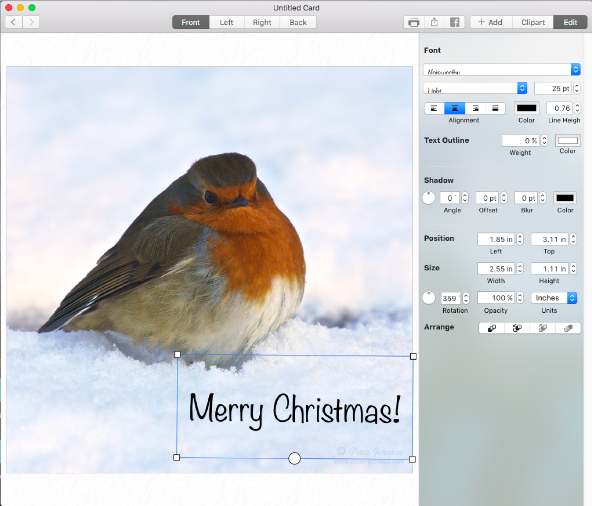 When it's time to print, make sure the printer you selected earlier is still selected and in that dialog you can also change Margin options (if your printer supports that feature) and also specify which pages to print. There is an option called "Auto print both sides" that requires your printer to support duplexing. Otherwise you have to flip the card and re-insert it in the printer manually.
There is also a test page print option that will print squares only, but allow you to see where the different pages will be printed and if they align correctly.
Cardsmith is reasonably intuitive to use, and there is illustrated online help if you get stumped. The program works well, and with its modest price, you only need to make a few cards for it to pay for itself.
I was personally disappointed that there are no religious-themed selections among the templates for Christmas and Easter cards acknowledging the "reason for the season." Not a fatal flaw, but if you want to make traditional Christmas and Easter cards with Cardsmith, you're on your own to provide images and message content.
I'll give Cardsmith a 4 out of 5 rating.
Cardsmith is currently offered at a time limited special discounted price of $6.99 (RRP of $9.99). Prices are in USD and exclusive of sales tax.
System Requirements:
Cardsmith requires OS X 10.9 Mavericks and is El Capitan compatible.
For more information, visit:
http://www.ohanaware.com
Product page:
http://www.ohanaware.com/cards/
Direct download:
http://www.ohanaware.com/cards/Cardsmith.zip