Microsoft Surface Laptop A Logical MacBook Air Upgrade? – The 'Book Mystique
As a Mac user and loyalist for a quarter century, it irks and saddens me in no small measure that all new laptop system hardware that I've found appealing over the past couple of years or so has been in the Windows PC world, such as the Dell XPS 13 and HP Spectre x360 13t. Last fall when I bought a new 13-inch MacBook Air, partly in dismay over the grossly disappointing 2016 MacBook Pro, I mused in this space about whether it might be my last Apple notebook ever. I'm still wondering, especially with Microsoft's announcement last week of pretty much the machine I had hoped Apple would release to update the MacBook Air line, with the elephant-in-the-room exception that it runs Windows and not the macOS.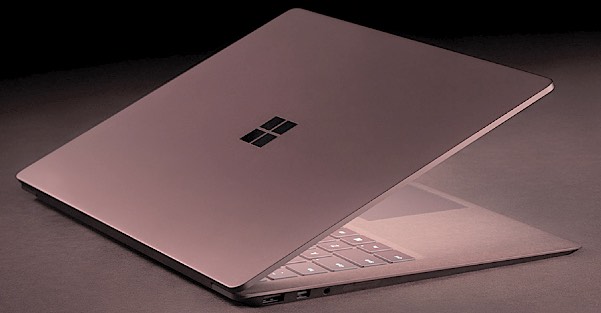 Photo courtesy Microsoft
Interestingly, the Surface Laptop comes by default loaded with Windows 10 S, a variant of Windows 10 Pro that exclusively uses apps from the Windows Store and supports only Microsoft Edge as its default Web browser. That walled garden approach has worked reasonably well in the iOS universe, but I'm skeptical that there will be sufficient app support in the Windows environment to satisfy production oriented and power users, at least in the early going. However, Microsoft is offering Surface Laptop buyers a free upgrade to full Windows 10 Pro until the end of 2017, after which it will be $49.95.
Photo courtesy Microsoft
The Surface Laptop has no paradigm-busting design or engineering innovations, or gimmicks like the Touch Bar, but is simply a nice rendering of what an up-to-date mainstream workhorse laptop should be these days.
Powered by 7th Generation Kaby Lake Intel Core processors, the Surface Laptop has a 13.5-inch "PixelSense" Corning Gorilla Glass touchscreen panel, and weighs in at 2.75 pounds — slightly less than my MacBook Air's 2.96 pounds. Features include an immersive Dolby Premium Audio system with omnidirectional speakers located under the keyboard, te latter which is upholstered with the sort of Alcantara fabric found lining the interiors of luxury automobiles — a first of its kind according to Microsoft.
The Signature Alcantara surface should have a nice feel. How well it stands up in day to day use remains to be seen. Alcantara covered steering wheels in autos get mixed reviews, skewing negative on durability and ease of cleaning, but Microsoft says their Alcantara is specially treated to resist spills, stains, and absorption, and to wipe clean.
The Surface Laptop will also be the first system in the Surface lineup to be offered in colors, initially Platinum, Burgundy, Blue and Graphite Gold.
In terms of ports, the Surface Laptop has a full-size USB 3.0 port, a 3.5mm audio jack, a Mini DisplayPort to connect to a 4K monitor, and a Surface Connect port to power, recharge, and connect to the Surface Dock accessory.
Microsoft says it partnered closely with Intel to enable the Surface Laptop to provide lively performance and power, and claims over 14 hours of battery life between charges.
Microsoft is also particularly proud of its design and execution that allow the Surface Laptop's screen lid to be opened with one hand.
Surface Laptop is available in two standard memory and storage configurations.
The base model selling for $999.00 (same price as Apple's base MacBook Air which has not been updated since 2015), with a Intel Core i5 CPU, a 128GB SSD, 4GB RAM, and an Intel HD Graphics 620 IGPU in Platinum finish only.
Or for $1299.00 you get Intel Core i5 power, a 256GB SSD, 8GB RAM, and Intel HD Graphics 620 in your choice of Burgundy, Platinum, Cobalt Blue, or Graphite Gold finish.
Also available is Intel Core i7 power which comes with Intel Iris Plus Graphics 640, a 256GB SSD, 8GB RAM
in Platinum only for $1,599.00.
The top-of-the-line Surface Laptop at $2,199.00 has Intel Core i7, Intel Iris Plus Graphics 640, a 512GB SSD, 16GB RAM, also in Platinum only.
In general, the Surface Laptop is pretty much what I would have ordered up as a new MacBook Air, less the Alcantara, and it adds another strong argument in favor of a switch to Windows from macOS for Apple notebook users unenchanted with the current MacBook and MacBook Pro and the direction Apple is evidently headed with notebooks.
For more information, visit:
https://www.microsoft.com/en-us/surface
or:
https://www.microsoftstore.com/store/msusa/en_US/pdp/productID.5102691100?icid=en_US_homepage_hero1_Surface%20Laptop_5.2.17
Windows 10 Home
Another New Windows Laptop
While I'm at it, another new Windows laptop that piqued my interest this week is a Chinese product called CUBE Thinker Notebook with Fingerprint Sensor, selling for $824.88 and at this writing discounted 20 percent at $659.99.
Photo courtesy GearBest.com
The CUBEThinker features a 7th Gen. Intel Core m3-7Y30 Processor up to 2.6GHz, 8GB of LPDDR3 RAM, 256GB SSD storage capacity, Bluetooth 4.0, 802.11a/b/g/n/ac dual band 2.4GHz/5.0GHz WiFi, and a 13.5-inch 3K IPS 3000 x 2000 resolution display. The ultra-low-voltage platform and dual-core processing provide maximum high-efficiency power, with Intel Turbo Boost Technology on tap to deliver bursts of dynamic extra power when you need it. The laptop comes loaded with Microsoft Windows 10 Home OS and is scheduled to ship between May 11 – May 13
For more information, visit:
http://www.gearbest.com/laptops/pp_620996.html?utm_source=shareasale&utm_medium=shareasale&utm_campaign=shareasale
The CUBEThinker is well-configured for $825.00, let alone $660.00, but I would be more inclined to spend a bit more and get a Surface Laptop, a Dell XPS 13, a HP Spectre x360, or preferably a MacBook if Apple ever comes to its senses. Here's an idea. Apple should offer a legacy notebook model designed to do real work with a real keyboard, a form factor that enables extended battery runtime, and up to date processor and graphics power. They could call it…, hmmm, let's see: "PowerBook" has a nice ring to it.
-30-