Waiting for Apple's rumored 2018 10″ iPad Pro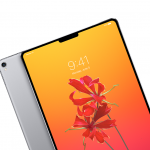 Late last year, Bloomberg and an analyst at KGI Securities postulated, based on sources, that Apple would be releasing their next-generation 2018 10″ iPad Pro sometime this summer.
The new 10″ iPad Pro is expected to include several new features based off the iPhone X. While the internal CPU & GPU will both be faster, a fresh design is expected to feature an edge-to-edge display with Face ID and no home button. Sources were not able to confirm whether the new model with feature an iPhone X-like notch at the top of the display, with a TrueDepth camera, or whether the new model will use OLED or LCD screens.
Another unknown is wireless charging. Available in the iPhone X, iPhone 8, Apple Watch, and AirPods, the availability of wireless charging in the new 10″ iPad Pro may depend on the type of materials used in the body of the iPad.
Finally, the new iPad is expected to include an updated Apple Pencil with new software tools.
We'll have all the prices and information on the 2018 10″ iPad Pro as soon as Apple releases the new model. See our iPad Price Tracker for the latest iPad, iPad mini, & iPad Pro prices from Apple's resellers, updated daily.