Review: Harber London Folio MacBook Leather & Felt Sleeve
MacPrices.net has had a chance to test out Harber London's Folio MacBook Leather & Felt Sleeve for the past few days. Harber London offers high quality handmade leather and felt sleeves for a wide range of Apple MacBooks, iPads, and iPhones as well as other products. Prices range from a low of $50 to a hight of $163, depending on the model. Most sleeves are constructed of a black & gray thick wool felt material with high quality external leather available in several colors (saddle, black, brown, and navy colors are offered, depending on the sleeve model). Sleeves with or without various types of external pockets are available.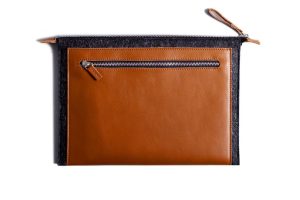 For this review, we chose a black leather sleeve with front zippered and open rear external pockets, sized for a 15″ MacBook Pro ($163). The first thing we noticed about Harber's sleeve is the quality of the construction. This is not some cheap big-box store sleeve. The felt is thick and substantial. The leather is of good quality with impressive stitching. Care was taken to be sure the zipper will not scratch the laptop when closing. There is a little loop on the end of the zipper to aid in carrying the sleeve.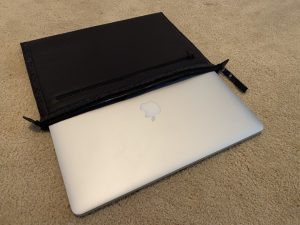 Details such as those make it obvious that great care was taken when designing and manufacturing this sleeve. Our 2013 15″ MacBook Pro fits snuggly into the sleeve. It's tight, but not too tight. The MacBook certainly doesn't move around inside the sleeve when you're walking around. The padding is thick enough to protect the laptop if bumped, or if the sleeve falls on the floor, and your MacBook will be ok when shoved into a backpack full of textbooks. We liked to layer of felt fabric underneath the zipper that protects the MacBook when sliding it in or out of the sleeve, and also when opening and closing the zipper.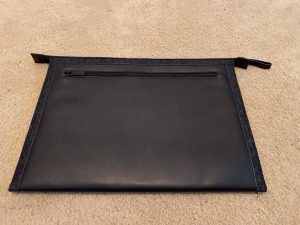 According to Harber London, "Our Folio MacBook Sleeve was born from customer feedback. A lot of customers asked for a good looking sleeve that would hold their MacBook laptops and that would have enough space and pockets for cords, notepads, documents, pens, etc. This is why we designed and made the Folio Sleeve. The front leather pocket allows you to store every-day things and keep them conveniently all in one place. This Sleeve comes with two convenient pockets in both sides to help you carry better. The dense wool felt body provides excellent padding without adding unnecessary bulk and protecting your Laptop against bumps and scratches."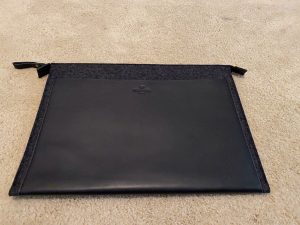 The nice thing about a sleeve is that sometimes you don't need or want to carry a full laptop bag. Walking around the house or office, or maybe walking across campus, sometimes all you want to carry is your laptop in a small sleeve. Harber's Folio fits the bill perfectly. Front zippered and open rear leather pockets give you the option of carrying along a power brick, some cables, and papers.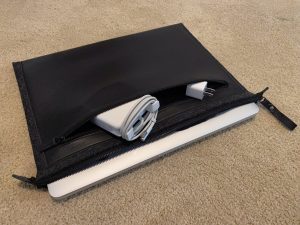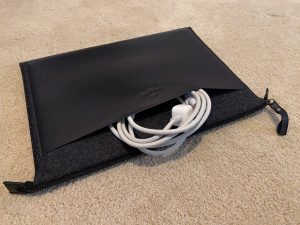 The pockets aren't really big enough to allow you to carry a ton of junk, but the leather stretches just enough to permit a power brick and some cables. And sometimes this is really all you need to carry.
We've been through lots of MacBook sleeves over the years, but Harber's is the nicest and most substantial sleeve we've come across. If you're looking for a sleeve that offers the maximum protection for your MacBook, then look no further.
Harber London has a wide range of handcrafted products available. You can see their laptop, tablet, and smartphone products at the following URL: https://www.harberlondon.com/collections/tech-sleeves-cases.
MacPrices is proud to offer our readers a special 15% discount on any of their sleeves by using code MACPRICES15 during the checkout process.