Glimpse of future 13″ MacBook Pros on Best Buy's website
Best Buy offered a glimpse of the next-generation 13″ MacBook Pros on their website today in the form of two sku numbers (click image for larger version):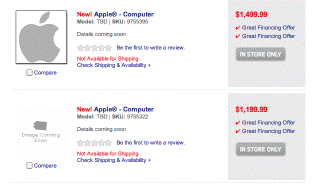 One model will be offered for $1199.99, while the other will be $1499.99. Their prices indicate that the new 13″ MacBook Pros will be offered at the same price points as the current models. No other information is provided about these new models on Best Buy's site. Apple is widely expected to introduce new MacBook Pros in the near future.