iPad 4 Redivivus Complicates Upgrade Roadmap For Low-Enders – The 'Book Mystique
Apple's replacement of its long-in-the-tooth iPad 2 with the resurrected 4th-generation iPad with Retina Display as its entry-level 9.7-inch tablet has stirred the iPad hardware upgrade pot for those of us who lean to low-end Apple hardware. The proverbial writing had been on the wall — or more specifically on the "rollback" sign at my local Walmart which has been selling off iPad 2 stock at Can$323 for a month or so now — that the iPad 2 was on the bubble, which Apple burst with its announcement last week.
Bringing back a discontinued tablet or personal computer model is, I think, unprecedented for Apple, and I fully approve of them doing so. For example, the iPad 2 was never discontinued before last week. It just carried on in its 16 GB configuration when the iPad 3 With Retina Display was released. Consequently, when I first heard the rumor of a 4th-gen iPad return to production several weeks ago, I thought it was dubious, but am happy that my skepticism was mistaken. Like the iPad 2, my impression is that the iPad 4 is one of the better iPad iterations that deserves a longer than one year production run.
Now available in 16 GB memory configurations in Wi-Fi-only or Cellular LTE models. The Gen-4 model will heretofore serve a second hitch as Apple's new/old entry-level full-sized iPad at the same $399 price point as the now pushing-up-daisies iPad 2 sold for during the last two years of its record three-year-plus production run.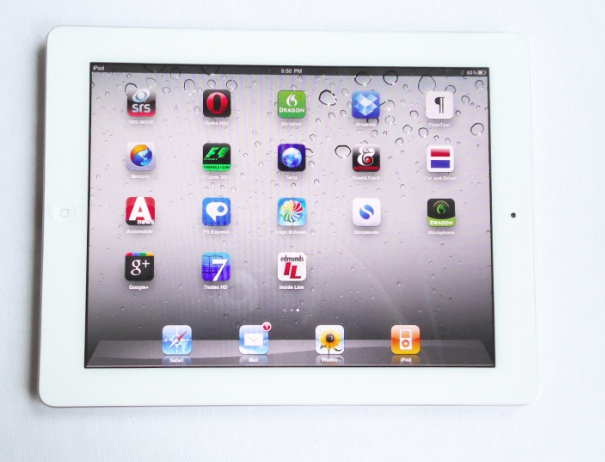 Photo: Charles Moore
The 2 is reportedly the most prolific of all iPad models in service, And with good reason. It's a fine piece of work. I'm still using the iPad 2 I bought nearly three hears ago, and have found it a delightful, trouble-free machine. However, especially since installing the iOS 7 upgrade the old 2 has struggled a bit, and were it an option, I would seriously consider downgrading to iOS 6, which was a brilliant-performing OS on this machine. the only thing I would really miss in reverting to iOS 6 would be compatibility with some recent app releases that demand version 7.
However, the 4th-generation iPad With Retina Display (henceforth referred to here as simply iPad 4) with its Apple A6X system-on-chip has plenty of power, and benchmarks at about twice as fast as the iPad 2 with poky A5 silicon that it's displacing. It should still be able to handle pretty much anything most users will throw its way for at least a couple of years to come.
Last week's announcement from Apple leaves the $329 original iPad mini as the only low-resolution display (1024×768), A5 powered tablet in Apple's lineup. For how much longer remains a matter of controversy. There are even rumors that the disappointingly slow-selling iPad mini with Retina Display, which also starts at $399 for the 16 GB Wi-Fi model, might be discontinued, with the downsized full-size display iPad Air having been the hot-selling iPad since last fall. I think disappearance of the Retina mini is highly unlikely.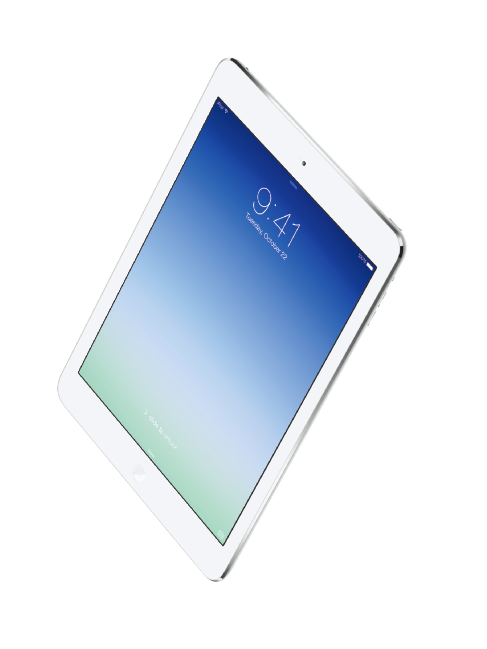 Photo courtesy Apple
Actually, the undeniable desirability of the iPad Air, combined with identical iPad 4/Retina mini selling prices (except where they aren't; like here in the Great White North where the Retina mini sells for Can$419 and the iPad 4 for Can$399) creates an unusual three-way conundrum for those of us needing or wanting a low (so to speak; some of those Android slab prices nearly bring tears to the eyes of the Apple-addicted) cost iPad (save for the original mini). When the choice was between Retina mini or iPad 2, the decision was essentially a no-brainer, which is why iPad 2 sales virtually collapsed during the pre-Christmas runup. For your 400 bucks, the mini gives you a Retina display, a 64-bit A7 SoC, a better camera, and all-round superior performance compared with the ancient iPad 2.
However, the choice between a Retina mini and an iPad 4 for the same (or nearly the same for Canucks) money is an altogether different dynamic. The mini's A7 SoC outpowers the iPad 4's A6X variant of the A6 chip used in that iPhone 5 and 5c, offering about twice the A6X's computing speed (although that differential likely won't be seen often in real world use), and both machines now have Retina displays, with the larger-dimensioned one of the iPad 4 arguably more desirable for the sort of stuff I do with my 'Pad. For more actively mobile users, the more compact form factor enabled by the smaller display will have stronger appeal. It's not a matter of one being better than the other.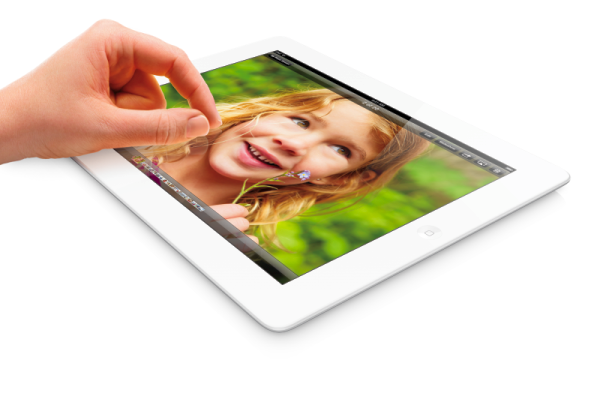 Photo courtesy Apple
I had been pretty much decided to go with an iPad Air to replace my old 2, which will be handed off to my wife. However, a $399 iPad 4 appeals to me for several reasons. First price, which works out to about Can$125 cheaper for me including tax at a constant 16 GB storage capacity. Apple Canada is offering the revivified iPad 4 at nominal dollar parity with the U.S. Model, or $230 cheapCharles W. Moore than the 32 GB iPad Air I should get since because I would presumably want to keep it longer than I would a tide-me-over Gen-4 iPad. The iPad Air 32GB WiFi sells for Can$619 the Apple Store Canada. However, I think I can manage to get along for a while yet with a 16 GB unit by culling out some rarely-used applications, which are the largest category filling up my iPad 2's storage memory at the moment.
Another consideration is my collection of iPad accessories accreted over the past three years, none of which will fit the iPad Air, but with few exceptions can handle the only slightly porkier iPad 4. The necessity if buying new cases and stands makes the effective cost of upgrading to an Air (or a Retina mini for that matter) even greater and is properly a part of the real world upgrade cost profile, since replacing even a bare minimum of these items would run to $100 and beyond, so one's existing investment in iPad 2 accessories is properly part of the price/value equation. Total cost of ownership is what counts in the value equation, and I tend to keep my computer hardware somewhat longer than many users do. Free product crowdsourcing dea: how about a plastic snap-on spacer frame for iPad Air and iPad mini that would adapt them to fit in cases, etc. designed for the iPad 2, 3, 4?
However……. More rumors. One factor holding me back has been the prospect of a rumored 12.9-inch iPad Pro, which some contend Apple has in the works for release later this year. I'd like to be able to make an informed decision about going with one of those before committing to another three years. Also, one aspect I'm disappointed with regarding both the iPad 4 and iPad Air is the mediocre 5 megapixel camera. I'm hoping that the second revision Air will get the 8 megapixel jobbie that Apple puts in the iPhone 5/5s. I don't care that some people insist that using an iPad in camera mode makes one look like a dork. I find even the dismally low-res 2MP rear cam in the iPad 2 a convenience, since it's often the only camera I have handy, but I can't use it for product photography for reviews or other shots where resolution is important. Tiresome, because using the iDevice eliminates the step of downloading the photos from camera to computer. I might be able to get by for Web work with a 5MP camera, but it would be much better to have those 8MP from the iPhone.
Last week, International DigitalTimes staff cited the usually-reliable KGI Securities Analyst Ming-Chi Kuo maintaining that he doesn't believe the iPad Pro release date will launch in 2014 at all, but rather that Apple plans to launch an upgraded iPad Air this year instead, and will accelerate development of 12.9″ iPad as well for a 2015 release, saying he believes "the only new iPad product in 2H14 will be the upgraded iPad Air," which is projected to have a next-gen A8 processor as well as a Touch ID fingerprint sensor by the end of Q3 2014. And hopefully an 8 megapixel camera, dare I hope? Should I wait and see, possibly till October? Much to ponder.
In the meantime, back to known reality, some things are a wash between the iPad and iPad Air, including the Retina display (both 2048 x 1536 resolution and physical dimensions), the Lightning connector, iOS 7, 5MP rear cameras, and Siri support. The big differences are in the form factor size and weight and the iPad Air's 64-bit A7 power, but there's not much advantage to 64-bit support in a tablet……yet. However, benchmarking has determinedthat the iPad Air is 70, 80, or 100 percent faster than the iPad 4 and five times faster than the iPad 2. That's not trivial.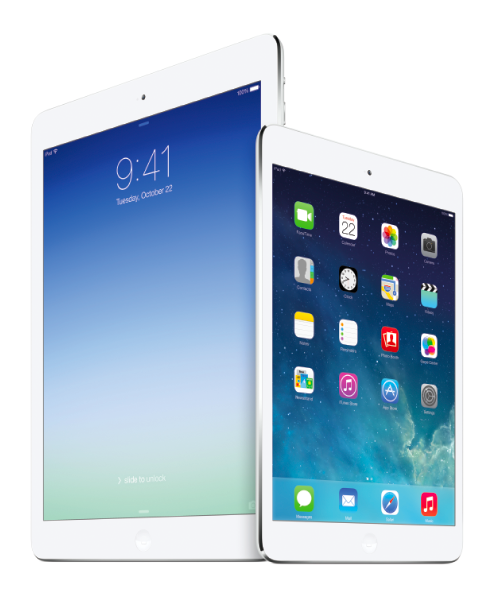 Photo courtesy Apple
The weight and bulk divergence is significant too. The iPad Air is 7.5mm thick to the iPad 4's 9.4 mm, and in weight it's roughly one pound vs. one point five pounds respectively. Footprint-wise, the Air's narrower display bezel margins around the same size panel make it more compact and hand-holdable.
This is where if I was writing about Macs I would put in an affirmative word about Apple Certified Refurbished units as an alternative for budget-conscious folks, but with respect to iPads I've never been much impressed with ACR prices. In Canada it's a non-starter for me, since the only models I've seen on the Apple Store Canada ACR site for months (I don't visit every day) have been 3rd-generation units — my least favorite iPad model. An exception would be if you wanted an iPad 4 with greater than 16 GB storage memory (up to 128 GB was available, as it still is with the Air and Retina mini).
Consequently, at this time I'm leaning provisionally toward the iPad 4 alternative. I appreciate that as noted above the iPad Air and mini 2 with their A7 silicon are 64-bit and roughly twice as fast (on paper) as the iPad 4, but for me the biggest speed bottleneck is the not very fast wireless "high-speed" Internet access that is the only alternative available where I live, and the iPad 4 will be about twice as fast (on paper) than what I'm used to with the iPad 2, which should be plenty of muscle to run iOS 8 and probably iOS 9, and it has the same 9.7-inch Retina display as the iPad Air, and (huge) — the iPad 4 will fit my iPad 2 accessories.
Second choice for right me now will be the base iPad mini with Retina Display, but there's the accessories issue, and I do a lot of on-screen typing, so I'm skeptical that the smaller screen would be satisfactory.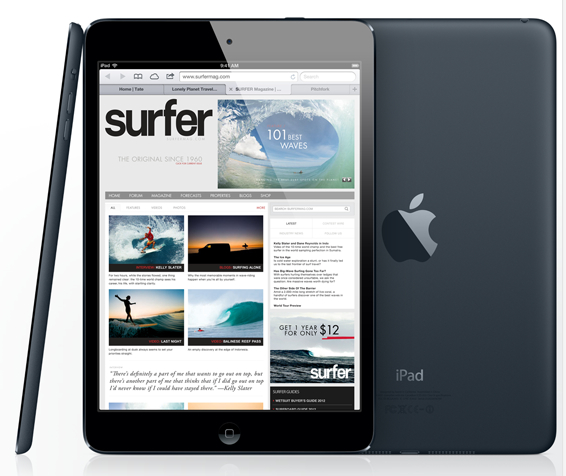 Photo courtesy Apple
Or I could go back to plan A and go with an iPad Air, perhaps dialing back to the base 16 GB model, but buying one of the cheaper alternatives would salt my next tablet upgrade fund with a $100 – $125 head start.
I remain open to persuasion.
iPad with Retina display models in black or white are available for a suggested retail price of $399 (US) for the 16GB Wi-Fi model and $529 (US) for the 16GB Wi-Fi + Cellular model for either AT&T, Sprint, T-Mobile or Verizon. Smart Cover and Smart Case for iPad with Retina display are available in dark gray for $39 (US) and $49 (US) respectively through the Apple Online Store, Apple's retail stores and select Authorized Apple Resellers. iPad Air with Wi-Fi models are available in silver or space gray for a suggested retail price of $499 (US) for the 16GB model, $599 (US) for the 32GB model, $699 (US) for the 64GB model and $799 (US) for the 128GB model. iPad Air with Wi-Fi + Cellular are available for a suggested retail price of $629 (US) for the 16GB model, $729 (US) for the 32GB model, $829 (US) for the 64GB model and $929 (US) for the 128GB model.
iPad mini with Retina display Wi-Fi models are available in silver or space gray for a suggested retail price of $399 (US) for the 16GB model, $499 (US) for the 32GB model, $599 (US) for the 64GB model and $699 (US) for the 128GB model. iPad mini with Retina display Wi-Fi + Cellular models will be available for a suggested retail price of $529 (US) for the 16GB model, $629 (US) for the 32GB model, $729 (US) for the 64GB model and $829 (US) for the 128GB model. Additionally, the original iPad mini is offered at $299 (US) for the 16GB Wi-Fi model and $429 (US) for the 16GB Wi-Fi + Cellular model for either AT&T, Sprint, T-mobile or Verizon.