Loop Attachments Mummy Case For iPad and iPhone – 'Book Mystique Review
Loop Attachments' silicone Mummy Cases for Apple iDevices (all iPads 2 and later, including minis, and iPhones 4 and later) are the essence of elegant simplicity. Just unbox the Mummy Case and slip it on over your iPhone or iPad. Takes only a few seconds and you're good to go.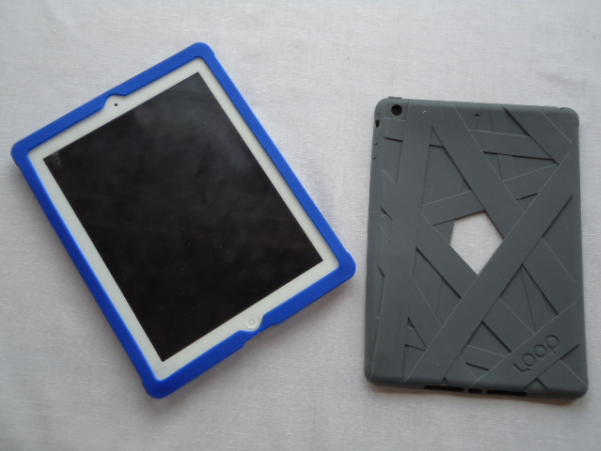 The Mummy Case fits like the proverbial glove, and offers the tandem advantages of protecting the back,sides, and peripheral front of the device from impacts and other contact like abrasion, as well as making it a lot easier to hold on to.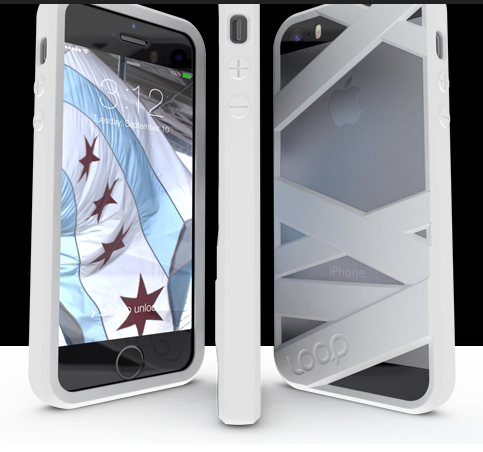 My iPad 2 has been dropped seven or eight times over its nearly three years in service, in most instances while bare and unprotected. However, with the Mummy Case there's really no practical reason to remove it. In the model for my iPad 2 (also fits the 3rd and 4th-generation models) there are apertures in the case skin for access to the Home button, 30-pin or Lightning docking connector, microphone, camera, speaker, mute/orientation lock slider, earphone jack, and Apple logo. For some reason, instead of open apertures, there are moulded-in boots covering the on/off button and the volume rocker switch, and that's fine since they remain easy to operate.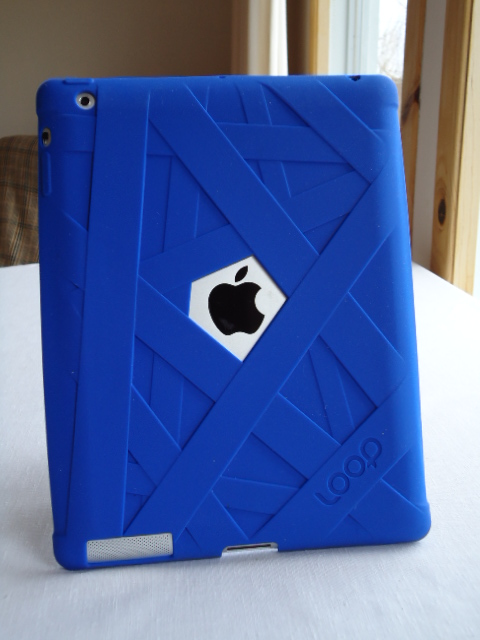 Because it's fabricated of soft silicone rubber with a high traction coefficient, the Mummy Case provides a much more positive grip in your hand and slip-resistance on a support surface, drops and such become far less likely, and if your device does perchance get dropped, the Mummy Case can be reasonably expected to do as better job of protecting it than if it was bare.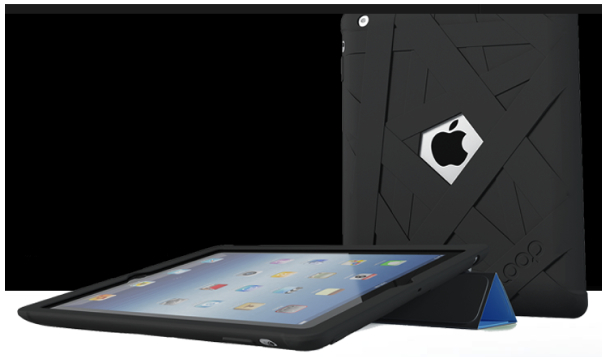 Loop Attachment claims that the Mummy for iPad is the first enveloping silicone case designed to be compatible with Apple's Smart Cover. While the strap composition preserves your device's identity, hidden, magnetic anchor points hold your cover down when it's folded back.
Loop Attachment's case for the iPad Air follows the Air's slimmed down theme with the original Mummy case's signature overlapping band design imprinted into thinner silicone — they claim without sacrificing impact resistance capabilities.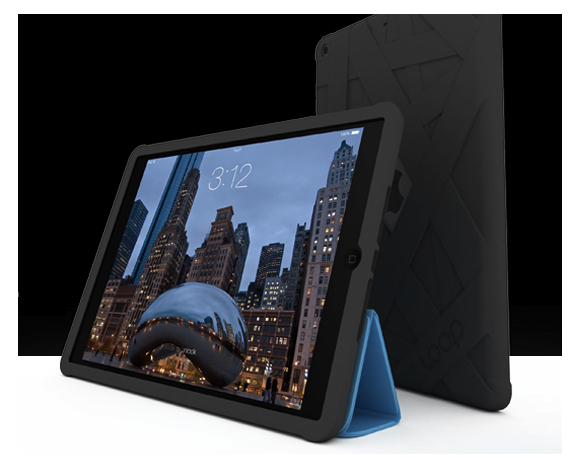 "The radically reduced dimensions of the iPad Air presented an opportunity for us to do what we do best…strike a balance between minimalism and functionality," explains Evan Derman, Chief Operating Officer of Loop Attachment. The Mummy Case for iPad mini is also compatible with the Apple Smart Cover, and available in Black, White, Graphite, Blue, Red and Teal.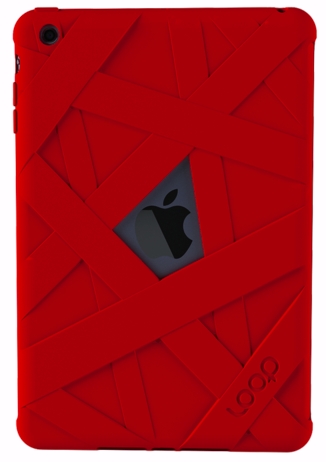 The Loop Group was formed in 2011 as a collaboration of three young Chicago professionals to develop a convertible watchband that seamlessly transforms the 6th generation iPod Nano into a high-end timepiece. After its successful launch, the team recognized opportunity to expand their accessories line to compliment other Apple products. With the goal of putting the Windy City on the map as a center for innovation and smart design, the company's name and first product is taken from the iconic Loop region of downtown Chicago, but also inspired by the concept of a loop itself — a curved line that bends around to reconnect with itself to help bring technology full circle.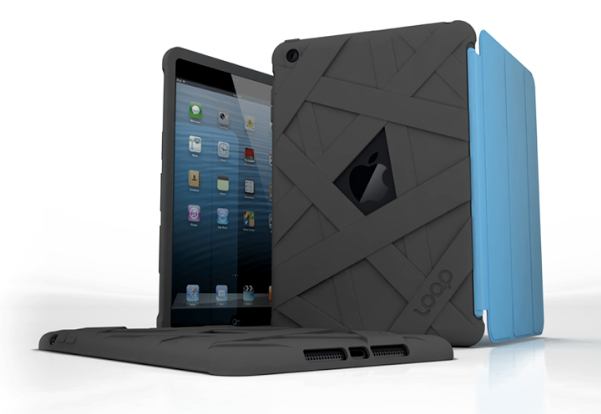 Mummy cases designed iPhone models include versions for the iPhone 5s, 5c, 4S and 4 and envelop the sides of the iPhone to protectively frame the screen, while six overlapping, angled bands span the back of the device. A credit card can be slipped underneath the bands of the Mummy case for convenient and secure storage.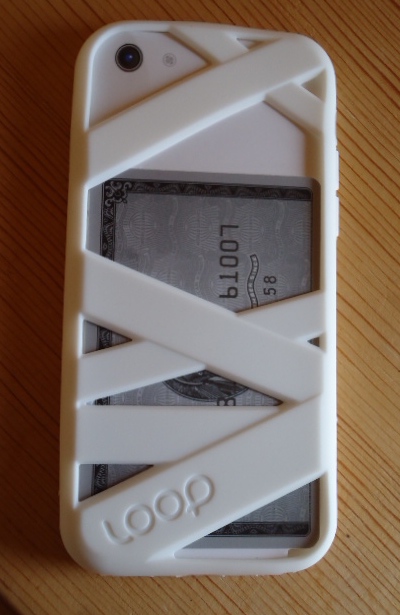 "Originally, we conceptualized the Mummy case as a piece of art that would bring to light the features of iPhone, particularly the iconic Apple logo, while also serving as its own graphic statement piece," says Daniel Selden, Loop Attachment's Chief Technology Officer.
The Mummy case for iPhone 5c is available in coral, mint, cyan, purple, black and white to complement the available hues of the Apple handset, and is sold individually or in a bundle of three colors.
The quality and feel of the Mummy Case's silicone material is the best I've encountered in products of this type, and it doesn't seem to attract lint as some silicone materials do. The molding quality is excellent as well.
I couldn't really find much of anything not to like about the Mummy Cases except for their prices, which range from $24.95 to $39.95 depending on model. That seems a bit pricey for what is after all a single piece of colored, molded silicone. I'll give the Mummy Case a 4 out of 5 rating that would have been 5 out of 5 were it not for the matter of price.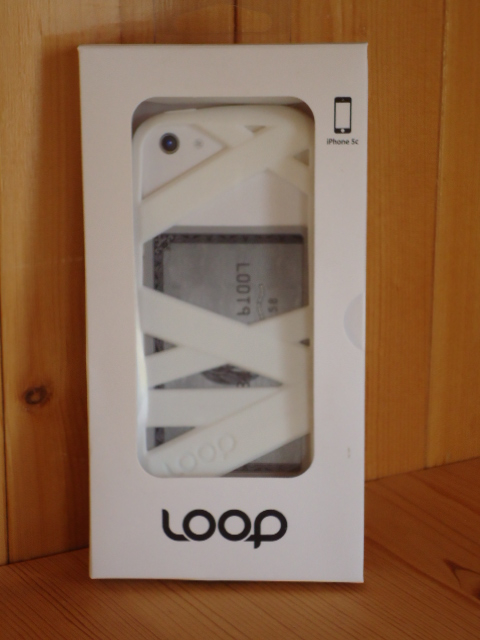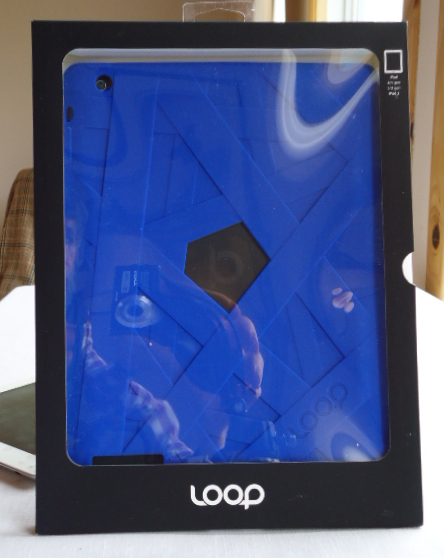 Product pages:
iPad mini
http://www.loopattachment.com/collections/mummy-ipad-mini
$29.95
iPad 2,3,4
http://www.loopattachment.com/collections/mummy-ipad
$39.95
iPad Air
http://www.loopattachment.com/collections/mummy-ipad-air
$34.95
iPhone 5, 5s
http://www.loopattachment.com/collections/mummy-i5
$24.95
iPhone 5c
Mummy iPhone 5c
$24.95
iPhone 4, 4S
Mummy iPhone 4/4s
4s
$24.95
For more information, visit:
http://www.loopattachment.com/