Education Spending Projected To Resuscitate iPad Sales, But iPad vs. Laptop Debate Back In Schools – The 'Book Mystique
For a while it looked like the iPad (and a few other tablet computer players) would soon all but completely displace laptops from classroom environments. However, in 2014 the laptop form factor is proving more tenacious than many had anticipated, and is staging a modest comeback, not least due to the current ascendence of Google's dirt-cheap but decent-performing Cloud based ChromeBook laptop devices having caused school IT departments to reassess iPad-centric student hardware deployment policies just at the time iPad sales in general have been hitting a rough patch.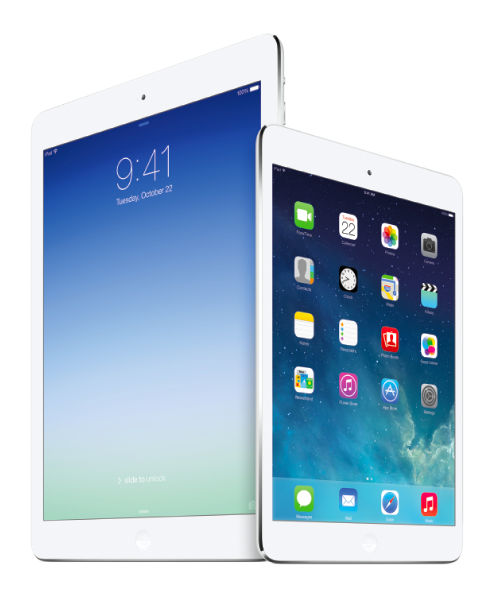 Photo Courtesy Apple
In Apple's fiscal 2014 third quarter ending June 30, iPad sales were 13.3 million, down from 14.6 million year-over-year. However, a new study from Education Market Research, which analyzes the U.S. K-12 school market in all of it sub-categories — textbooks, supplemental materials, computer hardware, software, video, online — and across grade levels, major curriculum areas, and "markets within the market", in association with Simba Information, a leading authority for market intelligence in the media and publishing industry, suggests that this trend could change in coming weeks, with the Installed Base of Tablets in K-12 education projected to grow to 4.4 million units in 2014-15
This survey report on the education tablet market, entitled "National Survey of Tablet/Mobile Device Usage" (a field overwhelmingly dominated by the iPad in education), shows, based on data collected from a large-scale national sample of educators, an installed base of approximately 13.2 million computing devices in K-12 schools, composed mainly of desktops (4.7 million), laptops (3.9 million), and tablets (2.3 million). The report suggests that growth in this market, specifically in the tablet segment, portends to be "robust," at least by normal K-12 standards, according to Education Market Research.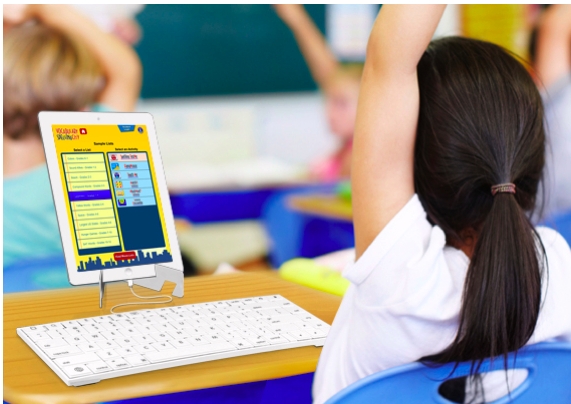 Image Courtesy MacAlly Education
"When we look at the average tablet spending cited by our survey respondents, and extrapolate to all schools and districts, we estimate that around 1.9 million tablets were bought in the 2013-14 school year. And the average expected increase in tablet spending in the 2014-15 school year is 8.6%. At that rate, the number of installed tablets in 2014-15 will nearly double compared to 2013-14", says Dr. Robert M. Resnick, president and principal researcher for Education Market Research.
In answer to the question: "who is the beneficiary of all of this K-12 spending on tablets trend?", Apple is expected to be a principal one, which bodes well for iPad sales.
Another key question is, according to Dr. Resnick, is: "What are educators doing with all of those computing devices?" The report observes that desktop computers are still useful in the K-12 environment, in fact remaining the first choice of educators for certain purposes. On the other hand, laptops, tablets, smartphones, and other "smart" devices have their own unique role inside and outside of the classroom, as described by the survey respondents.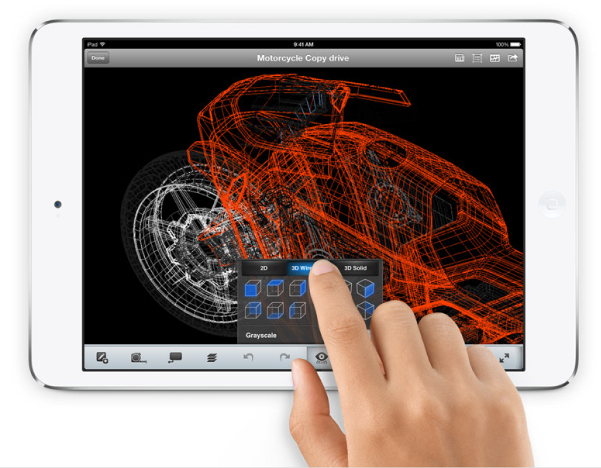 Photo Courtesy Apple
The iPad's role in K-12 education is not uncontroversial. Writing in a Hechinger Report education news site article that was also picked up by The Atlantic, Meghan E. Murphy cites the example of Hillsborough Middle School in New Jersey, which has scientifically reevaluated whether the iPad really is the best device for interactive learning, and determined that it isn't.
Ms. Murphy notes that Steve Jobs's unveiling of the original iPad four years ago coincided with an era during which many school reformers were advocating replacement of textbooks with online curricula, and adding creative apps to lessons. With schools now spending roughly a third of their technology budgets on computer hardware, iPads have subsequently been bookending the funding spectrum — the popular choice both in top-tier wealthy schools and in low-income schools subsidized with federal grants.
She observes that Apple seemed to have hit something of a high water mark when the Los Angeles Unified Schools District, the second largest K-12 system in America, began a program issuing iPads to every student. However, LAUSD then quickly recalled about 2,100 iPads from students, announcing that schools in their system would instead be authorized to choose among six different types of hardware devices, including Google Chromebooks and Windows laptop-tablet hybrids. Other schools had already second-guessed erstwhile iPad-centric student hardware policies, examples cited being Guilford County Schools in North Carolina which terminated its Amplify tablet program, and Houston, Texas, suburb Fort Bend's schools also aborting a $16 million iPad-intensive hardware initiative.
Ms. Murphy chronicles how New Jersey's Hillsborough district board took an investigative, scientific tack, initiating a comparative pilot study in which 200 students were issued iPads whole an almost equal number gut Chromebook laptops. The outcome? She reports that Hillsborough has sold its iPads and is currently preparing to distribute 4,600 Chromebooks by fall 2014, and that while some teachers were reluctant to give up the iPads and go with Chromebooks, as soon as the Chromebooks arrived and students started using them, they became converts.
While Hillsborough's director of technology Joel Handler clarified to Ms. Murphy that while nobody there "hated" the iPad, it was edged out by certain key factors, notably that students viewed the iPad as a "fun" gaming-type environment, while the Chromebooks were perceived more as serious work and study tools, with the Chromebook's keyboard a trump factor, especially since the new Common Core online testing will require a physical keyboard.
Moreover, Hillsborough's IT department deemed it much easier to manage a given number of Chromebooks compared with the same number of iPads. Since all Chromebook system and bundled application software updates and security patches are automatically downloaded and installed, and Chromebook files live in the Cloud, downtime and recovery due to mishap or malfunction are handled quickly and efficiently, and apps or classroom assignments can be pushed to all of the devices with just a few mouse clicks.
So how many Chromebooks are there in K-12 schools at present? The Education Market Research report says it appears that Chromebooks have crossed the 1 million units threshold, with lots of growth potential for them in the next few years as well.
Image Courtesy HP
However, even though 1 million plus units deployed means many more systems besides Hillsborough are choosing to go with Chromebooks, the laptop versus tablet debate is far from settled. And relative to Apple's stake in the education sector, while education laptop and hybrid sales are fairly widely diluted among a variety of brands, including Apple's MacBook Airs, AppleInsider reported that according to Apple's own tracking estimates earlier this year, the iPad accounted for 94 percent of tablets used in schools, although that figure is eroding somewhat.
And as to the matter of tablets being used in schools, even Hillsborough Schools are not entirely abandoning tablet hardware. According to Ms. Murphy, the Chromebooks there are being complimented by 3,000 Nexus tablets supplied by Google as part of a new pilot program.
I can certainly see the functional advantages of the laptop, with its integral keyboard, in a classroom environment, although a disadvantage is that laptops with their clamshell folding display are larger and more easily damaged than the self-contained, rugged iPad. iPads are pretty dependable and last longer than Apple is finding comfortable upgrade sales wise these days, and if Chromebooks were to prove significantly less durable, the lower purchase and IT support costs could quickly get cancelled out by higher repair and replacement costs.
There's also the matter of relative upfront cost. Bread and butter ChromeBook systems retail for as little $279. You can get an original (non Retina display) iPad mini for $299, but that's four year old A-5-powered technology with mediocre display resolution. Up to date A-7 iPad minis with Retina display start at $399, and full-size iPad Airs at $499. While Apple presumably discounts bulk purchase iPad prices to educational institutions and systems, I'm doubtful that they can come close to matching the lowball cost of roughly equivalent-performance Chromebook hardware.
And as noted, Common Core online testing does require a physical keyboard. Freestanding keyboards are available aplenty for the iPad, but of course at extra cost on top of the already expensive tablet unit price, and most are Bluetooth devices, and with the advent of digital standardized testing, some school districts are implementing rules demanding that devices requiring use of external keyboards not be connected via Bluetooth. Hard wired iPad external keyboards are also becoming available, including Belkin's Secure Wired Keyboard for iPad (supports iPads only); MacAlly's IKEYLT Wired Keyboard; and the Griffin Wired Keyboard for iOS Devices from Griffin Technology being recent examples, all with $60.00 list prices.
"Our Wired Keyboard is an easy plug and play solution that we designed for use in classrooms as a convenient option for students and teachers," says Erin Wiles, Education B2B Business Development honcho at Griffin Technology. "Additionally, with the advent of digital standardized testing, school districts are implementing rules for devices that require the use of an external keyboard not connected by Bluetooth. Our Wired Keyboard ensures that iPad tablets will meet SBAC and PARCC testing requirements."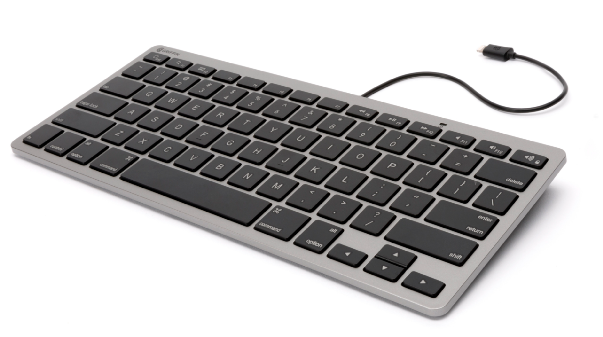 Image Courtesy Griffin Technology
Created specifically with school environments in mind, the Griffin Wired Keyboard helps instructors avoid challenges that inevitably occur when pairing several iPads with several Bluetooth keyboards in close proximity to one another. Since there is never a need to change batteries, recharge the keyboard or go through a Bluetooth pairing process, teachers can focus on lessons rather than spending time troubleshooting connection issues. A generous one-meter cord allows users enough length to set up their workspaces comfortably and provides the security of a direct-wired connection.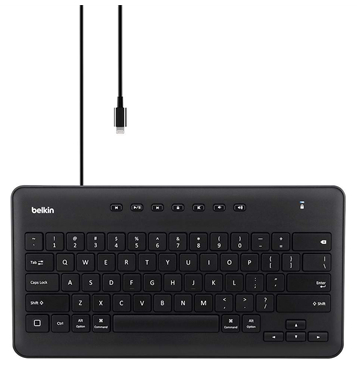 Image Courtesy Belkin
Belkin's Secure Wired Keyboard also connects directly and securely to a single iPad, and does not require batteries or recharging, making it well suited for use in schools. The Macally Wired Keyboard features include Scissor-Key-Switches, thin keycaps, iOS device specific multimedia and shortcut keys, and bus-powerfrom iPad, iPhone, or iPod touch. The MacAlly 'board also includes a viewing stand for iPad that supports both landscape and portrait orientation.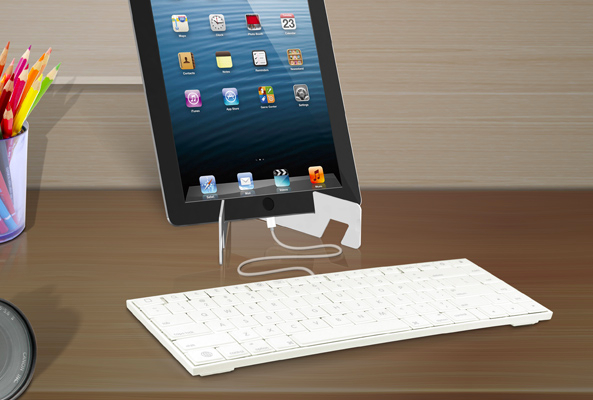 Image Courtesy MacAlly
As to the debate over which device is best-suited to duty in the classroom, the best answer is likely that just as in other usage arenas, both laptops and tablets — and even sometimes desktops — have their place in education environments. Not to mention pens, paper, and textbooks, which hopefully aren't quite dead yet.