Free GIMP Professional Grade Graphics App Version 2.8.14 Available For Mac
The latest 2.8.14 version of the oddly-named GIMP (acronym for: GNU Image Manipulation Program) open source, high-end image editing and creation alternative to Adobe's Photoshop and refuge from Photoshop's monthly subscription-based, open-ended, wallet-siphoning distribution mode is now available for the Mac for tasks like photo retouching, image editing and composition, and image authoring.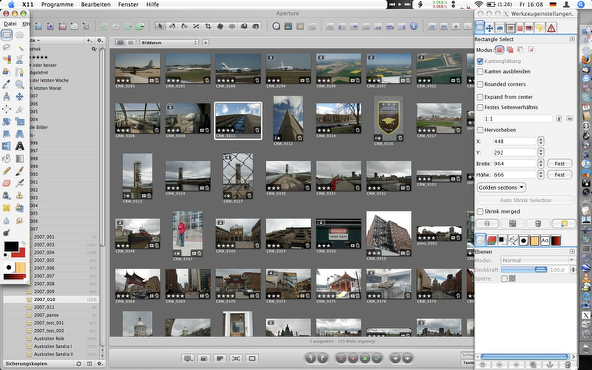 GIMP on OS X provides a pre-built and easy to install application bundles of GIMP for Mac OS X, including support for Tiger, Leopard and Snow Leopard, Lion, Mountain Lion, and Mavericks systems.
Happily, the GIMP is no longer as challenging to install, learn and use as it once was for Mac user; since version 2.8.2, the program no longer requires support of Apple's somewhat geeky X11 environment, with its distinct GUI for running Linux and UNIX applications. GIMP for OS X now demands only a simple drag and drop installation and you're good to go. And with X11 finally out of the way, the GIMP gets a standard menu bar Aqua interface UI.
Reportedly with version 2.8 .14 most Mac KB shortcuts now work, and the latest build (p1) also fixes a problem with languages.
There's an awful lot of professional grade image editing and creation power in this app for free.
Changes from GIMP 2.8.10 to GIMP 2.8.12
Core:
– OSX: Fix migration code for old GIMP directories Fix brush sizes when used from plug-ins Windows: Allow to Explorer-open files with UTF-8 characters in the filename
– Make XCF loading more robust against broken files
GUI:
– Make sure the widget direction matches the GUI language Remove the option to disable the warning when closing a modified image
– Fix canvas overlay widgets (like the text options) for tablets Make DND work between images in one dockable
Libgimp:
– Make gimp_image_get_name() return the string used for the image title
Plug-ins:
– Make script-fu-server more secure by listening to 127.0.0.1 by default and add a warning about changing that IP. This breaks the procedure s API, but for security reasons. Bring back proper script-fu translations
General:
– Massively clean up and fix the OSX build and bundle Add Jenkins tutorial
– Documentation updates
– Bug fixes
– Translation updates
The Mac version of the GIMP 2.8.14 can be downloaded at:
http://bit.ly/1DdvwOF