Logitech Bluetooth Multi-Device Cross-Platform Keyboard K480 – 'Book Mystique Review
Logitech has an enviable track record of making some of the best computer keyboards and mice. At least in my estimation, the best freestanding keyboards I've ever used have been Logitech units, including my current daily driver — the Solar Wireless Keyboard K750, which is a superb piece of work. Logitech's latest keyboard offering is the truly innovative Bluetooth Multi-Device Keyboard K480 — the first desk keyboard designed for switchable simultaneous connection use with up to three devices, regardless of form factor or computing platform, provided they support Bluetooth wireless connectivity and a relatively up-to-date operating system version.
For example, with the K480 you can type a report on your computer, then, with the flick of the 'board's "Easy-Switch" dial, respond to a message on your smartphone. Flick again and type a tweet on your tablet. Since the K480 keyboard can connect to three different Bluetooth wireless devices at once, whether you are using a Windows, Mac, or Chrome OS computer, or an Android or iOS tablet or smartphone.
"Typing needs have evolved, and consumers are computing and texting across multiple screens, often using two or three different operating systems," observes Charlotte Johs, global vice president of computer peripherals at Logitech. "The Logitech Bluetooth Multi-Device Keyboard K480 makes it simple for people to work, create or communicate quickly and comfortably, no matter what computing device or platform they are using."
With the K480 you can type on full-size keys with a familiar keymap layout supporting the shortcut keys you use most. The integrated device cradle/stand holds your phone or tablet at an optimum angle fo reading and typing text, and with a choice of two color schemes, the keyboard is designed to harmonize with your devices and into your home decor without sacrificing style.
In terms of form factor, the keyboard and stand transform a tablet into a facsimile almost-laptop computer. However, one caveat is that with smaller tablets that have narrow-margin screen bezels, including both the iPad mini and iPad Air, a slice of the lower part of your viewing area will disappear into the K480's device support slot. Ditto for most smartphones. This was not a problem with my iPad 2.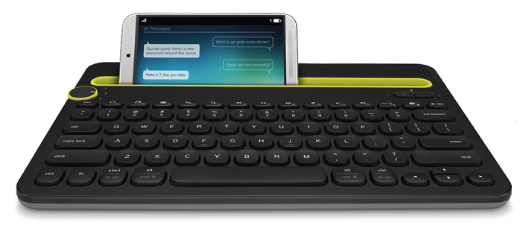 Indeed, proportions of the K480 keyboard itself resemble more a clamshell laptop computer's lower module without the display screen than a typical freestanding desktop computer keyboard. Having used laptops for going on 20 years, I feel perfectly at home on a 'board like this, but some users may miss having a dedicated numeric keypad and/or find the keyboard enclosure's chord dimension too deep for their keyboard drawer or tray to fit comfortably. I had no real problem using it at my office desktop workstation, even though I use a Contour RollerMouse rollerbar and wrist rest there that adds even more depth.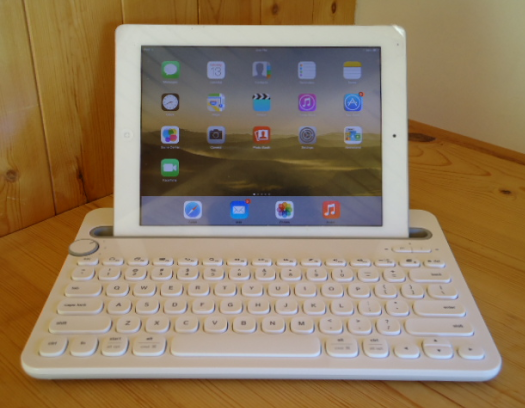 Using the K-480 with my iPad in "laptop" mode, I find again (and as Steve Jobs once observed) that reaching over a keyboard to manipulate a vertically oriented touchscreen is tedious to say the least, and quickly becomes painful as well. However, many iPad users say they to prefer using a keyboard case or external keyboard with their tablets, so whatever floats your boat. This of course wouldn't be an issue with Windows or Android tablets that support external mice and other standard pointing devices.
Because the K480 supports such a wide variety of devices and operating systems, its keymapping has a few oddities and compromises, however, I found it followed mostly Mac or iOS conventions depending on what's currently connected, and was quite easy to get accustomed too.
System Requirements
The K480's key action, while not up to the standard of my Logitech K750 Solar Wireless Keyboard, is still better-than-average, with a light, smooth touch. The keys are a bit noisier then on most Logitech boards, but it's a "clicky" sound that some people profess to like anyway. Some keys, such as CTRL – send a different command depending on whether you're using Windows/Chrome/Android versus OS X/iOS, so the keyboard gives you the same familiar experience whichever operating system you're using. The F1 through F4 -keys will work with your smartphone or tablet for shortcuts such as the Home or Back keys. Double-marked keys effect some key behavior changes depending on the connected device.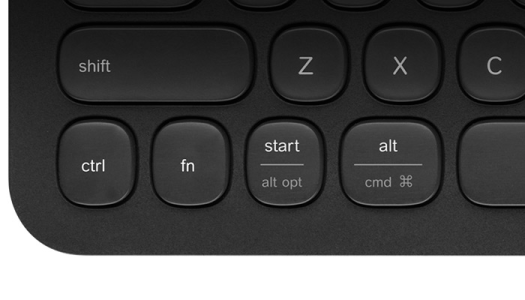 Gray key labels indicate functions available on Apple devices running OS X or iOS. White labels on gray circles identify symbols reserved for use with ALT GR on Windows computers.
Split-labeled modifier keys display two sets of labels on either side separated by split lines. The label above the split line identifies the modifier sent to Windows, Android, or Chrome devices. The label below the split line identifies the modifier sent to an Apple Macintosh, iPhone, or iPad. The keyboard automatically uses modifiers associated with the currently selected device.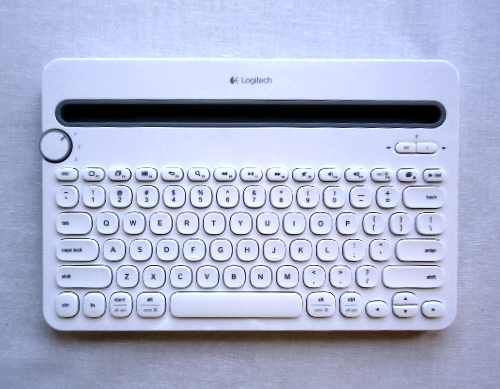 All other keys perform the same action on all devices and operating systems.
There are also separate Bluetooth Connect buttons for Windows/Android/Chrome and OS X/iOS respectively. In either case, press the appropriate connect button to pair with Bluetooth wireless devices. Flashing blue status lights indicate the state of Bluetooth wireless connection.
The K480 uses two AAA standard cells for power. The battery compartment is located on the back of unit and is easily accessed. Strangely, the keyboard's on/off switch is also on the back, which is more than a little inconvenient because at least until you've got the hang of doing it blind, you have to lift the entire keyboard and turn it over just to switch the unit on or off. Also on the bottom is a battery condition indicator light that glows momentarily when you switch the K480 on.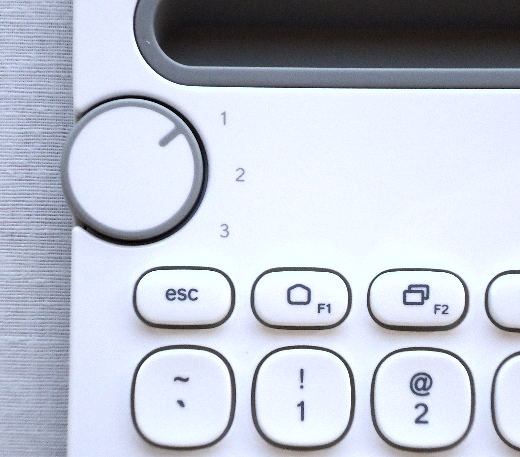 Another unique control is the aforementioned "Easy-Switch" selector dial that allows you to switch among up to three connected devices just by turning the dial. Reminds me a bit of those automatic transmission gear selector dials that were pioneered by Jaguar, now used by several different auto manufacturers.
Typical of Logitech, the dial's action has a smooth, positive feel to it. Logitech also offers downloadable software that allows you to configure and tailor the keyboard's configuration to your specific computer or mobile device. For instance, on the Mac, the Logitech Preference Manager lets you take full advantage of your shortcut and function keys:
– Use the top row of shortcut keys as standard function keys. (You can still perform shortcuts by pressing the F in key in combination with one of the top – row keys.)
– Show caps lock identified notification Conyers or status on your Mac display
– Show a low battery warning on your Mac display
The Mac version if the K480 Preference Manager can be downloaded at:
http://bit.ly/1ASdvBy
The K480 keyboard can connect to three devices at a time, but there's no limit to the number of computers, tablets, or smartphones you can use it with. It's easy to reassign any of the three channels to other devices, and you can easily reconnect with the device at any time.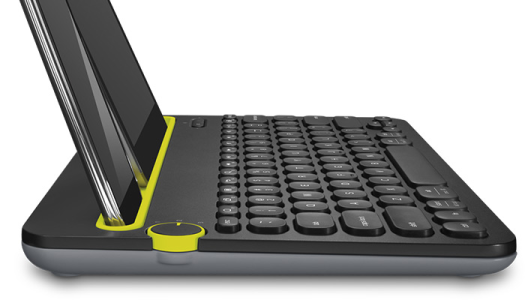 Logitech products, while usually technically excellent in design, quality, and function, are not usually noted for being particularly inexpensive. However, the Bluetooth Multi–Device Keyboard K480 has a suggested real retail price of a very reasonable $49.99 (Canada $59.99), and is expected to be available in the U.S., Canada, and Europe beginning this month.
For more information, visit:
http://www.logitech.com/news/K480
Specifications:
The keyboard is compatible with all major operating systems:
– Windows OS version 7 and later (sorry, no XP support, folks)
– OS X 10.94 later (no Snow Leopard support either)
– Chrome OS
– iPhone and iPad iOS 5 or later
– Android OS tablet or smartphone, Android 3.2 or later.
Hardware Requirements:
– Bluetooth wireless computers or mobile devices which support external keyboards (HID profile).
One Year Limited Hardware Warranty
Dimensions
Height 20 mm (0.79 inches)
Width 299 mm (11.77 inches)
Depth 195 mm (7.68 inches)
Weight 820 g (1.81 pounds)
Technical Specifications
Available in white and black.
Bluetooth range: up to 10 m (30 feet)
*Battery life: 2 years*
***On/Off power switch***
***Battery life indicator light***
Notes:
– Wireless range may vary due to environmental and computing conditions.
** Battery life calculation based on an estimated two million keystrokes/year in an office environment.**
Image
The Logitech Bluetooth Multi-Device Keyboard K480 is expected to be available in the U.S. and Europe beginning this month for a suggested retail price of $49.99 (Canada $59.99). For more information, visit:
http://www.logitech.com/news/K480