iPad Air 2 & iPad mini 3 Best Tablets Yet, But Still Demand Compromise – The 'Book Mystique
The new iPads turned out to be pretty much everything I'd been hoping for and more than I'd expected."More" particularly in terms of a drinking-from-a-firehose choice of models and configurations, with an unprecedented five different categories offered in an array of specifications, prices and up to three colors.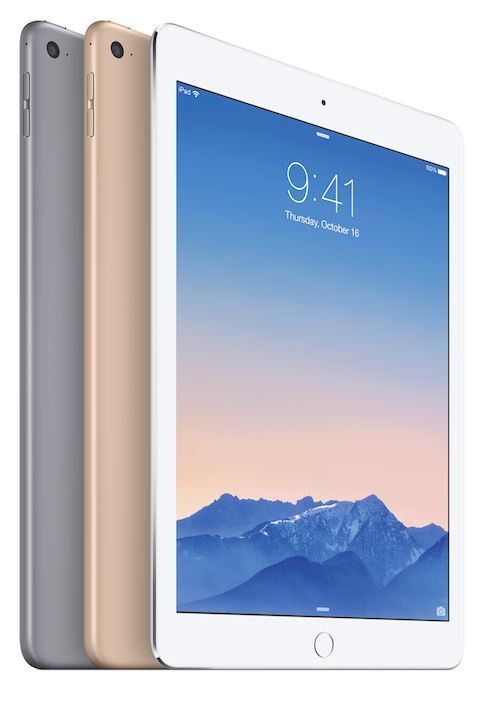 Photo Courtesy Apple
With. a remarkable 56 different models to choose from. according to Forbes' Mark Rogowsky, who counted, there should be an iPad to satisfy nearly everyone's needs, tastes, and budget. Rogowsky thinks the array of price points from $249 through $299, $349, $379, $399, $429, $449, $479, $499, $529, $579, $599, $629, $699, $729, and $829 is "ridiculous and potentially confounding." I mildly disagree, revelling in the cornucopia of choice, although it has taken me a while to sort things out perusing Apple's iPad comparison page To help alleviate almost inevitable confusion Rogowsky has posted a handy infographic to assist in choosing which iPad is best for you, which can be viewed here:
http://onforb.es/10e9bBR
The fourth-generation full-size iPad is dead again, after a brief resuscitation as Apple's entry-level 9.7-inch iPad. That role is now filled by the still-available original iPad Air — also now offered at the same price point as the new (sort of) iPad mini 3, and a 20 percent discount from its earlier in the week price (for a machine with 16 GB WiFi). The 64 GB and 128 GB storage memory options are gone, but happily, 32 GB is still offered, and it's a rip-roaring bargain compared with the 4th-gen iPad at the $400 price point.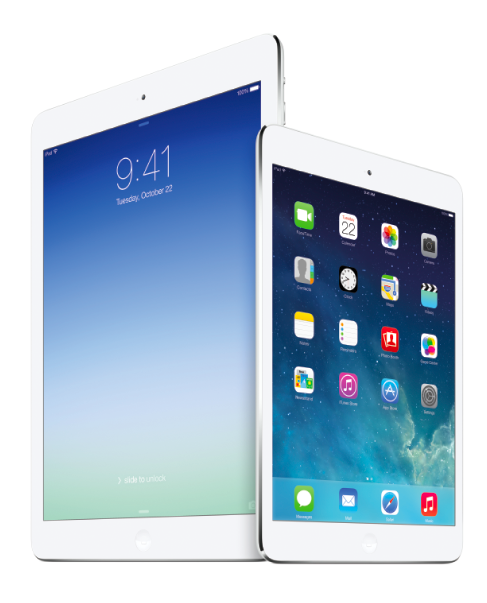 Photo Courtesy Apple
And if $400 is still to steep for your wallet, or you just want a smaller, more pocketable form factor, but still larger than an iPhone 6 Plus a more friendly price, there is a troika of iPad mini models to choose from starting at $249 for the new seriously obsolete original A5-powered non-Retina mini.
Seeking Alpha's Sean Chandler thinks Apple the first time ever selling a $250 iPad right from its stores, will more budget-minded consumers to finally be able to consider an iPad, and that at $250, Apple is essentially introducing a new product and this could slow the decline in tablet volume that the company has experienced in the last few quarters. He's probably right, but it brings to mind Oscar Wilde's observation about people who know the price of everything and the value of nothing. I'm a low-ender myself, but a value-oriented one.
In this instance, for your $249 you get a puny A5 SoC and marginal 512 MB of system RAM (I know, because that's the setup in my current iPad 2). The only available storage memory configuration is a paltry 16 GB; the display panel is 1024 x 768 resolution, and there is no motion coprocessor. If you are set on getting a low upfront price iPad, I strongly recommend going for the iPad mini 2, formerly known as the iPad mini with Retina Display, instead. You get the eponymous high-resolution screen, and an A7 64 bit processor with M7 motion coprocessor. A 32 MB flash drive step-up option (also recommended) is available. The mini 2 now sells for $299. It's hard to imagine that almost anyone could not manage to scrape together another 50 bucks for such a large increase in value and performance.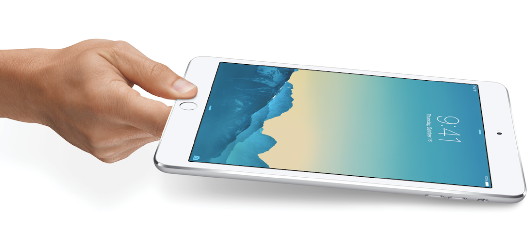 Photo Courtesy Apple
Speaking of minis, Apple is putting more product definition distance between them and the now decidedly top-dog iPad Air 2, which is now more distinctively the star of the iPad show. While the new iPad mini 3 shares on;y two of the upgrades bestowed in the Air 2: Touch ID and a gold color case option. It is missing the A8 processor speed bump, the 8 megapixel rear iSight camera. The A7 SoC, which is 64 bit and still plenty lively is no hardship, but the smaller size of the mini makes it a more tractable photo-taking platform, so sticking with the mundane 5 megapixel shooter is somewhat puzzling, especially when a lot of the Android competition has 12 or more MP cameras. However, given the minimal changes in iPAd mini 3, mini two represents unequivocally the best value equation of the lot at $299.
You have to wonder whether Apple is just letting the iPad mini coast, now that the iPhone 6 Plus is crowding it in the smaller size end. Last year you got almost, feature for feature, spec. for spec. equivalency between the A7 Airs and minis. Just slightly lower quality color rendering, and a little less processor clock speed in the mini. This year the mini falls well-behind the Air.

Photo Courtesy Apple
Meanwhile, the iPad Air 2, now slimmed down another 18 percent to just 6.1 mm, or about a quarter-inch, and weighing less than a pound (not much less, but enough for bragging rights) gets an improved Retina display claimed to deliver enhanced contrast and "richer, more vibrant colors," plus the better camera.The "enhanced" part is the anti-glare coating and fully laminated panel construction, from whence cometh much of the thickness reduction. Some slimming also was facilitated, alas, by shrinking battery capacity from the iPad Air's 32.4 Whr to the Air 2's 27.3 Whr, and eliminating the Mute and screen rotation lock buttons (the functions are still available in the on-screen Control Center). The smaller battery translates to about 2 1/2 hours less runtime per charge than the A7 iPad Air in testing.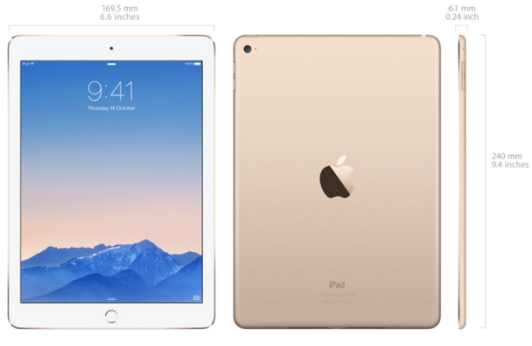 Photo Courtesy Apple
I'm particularly happy about the gold color option, which I've coveted since it was introduced with the iPhone 5s last year. Definiteltly my color preference, and it makes the carryover silver and space gray look a bit ho-hum by comparison. And a noted, both the new iPad Air 2 and iPad mini 3 offer Touch ID so users can unlock their iPad with the touch of a finger to make purchases securely within apps using Apple Pay, which was also announced Thursday. However, Apple Pay is partly crippled on iPads, because they don't have Near-Field Communication (NFC) chips, so you won't be able to use an Air 2 or mini 3 for tap to pay; only for online payments.
As with its predecessors, iPad Air 2 is housed in a precision anodized aluminum unibody enclosure that is a joy to look at and hold. The improved Retina display, as fore-noted, now features a fully-laminated design with an anti-reflective coating that Apple says reduces glare by 56 percent for better viewing outdoors and other bright-lit environments where reflective glare can be an issue.
iPad Air 2 is powered Apple's second-generation 64 bit in-house-designed A8X chip, which is seriously faster — triple-core; clocked at 1.5GHz, up 100MHz from the A7 Air; the L2 cache doubled from 1MB to 2MB; and the A8X also comes with 2GB of RAM. Apple claims the Air 2 delivers a 40 percent improvement in CPU performance and 2.5 times the graphics performance of iPad Air's already speedy A7 processor, while still delivering claimed battery life of up to 10 hours, seemingly verified in early benchmarking. Apple says that combined with Metal, the new graphics technology in iOS 8, the A8X chip unlocks realistic visual effects comparable to the most advanced gaming consoles, and also includes the M8 motion coprocessor that gathers motion data from the accelerometer, gyroscope, compass, and a new barometer that senses air pressure to provide relative elevation.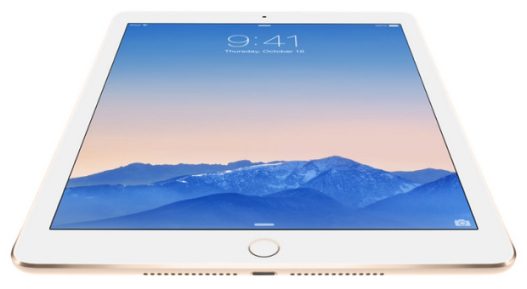 Photo Courtesy Apple
As mentioned, the iPad Air 2's iSight and FaceTime HD cameras are upgraded with an an 8MP sensor in the rear-facing one and better optics, as well as adding new features including panoramic photos, time-lapse video, slo-mo and 1080p HD video. The FaceTime HD camera is now claimed to capture over 80 percent more light than iPad Air's camera, and features burst mode as well as HDR stills and video.
Apple says the iPad Air 2 offers faster connectivity with 802.11ac Wi-Fi with Multiple-In-Multiple-Out (MIMO) technology for 2.8 times the Wi-Fi performance of iPad Air at data rates up to 866 Mbps.t iPad Air 2 with Wi-Fi + Cellular integrate more LTE bands and come with expanded LTE for up to 50 percent faster cellular connections, plus support for other fast cellular technology around the world (DC-HSDPA, HSPA+), according to Apple.
The new iPads come with iOS 8.1 including Continuity features across iOS 8 and OS X Yosemite that enable all your supported Apple products to work together seamlessly. Handoff lets you start an activity on one device and pass it to another, and when your iPhone is on the same Wi-Fi network, you can make and receive phone calls from your iPad.
In summary:
The original iPad Air, also now offered at the same price point as the mini 3, represents a 20 percent discount from its former price — a rip-roaring bargain compared with the 4th-gen iPad at the $400 price point. It's also available with 32 GB storage memory for just 50 bucks extra — a 50 percent price cut from before.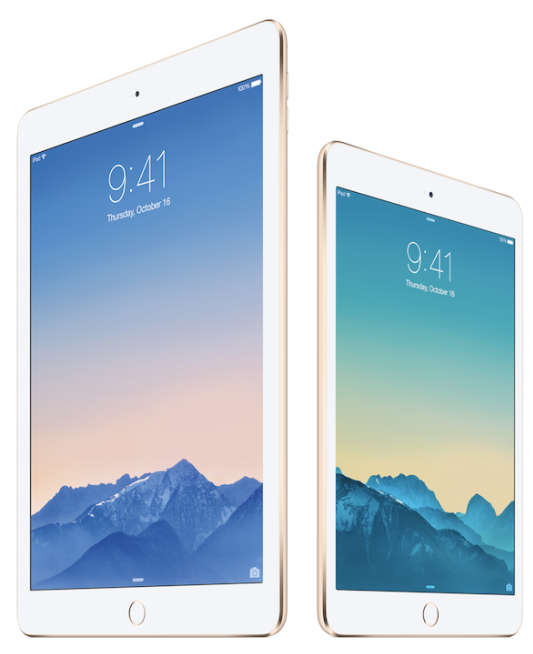 Photo Courtesy Apple
The iPad mini line has been expanded to include the new iPad mini 3 with Touch ID (still A7 powered) and the preceding iPad mini with Retina display, now called iPad mini 2 and starting at $299. Both of these iPad models feature a more modestly featured Retina display than the Air 2 gets, a 5MP rear-facing iSight camera, a FaceTime HD camera and ultrafast wireless. The original A5 powered, 1024 x 768 resolution iPad mini also remains available, starting at $249, but I can't recommend it as a good value for the money when you can get an A7 powered Retina display unit for just 50 bucks more — the value-standout of the current lineup, and the mini to get unless you really can't live without TouchID and/or Gold livery.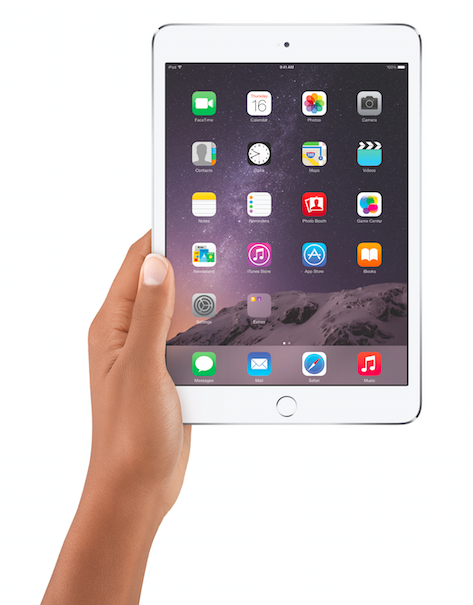 Aside from that no-brainer, choosing where the best value lies in the rest of this new slate of iPads is a head-scratcher. It really depends on what you want the tablet for and how you intend to use it. I would advise steering clear of the 16 GB models unless your needs are very basic. Inevitably operating system and application files are experiencing creeping bloat. I was disappointed that Apple didn't make 32 GB storage memory the base standard, but they instead dropped that option entirely for the iPad Air 2, with the first configuration step-up to 64 GB, albeit at the former 32 GB config's price point, so I guess we can't complain too loudly. You can still get 32 GB on the original iPad Air the mini 2 models as the top available configuration — a tacit acknowledgment from Apple that 16 GB just doesn't cut it any more. In a 9.7-inch iPad, for most users I recommend the new Air 2 with a 64 GB memory upgrade ($100) if your budget will stand it. If not, a 32 GB original Air is an awful lot of Apple tablet for $450.
iPad Air 2 with Wi-Fi models are available for a suggested retail price of $499 (US) for the 16GB model, $599 (US) for the 64GB model and $699 (US) for the 128GB model. iPad Air 2 with Wi-Fi + Cellular models are priced at $629 (US) for the 16GB model, $729 (US) for the 64GB model and $829 (US) for the 128GB model. iPad mini 3 with Wi-Fi models will be available for a suggested retail price of $399 (US) for the 16GB model, $499 (US) for the 64GB model and $599 (US) for the 128GB model. iPad mini 3 with Wi-Fi + Cellular models will be available for a suggested retail price of $529 (US) for the 16GB model, $629 (US) for the 64GB model and $729 (US) for the 128GB model.
iPad Air, iPad mini 2 and iPad mini, available in silver or space gray. iPad Air starts at $399 (US) for the 16GB with Wi-Fi model, iPad mini 2 starts at $299 (US) for the 16GB with Wi-Fi model, and iPad mini starts at $249 (US) for the 16GB with Wi-Fi model.
All models are available today at The Apple Store with free shipping.