iPad Air "Not Enough"??! – The 'Book Mystique
You begin to get the impression that all the world weary pundits who say the new iPad Air 2 is a yawner of an upgrade wouldn't be satisfied with anything much short of full Star Trek Tricorder capabilities.
I mean, it's only the state of the art in tablet computers, not just among iPads, but the high water mark in design, engineering, and performance for the whole market category.
Mac360's Wil Gomez observesthat without question the new iPad Air 2 is the best tablet computer yet designed and built… better in every way, and with every review glowing. so why so many critics, including some longtime Apple advocates, who seem bored to death with this latest and greatest tablet? He has a theory, which is that after the initial 3 1/2 year tsunami of enthusiasm, the iPad is a maturing product, analogous to the Mac, with development and improvement more typical incremental refinement rather than revolution, and the only real problem with iPad Air 2 is that it's become just like the Mac, which is a positive development. I'm inclined to agree with Gomez's assessment.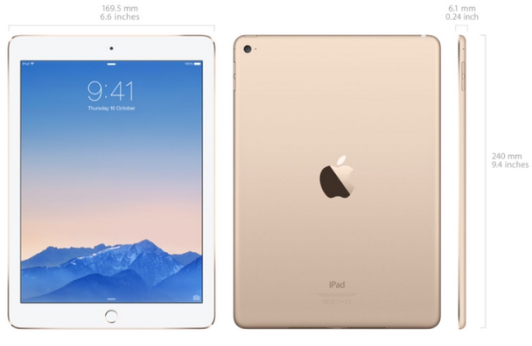 Photo Courtesy Apple
Perhaps the Air 2 is also getting sideswiped by association with the new (sort of) iPad mini 3, which really is a dull upgrade — if indeed it merits an "upgrade" designation at all, being as there are just two new features distinguishing it from the now $100 cheaper iPad mini 2 — an iPad version of Apple's TouchID fingerprint recognition technology that doesn't support mobile payments with Apple Pay, and a gold color option. Aside from that, the mini 3 is a reprise feature for feature of last year's A7 powered mini 2 with Retina display. The mini is still a very cool little package, but if you're getting one, unless you simply can't get along without TouchID or absolutely have to have a mini in gold, do yourself and your wallet a favor, save a hundred bucks, and get the mini 2.
However, a similar dynamic does not apply with the larger iPad Air 2 versus the original Air — also still available for $100 less. Last year's 64 bit A7 powered Air is still a formidable computer, and a great deal at $400 if you're cash-strapped. However the Air 2 offers plenty of extra value for the money starting at $100 more. It's fair to say it's an evolutionary rather than revolutionary advance over its predecessor, but the enhancements and refinements it offers are substantial. They include:
Apple's latest and most powerful ever A-series system-on-chip, the TSMC-sourced 20 nm process, triple-core A8X clocked at 1.5 GHz, faster than the A8 silicon powering the recently announced iPhone 6/6 Plus, and according to Apple a substantial 40 percent faster than the already speedy Samsung 28 nm 1.4 GHz dual-core A7 SoC in the original iPad Air and 1.3 Ghz A7 in the iPad mini 2 and 3. Both the A8X SoC's, L2 cache and system RAM specs have been doubled to 2GB, and the A8X also sports a faster PowerVR Series 6XT GX6450 quad-core Graphics processing unit, claimed by Apple to deliver 2.5 times original iPad Air's graphics performance. The A8X also comes paired with the M8 motion coprocessor which handles analysis of movement data from the iPad's compass, gyroscope, accelerometer, and in the Air 2 a barometer as well — a step up from the M7 unit in the A7 machines.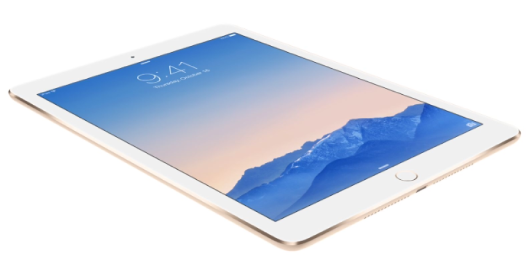 Photo Courtesy Apple
Reported Geekbench 3 benchmark results show single-core scores of about 1815, some 22 percent better than the 1485 metric for the A7. Multi-core scores are even better at 4515 vs. 2685 respectively ? or 68 percent faster in integer and floating-point performance, and memory speed.
Any way you slice it, the A8X world be an impressive leap forward in any version upgrade, and transcends dismissal as amounting to just a minor speed bump. While the across-the-board performance improvements are welcome all-round, the doubling of system RAM from 1 to 2 GB. I typically have up,to two dozen apps open — several of them browsers that usually in turn have up to 20 open tabs each, and probably needless to say, my stalwart old A5 powered iPad 2 with 512 MB of RAM has been struggling lately to shoulder the load of app and tab refreshes.
Even Thinner. At 6.1 millimetres thick, the iPad Air 2 is claimed by Apple to be the thinnest tablet ever, which sounds plausible. Personally, I've never had a problem with the dimensions and heft of my iPad 2, and I'm not that much into ultra-thinness for the sake of ultra thinness and especially if it compromises functionality. IMHO the original iPad Air was more than adequately svelte. However, the thinnest tanker in the world is an impressive engineering achievement, and merits acknowledgment from the commentariat.

Photo Courtesy Apple
One aspect associated with the physical limitations of smaller dimensions is battery capacity, and attributable to the AIr 2?s 18 percent thinner enclosure, it has a smaller, 7,340 mAh battery than the original Air's 8,827 mAh unit. In use, that translates to an hour or two less runtime between charges.
A Better Camera. Functionally, I've always been frustrated by the mediocre 2 megapixel rear-facing camera in my iPad 2. It's better than no camera in the original iPad, but not by much. That said, I've used it a fair bit because of its convenience. I'm not troubled that the cool people think iPad photography looks goofy or dorky. The huge viewfinder puts me in mind of the old focal plane view cameras used by Ansel Adams and other great photographic artists of the 20th Century, and have arguably never been surpassed for quality. If you think holding up an iPad to shoot pictures looks dorky, consider that view camera users had to crouch under a blackout cloth in order to focus and compose on the dim focal plane groundglass focusing screen. Happily, it seems like the scorn dumped min iPad photographers has muted somewhat with the ascendency of large-screen smartphone phablets, which people of course use to shoot pictures.
Anyway, I'm looking forward to shooting high-quality photos with the Air 2's 8 megapixel camera. Reportedly it's not quite as good as the also 8 MP shooter In the iPhone 6 Plus, especially in low light. There's no flash, but based on comparison shots I've seen on the Web, the Air 2's camera still produces seriously decent quality photos. It is also capable of 1080p HD video and the new slo-mo video feature, plus burst photos and time-lapse video, and 43-megapixel panoramas. The lower-resolution front-facing camera has been upgraded as well, and now supports HDR photos, HDR videos, and burst-mode selfies.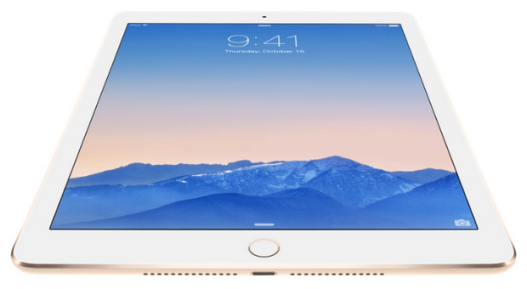 Photo Courtesy Apple
The best ever iPad display. The Air 2 has the same screen resolution that all Retina display iPads have had since the iPad 3, but is the first iPad to use a panel made with the fully laminated process, in which the cover glass, multitouch sensor and LCD are bonded into a single layer. Apple claims it makes the screen brighter, clearer and more vivid. The screen also now has an anti-reflective coating that Apple claims reduces reflections by 56 percent and is much more satisfactory in bright daylight. The new screen is also a claimed to be a bit more sensitive, and brighter, having a maximum luminance of 344 cd/m2 compared with the original iPad Air's at 259 cd/m2, and higher contrast. It's definitely a big step up from my old iPad 2's 1024 x 768 resolution non-Retina display, and another more than trivial improvement.
Faster WiFi. iPad Air 2 supports the 802.11a/b/g/n/ac spec., which Apple says is up to twice as fast when connecting to a router that likewise supports the latest spec. than the 802.11a/b/g/n/ WiFi in the original iPad Air and the iPad minis, so that's nothing to sneeze at either.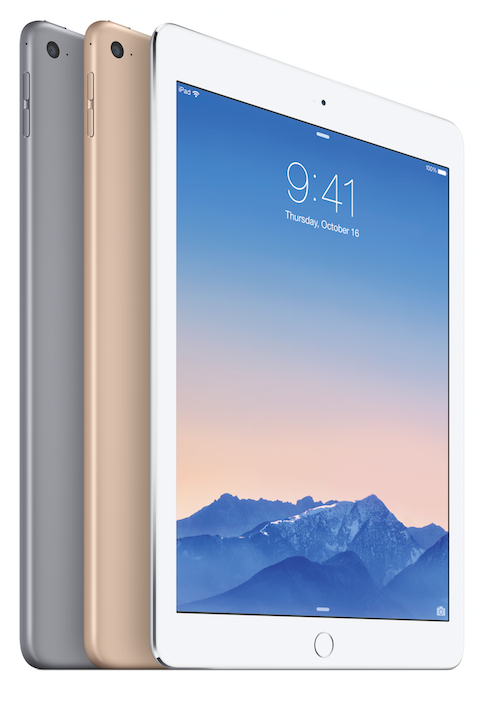 Photo Courtesy Apple
Three color choices. The iPad Air 2 comes with a 50 percent more choice livery options. White/Silver and Black/Space Gray are carried over from the iPad Air, and a new option, White/Gold, is added. This one is of course taste-dependent, but for some of us the gold color option is a welcome enhancement.
Cheaper memory upgrades. I'm annoyed with Apple for not making 32 GB the standard configuration on the new Air 2, However, the sting of that is mitigated somewhat by their making the first storage step-up a huge one form the inadequate 16 GB base config. to a cavernous 64 GB for the same price as they charged for a 32 GB upgrade in the previous model. That configuration is still available for $50 extra as the only flash memory upgrade for the holdover iPad Air and iPad mini 2 models.
Even viewed separately, the iPad Air 2's advances are substantial. As a package they're truly impressive, at least in terms of realistic expectations. Better tablets will come, but right now, the Air 2 is state-of-the-art. Even last year's iPad Air is still out in front of the competition. The Air 2 opens up the lead substantially while holding the price line. That's more than "enough" for me. I just bought a gold 64 GB unit.