iPad Air 2 After The Novelty Of New Wears Off – The 'Book Mystique
It's just a bit over two months since my gold WiFi iPad Air 2 arrived, and in general I'm quite pleased with it, although it hasn't been as dramatic an improvement over my old IPad 2 as I had anticipated. It's faster to be sure, reportedly by a factor of 5x or so in benchmark testing, but in terms of seat-of-the-pants feel, the biggest difference I perceive for the sort of stuff I do with the 'Pads is in the full two gigabytes of RAM as opposed to the measly 512 megabytes in the iPad 2. That results in faster recalls of open apps that have been idling in the background, faster app startups,, and faster open app switching.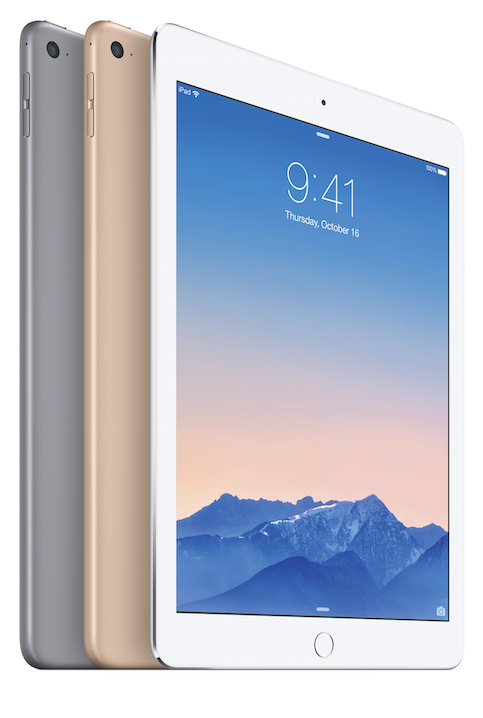 Photo Courtesy Apple
That's still not real multitasking by a long shot, but the improved performance and shorter wait times are appreciated. Indeed, one of my major dissatisfactions with the iPad remains that lack of multitasking, along with no support for multi-windowing and no file level user directory access the former being an efficiency handicap and the latter a complete show-stopper for certain tasks like uploading individual image files to Web posting engines.
Not to put too fine a point on it, the iPad needs a Mac-style Finder. This is more of an iOS issue than a hardware one, and I had hoped that it might be addressed as part of Apple's new focus on promoting the iPad as an enterprise tool, but no joy in this context in iOS 8. Still hoping for better, perhaps with release of a rumored 12-inch iPads (Pro?, Maxi?). Personally I'm ambivalent about a bigger-screened iPad, so i'm hoping that any such productivity features as come with an iPad Pro will support the 9.7-inch iPad Air 2 as well.

Photo Courtesy Apple
If an iPad Pro version of the iOS supports a Finder and real multitasking, but not the 9.7-inch iPad Air, I will be seriously be second-guessing my decision to go with a 64 GB iPad Air 2 rather than opting to pick up a bargain-priced $300 iPad mini 2 as a tide-me-over device while I waited a while longer. Incidentally, the mini 2, which differs form the $400 iPad mini 3 only in the absence of a Touch ID fingerprint sensor and lack of a gold color option, is the hands-down best value for the money Apple has yet offered in a tablet. Given the value-added specification and performance wise, the iPad Air 2 with 64 GB if storage for roughly 100 bucks more than I paid for the 16 GB iPad 2 in 2011 is a reasonable, but not exceptional, value-for-money.
Speaking of Touch ID, my iPad Air 2 of course is so-equipped, and it's sort of convenient, although I never considered typing in a four-character pass code on the iPad Air a hardship. The Touch ID version in the iPad Air 2 and mini 3 is partly crippled and doesn't support Apple Pay in brick-and-mortar stores (they do support online they can make Apple Pay payments from within participating apps), and to my mind it's more of a parlour than a must-have feature on the tablets. The iPad Air 2 also has a motion coprocessor with a gyroscope, an accelerometer, GPS, and compass functionality, and a barometer to measure altitude based on air pressure.
One improvement I do particularly appreciate is the iPad Air 2's 8 megapixel camera, which is a vast improvement over the pedestrian 2 mpxl unit in the old iPad 2. I frequently find snapping photos with the iPad I have in hand rather than my dedicated digital camera that I would have to look for and fetch convenient, and if someone thinks it makes me look like a dork, that's their problem. However, an iPad camera deficiency that remains to be addressed is lack of a flash, and 12 or 14 megapixels would seem more appropriate for the top of the line iPad than the hand-me down last year's iPad unit. Also note that the original iPad Air and iPad minis 2 and 3 all have a 5 mpxl shooter. The iPad Air 2's camera supports capture of cap panoramas up to 43 megapixels, 720p 120FPS Slo-mo video with time-lapse and burst mode features.
The Air 2 with its A8X 64 bit triple-core processor clocked at 1.5 GHz and 8-core semi-custom Series 6XT graphics from Imagination Technologies chipset is reportedly faster than a 2011 MacBook Air, and it does give the impression that it has power in reserve, unlike the A5 silicon in the IPad 2, which for the past year or so has felt more and more like it's breathing hard trying to creep up with increasingly more demanding iOS 7 and some newer apps. I've thus far resisted installing iOS 8 on it based on others' reports of serious sluggishness and buggyness. Even the factory install of iOS 8 on the iPad Air. 2 feels a lot more raggedy and less stable than version 7.1.2 does on the older machine.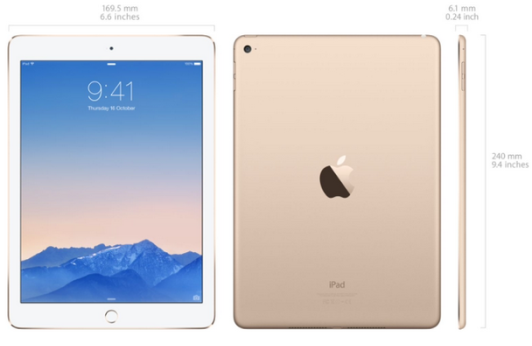 Photo Courtesy Apple
The Air 2's smaller, 6.1 mm thick, and lighter form factor doesn't really blow me away because I don't use my iPad as a literal handheld device with any great frequency, so I don't find myself terribly conscious of the difference from the iPad 2 other than that my iPad 2 cases don't fit.
Ditto the fully-laminated, anti-glare, enhanced contrast 2048 x 1536 9.7-inch Retina display. It's nice, but not get-up-in-the-night-and-write-home-about-it exciting, and I'm still quite happy with the low-res 1024 x 768 non-Retina panel In the iPad 2. The anti-reflective surface is most noted and appreciated using it as a composing screen outdoors when taking photos. Apple says the new display's touch sensor also has greater sensitivity, and more accurate finger tracking, but I haven't noticed any radical improvement, and the iOS's clumsy and erratic text cut/copy/paste functions are still, well….clumsy and erratic.
The Air 2's 801.11ac Wi-Fi is claimed to be 2.8 times faster than the original iPad Air (let alone whatever is in the iPad 2), which would be great if my home WiFi router supported 801.11ac, but the new router I just bought last summer doesn't. I'm finding charge life with the Air 2's 7,340 mAh/27.62 Whr battery (the original, 7.1 mm thick iPad Air has an 8,827 mAh/32.9 Whr battery) about the same as with the iPad 2, which is probably down somewhat from its original performance after nearly four years of being charged every second day on average.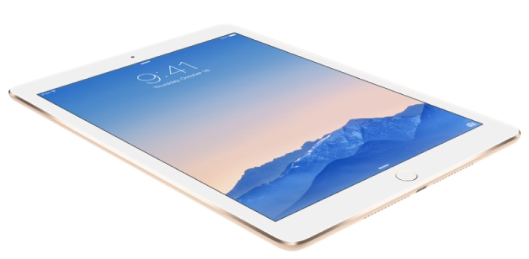 Photo Courtesy Apple
I do like the luxe appearance of the gold case finish, and the tactile feel of handling the iPad is impeccable as always.
It may seem as if I'm condemning the iPad Air 2 with faint praise and criticisms, but that's not my intent. It's a lovely piece of engineering, although still well short of perfection, and I have no quarrel with those who declare it to be the best tablet computer released to date. It just has demonstrated to me how good the iPad 2 already was four years ago.