Why Is iPad Getting Hardest-Hit By The Global Tablet Sales Slump? – The 'Book Mystique
International Data Corporation (IDC) last week lowered its five year forecast for tablet and 2-in-1 (convertible, hybrid) computer sales, with the market analysis firm now projecting worldwide shipments, which will total about 234.5 million units in 2015. While that still sounds like a lot of tablets, it represents only a modest 2.1-percent year-over-year increase from 2014 tablet sales performance.
However, prospects look even bleaker than the market average for the Apple iPad — a stunning reversal of fortune for the product that launched the entire tablet sector as a mainstream consumer and enterprise product half a decade ago, and which for several years thereafter dominated it with a commanding 90-odd percent category market share. That of course couldn't have lasted, but IDC now predicts that the iPad will likely be "the weakest link" in category growth with its share of the market to continue its year-long decline in 2015 to volume levels below those of the past three years.
In the meantime, Android will remain the leading tablet/2 in 1 platform in terms of user numbers, taking close to two-thirds of the market over the forecast interval, while Windows mobile device adoption has finally stopped spinning its wheels and is expected to gain significant share over the course of the IDC forecast, almost tripling it's share from 5.1 percent of the market in 2014 to 14.1 percent in 2019.
How come? There is near-consensus among reviewers that the iPad is the class of the field in tablet computers. It scores very high in owner satisfaction, and enjoys a quality and reliability record second to none. The iOS is also considered the most intuitive and responsive mobile operating system. With all that going for it, it seems counter-intuitive for iPad to become the sector growth laggard. What made the iPad go from being the jewel in Apple's hardware crown to the sick man of its product lineup?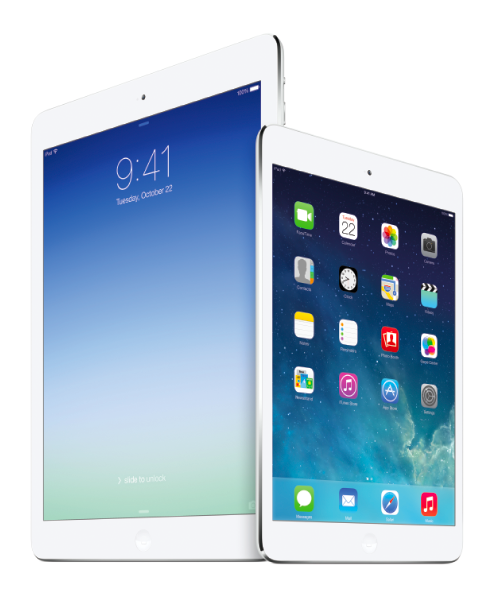 Photo Courtesy Apple
Digging deeper into the IDC projections, two things in particular stand out. One is the contrasting success predicted for Microsoft's productivity oriented Surface tablet computer, which has finally achieved market traction after three years of wheel-spinning, and with IDC expecting Windows mobile devices will be the stars of the sector growth-wise over the course of the IDC forecast period almost tripling it's share from 5.1 percent of the market in 2014 to an anticipated14.1 percent in 2019.
I would say that a lot of that will be attributable to Microsoft's attentiveness to giving serious business, institutional, and content creator professional users the features and functionality they need and want. The Surface 3 supports the full desktop version of Windows, and can run standard Windows productivity applications. It also consequently supports real, multiwindow multitasking, mice and other external pointing devices, a user accessible file level directory , and has connectivity and expansion features iPad users can only wistfully dream of because of Apple's stubborn refusal to date to offer them.
Notwithstanding the much-ballyhooed deal with IBM tol co-develop a range of top-tier enterprise applications for the iPad, the user experience for production tasks remains seriously compromised by the limitations of the iOS and the iPad's lack of standard I/O ports and expansion slots.
Meanwhile, IDC Research Director, Tablets Jean Philippe Bouchard notes that "Microsoft is doing a lot of good things right now and we believe the launch of Windows 10 later this year will not only have a significant impact on Microsoft's share of the market, but on the industry as a whole," observing: "There is an appetite for a platform that can provide a productivity experience that remains consistent across multiple form factors and device types, and we believe Microsoft is well positioned to capture some of that demand." I agree, and Apple could much better position itself to do likewise by addressing the iPad/iOS shortcomings as a serious productivity platform.
Secondly, and perhaps even more importantly in terms of overall sales volumes, while the iPhone 6 Plus has been a major hit for Apple, and consequently responsible for some iPad market cannibalization — especially with respect to the iPad mini, IDC Worldwide Quarterly Tablet Tracker Senior Research Analyst Jitesh Ubrani notes that: "Despite the growing popularity of phablets, there still remains a portion of the market that wants to use a larger device so they can tailor their experience to the appropriate screen size," adding "Meanwhile, an increasing number of vendors behind small tablets are reducing prices and adopting features like voice calling to entice consumers to purchase their products over competing phablets, making the dynamics of phablets vs. voice-capable tablets an interesting one to watch."
Even disregarding voice calling capability, price and features value has to be having a major impact on the iPad's sales slippage, especially again for the iPad mini, which was all but passed over in the last tranche of iPad generational upgrades last October.
I would like to have a smaller tablet to compliment my iPad Air 2 and my MacBooks, but bigger than the iPhone 6 Plus, and because such a device will be for me an extra, rather than my primary tablet, price is an important factor. I love the iPad mini's looks, size, and typical Apple quality and ruggedness, but for a device in this category there is some pretty enticing Android competition in 7″-8″ tablets. An example is the Lenovo S8-50 8-inch tablet. Here's how the S8 shapes up against the similarly sized iPad 3.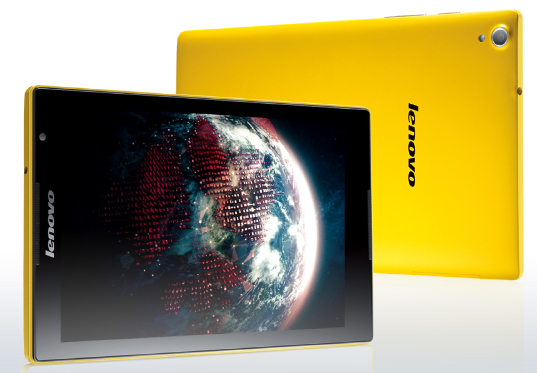 Photo Courtesy Lenovo
Lenovo S8: versus iPad mini 3:
Display resolution
Lenovo S8: 1920 x 1200
iPad mini 3208 x 1536
Processor
Lenovo S8: Quad core Intel atom Zin 3745 1.8 GHz
iPad mini 3: Dual core Apple A7 with M7 graphics coprocessor 1.3 MHz
RAM:
Lenovo S8: 2 GB RAM
iPad mini 3: 1 GB RAM
Weight:
Lenovo S8: 0.66 pounds
iPad mini 3: 0.73 pound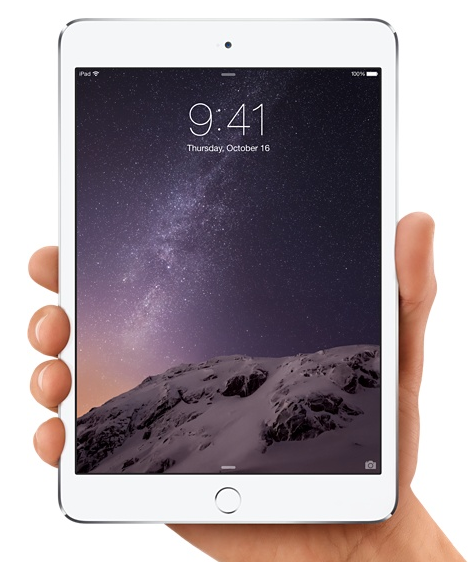 Photo Courtesy Apple
Dimensions:
Lenovo S8: 4.87 inches X 0 .31 inches X 8 .26″
iPad mini 3: 5.3 inches X0 .29 inches X7.87 inches
Front camera
Lenovo S8: 1.6 megapixels
iPad mini 3: 1.2
Rear camera
Lenovo S8: Eight megapixels
iPad mini 3: Five megapixels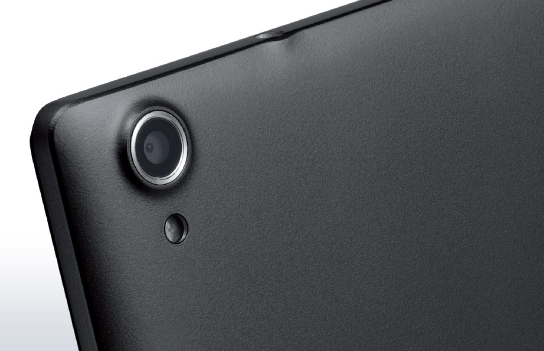 Photo Courtesy Lenovo
Audio
Lenovo S8: Twin speakers with Dolby audio
iPad mini 3: Single speaker
Battery life
Lenovo S8: 7 hours
iPad mini 3: R10 hours
Bluetooth
Lenovo S8: Bluetooth 4.0
iPad mini 3: Bluetooth 4.0
Wi-Fi:
Lenovo S8: 802:11 B/G/n
iPad mini 3: 802.11 A/B/G/n
Operating system
Lenovo S8: Android 4.4 KitKat
iPad mini 3: IOS 8
Touch ID
Lenovo S8: No
iPad mini 3: Yes
Connectivity:
Lenovo S8: Micro USB, SD card slot running up to 64 GB expansion
iPad mini 3: Lightning port
Storage capacity
16 GB expandable with SD card slot to 64GB
16 GB – upgrade at time of purchase to 64 GB $50 extra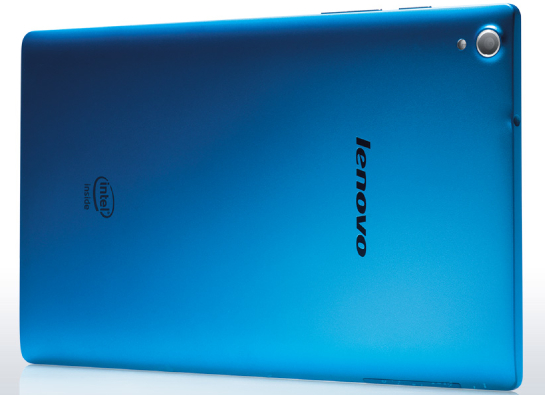 Photo Courtesy Lenovo
Colors available:
Ebony, Canary, blue, white
Gold, silver, space Gray
Price:
Lenovo S8: Canadian $269
iPad mini 3: 16GB – Canadian $439, 64GB – Canadian $549
The Lenovo S8 falls well short of the mini 3 in display resolution, but its panel's viewing quality gets rave reviews, and having lived happily with 1064 x 768 panel resolution on my iPad 2 for four years, 1920 x 1200 sounds plenty adequate for me. The S8 offers 1.8 GHz quad-core power vs. the iPad's 1.3 GHz dual core, has twice the RAM, and provides a standard Micro USB port plus the SD card slot allowing up to 64 GB expansion over the base 16 GB spec. The iPad has only Apple's proprietary Lightning connector, and you're stuck with whatever extra storage capacity you pony up for at time of purchase. The S8 has better camera's front and rear, and better audio output with two speakers and Dolby.
The iPad's year and a half old A7 dual core silicon does support 64 bit, and it claims about one-third longer battery life than the S8. It also has later-spec. WiFi, Touch ID, and Apple's unibody aluminum construction as opposed to the S8's plastic enclosure. The two machines are close in size, and the S8 is slightly lighter than the mini.
However, in Canada, where I am, the Lenovo S8 lists for Can$269.99, and recently was on sale for Can$199.00. The base 16 GB iPad mini 3 lists for Can$439.00, Apple sales are exceedingly rare, and remember that you're stuck with that storage capacity for the duration. The next available incremental upgrade is to 64 GB, jacking the price to $549.00 before taxes. The S8 offers reasonably priced SD Card data storage expandability for a lot less than 110 bucks.
Of course, were I to go with an iPad mini, it would definitely be a Can$329.00 mini 2 rather than the third generation, since all you get in return for that $110 difference is Touch ID and a gold color option with the mini 3 — both of which I can happily live without. Another advantage of the mini 2 is that a more reasonably priced memory upgrade to 32GB is available for Can$50 more (Can$379), but that's still Can$110 more than the Lenovo S8's list price.
Photo Courtesy Apple
Price independent, I'd still prefer the iPad mini despite its more modest specifications and feature set. However, for most of us price is an object especially in the sub-$500 price range, and using the Lenovo A8 would certainly be no hardship.